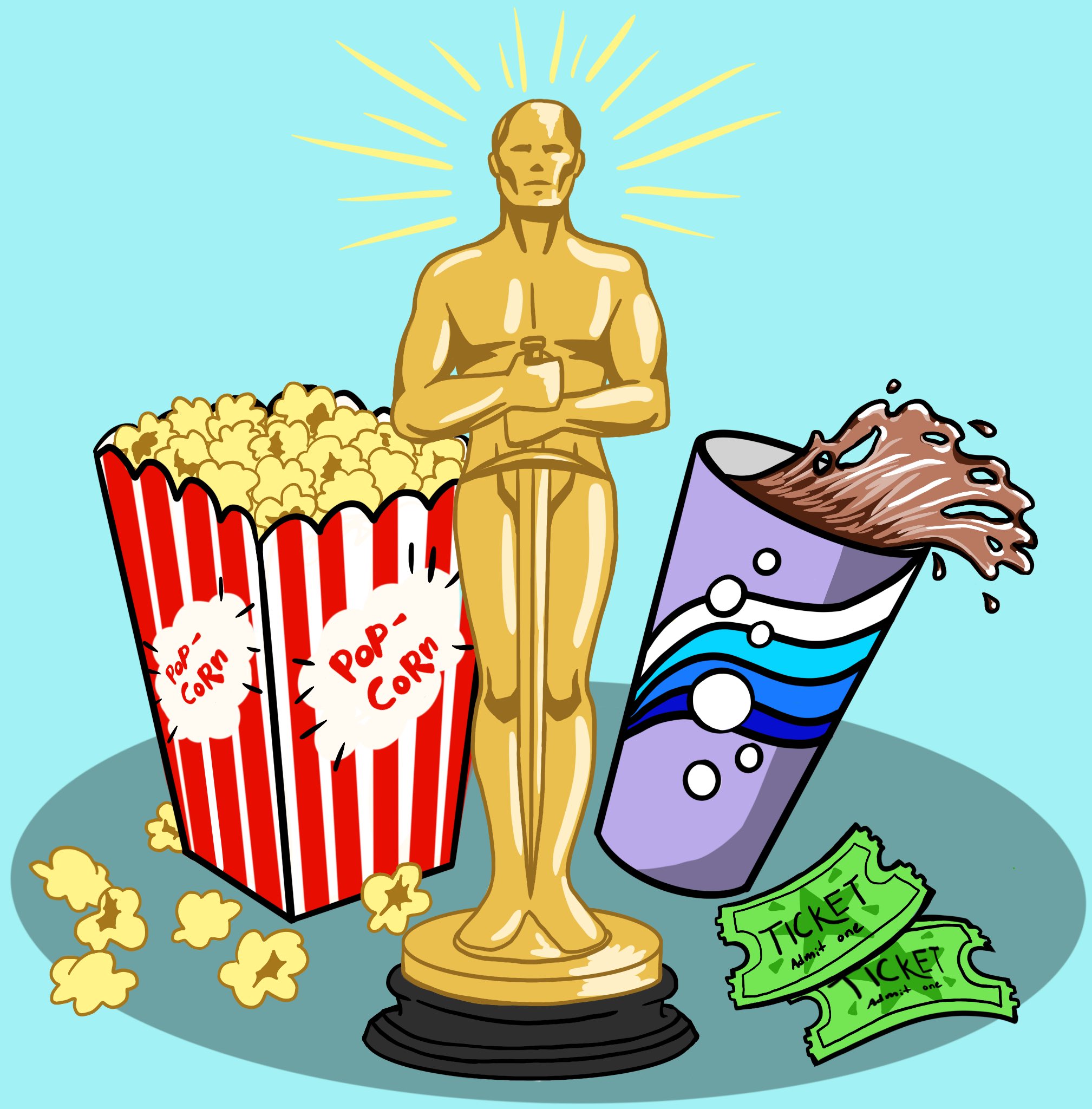 Though Hollywood has been on hold since March 2020 and movies have been scattered across multiple platforms through the pandemic, the show must go on. Art by Dillion Payne
By Destiny Jackson, Art & Entertainment Editor
Yes, the Oscars are still happening, and while some critics are predicting that this will possibly (read: most definitely) be the lowest rated show in it's televised history, that's OK. After the year we've had, who could blame any of us for trying to process a global pandemic. However, if you're anything like me, a die-hard Oscars junkie, then you've trotted through the nominated categories and picked your favorites (or least favorites) and are ready—ballot in hand—for one of the most spectacular nights in Hollywood.
Let's check out my predictions and probable winners.
Honorable Mention: "Opera"
Erick Oh's 8-minute animated short film shows humanity in its final curtain call. Unfortunately, as of this writing, was only available at this year's South by Southwest (SXSW) film festival. This intriguing animation takes place in a pyramid, sectioned off, depicting scenes of citizens of this triangular world involved in various acts or committing heinous crimes. As the audience watches the 8-minute film on a loop, they are encouraged to watch it multiple times in order to view each room closely as they display things like: racism, sexism, communist teachings, ritual sacrifice and war.
In this girl's night gone terribly wrong, Emerald Fennell's script is simply fit for winning. It boldly displays the experience of being a woman in a patriarchal society and highlights that even "nice guys" can't be trusted. It's the perfect story of horror, redemption and revenge through the female lens that is empowering more than it is traumatic.
Cinematography/ Production Design: "Nomadland" / "Mank"
Damn does Chloe Zhao know how to shoot the shit out of some natural scenery. All of the cliff faces, cold mornings, and warm-desert star-laden community nomad bonfires look so picturesque it's almost hard not to romanticize the life of a nomad yourself. In "Mank," Donald Graham Burt did a great job recreating the glamorous days of Hearst Castle and the 1940s lifestyle of these egotistical men and overwrought film shoots. The black and white display reminded the audience of similar monochromatic films from the era before they got a splash of color.  
Youn is just fantastic in her physical performance (and transition) as a feisty immigrant grandmother who is soon struck by a body degenerating disease midway through "Minari." Personally, I'm just glad Cohen is nominated for something other than "Borat Subsequent Moviefilm." He was one of my only favorite things about Sorkin's misstep about "The Trial of the Chicago 7." Just delightful and biting delivery throughout. 
I know it's probably going to go to Chadwick Boseman, rightfully so, I get it. But I do think Boseman has other great films in his repertoire that he should have won for. Mad respect for Boseman and it's been excellent to see him sweep the other award shows with posthumous wins. Among the other actor nominees, Ahmed plays a passionate drummer who begins to lose his hearing after years of auditory abuse in Sound of Metal. The journey his character goes through, from the shock of losing the thing he cares about the most in conjunction with trying to adapt to this new soundless life left me crying from beginning to it's unbelievably heart-wrenching ending.
"The United States vs Billie Holiday" is plagued with issues, but Andra Day damn sure isn't one of them. She plays the struggling activist at the height of her career, drug addiction, and political strife as a Black woman with tenacity and emotion you can't help but feel leap through the screen. Also, she sang some pretty gnarly vocals for this film, which should put her leagues ahead of anyone else in the category (sorry, Viola).
Best Animated Film:
I shouldn't waste my breath. We all know it's going to be "Soul." But it SHOULD be Apple TV's "Wolf Walkers." The movie is about discrimination and the enviornment and it's just beautifully animated, not that Soul isn't—it is. But the whole Black man playing jazz, dying and then learning how to appreciate his life through the eyes of a blob voiced by Tina Fey? No.
Best Picture:
I honestly don't know. I haven't been this confused since the infamous 2017 "La La Land" and "Moonlight" best picture mix-up. There are great things about all the films nominated (except "Mank," I tried to watch that on three separate occasions.) But none of them are particularly a stand-out like last year's winner "Parasite."   Florian Zeller's "The Father" is undoubtedly clever in it's perception of a man suffering from dementia. But the film released with little fanfare and hardly any recognition. I do think, like everyone else, "Nomadland" is going to take the golden statue home, but personally I don't think the tale, while gorgeously filmed, is all that refreshing of a narrative. Guess we'll have to wait and see!
csudhbulletin