A Week of Virtual Celebration Coming To CSUDH for all First-Generations Students
csudhbulletin
October 29, 2020
0 COMMENTS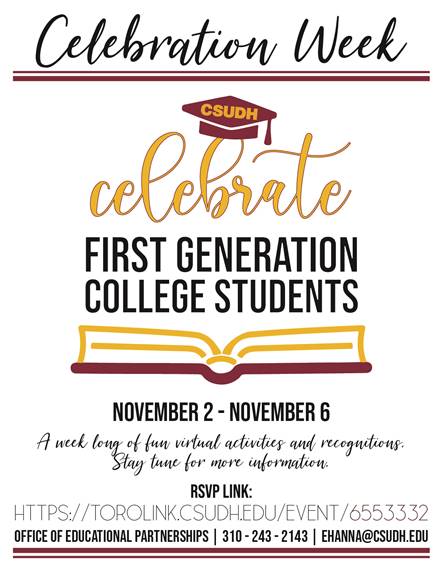 The Office of Educational Partnership collaborates with TRIO Student Services, UAC, ASI, ETE and VRC for a weeklong celebration for first-generation CSUDH students. Flyer provided by the Office of Educational Partnership.
---
By Melanie Gerner, Staff Reporter
CSUDH Office of Educational Partnerships (OEP) and TRIO Student Support Services (SSS) are hosting a week long virtual celebration in honor of first-generation college students. The event runs from Nov. 2 to Nov. 6. The celebration is a collaboration of OEP, TRIO SSS, the University Advisement Center (UAC), Associated Students Inc. (ASI), Encounter to Excellence (ETE) and the Veteran's Resource Center(VRC).
What To Expect
After welcome remarks from TRIO SSS director, Elizabeth Hanna, and an appearance by Teddy the Toro, there will be a section defining what it means to be "first-generation" and pre recorded videos from ASI president Rihab Shuaib, Office of Educational Partnerships Director, Brett Waterfield, AVP of Student Success, Dr. Ruttanatip (Dang) Chonwerawong , and the director of the UAC, Dr. Maria Grandone.
Also included in the event is a first-generation "VOTE!" segment, #Tips from alumni, a live virtual lunch, an engaging social media campaign and a visit from the CSUDH dance team. In addition, students can expect daily informational sessions about the UAC's weekend event: the First-Gen Toros Retreat.
Why Celebrate First- Generation Students Now?
Nov.8, 2020 is the 45th anniversary of The Higher Education Act of 1965, which helped create the Pell Grant and Federal Student Loans, which made it financially possible for many low-income first-generation students to attend colleges and universities.
Last year, Hanna put together the first annual CSUDH Celebrate First-Generation Day event on the East Walkway. This year, Hanna, with the support of many colleagues and collaborators, has found a way to lift up the more than 50% of the CSUDH student population that are first-generation students. According to Hanna, she feels a duty to acknowledge the campus core values while creating events that align with responsiveness, respect and collaboration.
"Even in the shadows of fear and uncertainty it is important to know that everything is temporary, and these times will pass," Hanna said. "Celebrating first- generation students means sharing a common space to listen about real narratives and providing access to those who come after us."
The event is open to all CSUDH students who are first-generation, to attend students can RSVP here. For more information on this event contact Hanna at Ehanna@csudh.edu or the Office of Educational Partnership at 310-243-2143
csudhbulletin