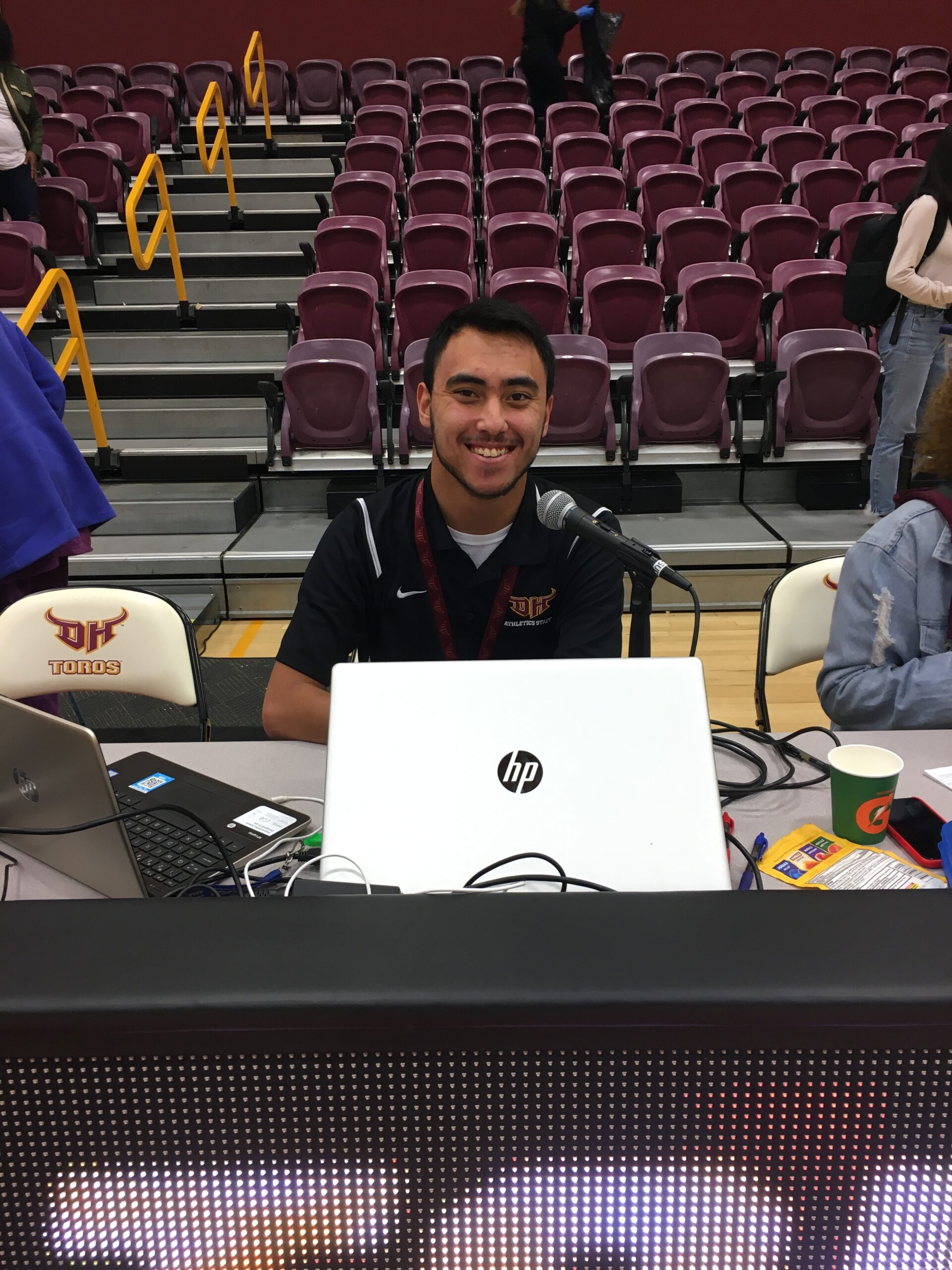 The writer pictured courtside at CSUDH Men's Basketball game. Photo courtesy of Daniel Tom.
---
By Daniel Tom, Staff Reporter
Editor's Note: The writer of this story is a student employee with the California State University, Dominguez Hills Athletics Department.
257 days. That's how long it's been since I was last involved in working an athletic event. For seven years, and the last four at California State University, Dominguez Hills, I've had the privilege of working with the athletics department under the guidance of two directors of athletic communications Rick Hoskin and Kaiber Takamiya, with Toros Athletics.
In my role, I assisted with in-game operations aspects of events that included setting up and tearing down equipment, operating the many cameras on a pay-per-view broadcast of home athletic events, along with being the music director and public address announcer for select basketball, volleyball, softball, and all baseball games.
Outside of CSUDH, I keep myself busy providing the same announcing and music services to local high schools and community colleges in the South Bay area, along with working a 40-game collegiate summer league baseball season. It's safe to say that I had enough on my plate to keep me occupied throughout the year with sports.
For 45 weeks out of the year, my calendar was stacked to the brim with events that kept me on my toes, and best of all allowed me to do what I loved all while getting paid to do it.
But, when all that goes away what's your next move? I wasn't entirely sure. Up until the pandemic, all I knew was sports and working in that industry.
For the first few weeks, it gave me time to relax and focus on myself, something I never seemed to do when I was working. After a few months, I began to feel restless and wondered when things would be safe for a phased return of sports. While keeping the thoughts in the back of my mind, I started to think if this was going to be indefinite, I would need a Plan B.
In high school when I first started my career I figured I could make more than enough money to make a living off my announcing work. That prediction was flat out wrong.
Public Address Announcing and most event management positions are part-time work and are nearly not enough to make ends meet to survive. It's always safe to have a backup plan in place and have another source of income.
For example, Eric Smith; the stadium and arena voice of Los Angeles sports (Clippers, USC Football, LAFC, Wildcats) supplements his income by being a high school teacher.
My worries about the future became secondary as the pandemic raged on. In my case, not having games to announce regularly turned into recording personalized voiceovers for people who requested them at a nominal fee on top of getting ahead with my schoolwork. My unexpected downtime has given me a chance to try new things and expand my horizons.
This semester, I've had the privilege of writing for the campus newspaper and to find my voice as a journalist, and share some great stories from around our campus. Surprisingly, this newfound appreciation for journalism wasn't part of my plan.
By not having games to work, it's allowed me to shift some time back to myself and to experiment with things I would have never thought about trying. In a way, the campus newspaper has been a blessing in disguise.
The same way I prepared for multiple games during the week, I was able to apply to my stories to give my audience something new to learn every time a story was published. Additionally, this has given me a confidence boost I've never had as a writer. It gave me more individuality and allowed me to find myself as a reporter. I could insert my own personality, while not missing the mark on telling the facts and pertinent information of a story.
In a time like this, I've embraced the situations I've been placed in. While I do miss the people I work with, the atmosphere, and the experience in announcing games, I've learned there are much bigger things going on around me besides sports. This was a reality check of sorts and something I think I needed without even realizing it.
When sports do return and I have the privilege to get back to doing what I love, I'll enjoy each game, each interaction, each thrilling moment more than I did before and not take the grind for granted. Because in a blink of an eye, it could all just disappear.
csudhbulletin