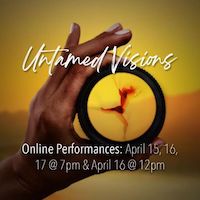 By Gabriela Medina, Staff Reporter
Even in a pandemic, the show must go on.
At least that's what Doris Ressl, the chair of the CSUDH Theatre and Dance Department decided when it came time to figure out what to do with the annual spring dance concert. The senior project for many dance majors, in which they must choreograph their own pieces, the projects traditionally aren't limited to class; they are performed live as part of the spring concert, and the choreographers direct the pieces as well.
But with availability limited for in-person rehearsals due to our mostly virtual learning environment, how to do a spring concert?
Ressl decided to pre-record the individual pieces and make them available via streaming for people to see. The concert streams beginning tonight and ending Saturday.
What was the process like?
According to Ressl, although she is listed as the show's director, she didn't create anything. That was left up to the students. But she said that she has learned through her career that given the opportunity to express themselves through their work, students tend to tap into their cultural backgrounds, revealing some aspect of themselves through the stories they tell using the movement of human bodies.
That's what happened with this year's spring concert, she says. Even though this is the first time the dance department has pre-recorded and streamed a spring concert, Ressl says she has never felt prouder of the student work that has been created. In fact, she said she felt even more connected to them, even though it was mostly all virtual.
The senior choreographers and directors agree. Each was given the option to perform their pieces either on stage at the university's theatre or to perform solo at the location of their choice. One student, Rufina Perez-Gutierrez said she performed hers in a warehouse and another, Lorena Aguilar Rojas "used her limitations to create her dance" in her bedroom. For the students who chose to perform on stage, they were scheduled to meet for eight hours one day on campus in the space to rehearse, get costumes fitted, fix the lighting and sound, and record their performances.
Following are some thoughts from the student choreographers/directors, many of whom are also dancers in their own, or other student-created, pieces.
But first: here's the names of all the senior choreographers:
Josh Alvarez, Lorena Aguilar Rojas, Nick Castillo, Lillie Galloway, Hannah Mercado, Sarah Omori, Dani Rico, Rufina Perez-Gutierrez.
Each of the individual pieces is a part of a greater whole, but traditionally each performance has its own identity. With so much of the process being done remotely and with no opportunity to see how the pieces fit with one another, was there any conflict during the creative process?
Nick Castillo: We were really lucky to still be able to do a concert because other schools didn't even get to do any sort of concert. My piece (is the longest it has four different dance styles with four different costumes) was a huge deal to me that my dancers looked right. My piece is called "We are Latinx" and the overall concept of the piece was to highlight that not all of the Latinx community are Mexican. There are so many other cultures other than Mexican and people often mistake them for just Mexican. So I did different dance styles from Latin America to show the differences between the cultures and how they're different. It was really important to me that the costumes also show the differences and they were just above and beyond. I wasn't expecting them to be that amazing. They were more than I was expecting in a good way. My dancers also really helped me a lot in having their stuff together even on filming day and were overall really supportive.
Hannah Mercado: From my experience, being here for four years I would say this concert is the most diverse in choreography so far. We're having Afro and other types of dancing. Not many students have experimented with that because the training is very specific and we're lucky this year to have enough training in that, which I think makes this concert so much better.
Doris Ressl: We are a very diverse college and I think that our students are given their opportunity to share their diversity and I think that's the bigger picture. There's a lot of colleges that don't do the work we do with embracing cultural dance forms.
In recent years, the dance department has allowed the previous graduating class of seniors to name the following year's student concert. So how did this concert live up to the name it was given: "Untamed Visions"?
Castillo: All of our pieces for sure fit "untamed visions" so well. They all fit in different ways and again I think that being the "untamed" part because all of our pieces are so different from each other. And there are a lot of cultural pieces actually between a lot of us so I think the title definitely fits our themes that we were coming up with anyway. It's really fitting for all of us.
Dancers perform to tell a story and leave the audience with an impactful message. What do you hope people will take away from this performance?
Dani Rico: As dancers, we will always make it work. Literally, the whole world is turned upside down, and we're still doing a show. No matter what we always want to perform for people. This is what we love and we will always find a way to put on a good show for people. During this quarantine, people have been streaming on different platforms and hopefully, by being able to see a screen dance show, they become opened-minded and motivated to go out there and see more things like this or just, in general, more life and art shows; to get a different experience other than their regular couch entertainment.
What were the biggest challenges in directing other students?
Castillo: The hardest part was not knowing the incoming students. I based my casting on the auditions only which was very different. It's more accessible to practice your craft because of the resources we have.
Rufina Perez-Gutierrez: It was difficult for me to come up with the choreography. I was unsure if what I am feeling is going to go show through the movement? As a choreographer, you are your worst enemy. (You need to overcome) the fear that it's not going to be good enough.
Lillie Galloway: The most difficult thing for me was not being able to fix things since I am a big perfectionist. It was very hard rehearsing on zoom because for me, I had already finished showing them my choreography. It was just about the spacing and who is going which way since zoom mirrors the individual's screens.
What were some of the changes that as a dancer you had to deal with in terms of this being pre-recorded?
Castillo: As far as classes go, all of our dance classes have been online for the most part in our living rooms or our living spaces so (it was) trying to find the balance especially for me. I live with my four other family members. Adapting to doing everything at home, whereas before it would be in a big studio with everybody else was the biggest difference for me.
Perez-Gutierrez: The technical aspect of it has been way different for me. It's difficult for the instructor to see how your body is moving through Zoom. I think that's the most difficult part for all of us. That's what's been the biggest hurdle for all of us to overcome.
Galloway: I don't know if anyone gets that bubbly feeling of going on stage or that nervous feeling. Online, I'm in the comfort of my own home. I can perform, get it over with, and go lay down and my nerves are handled differently. Versus being on stage, I just have to suck it up whether I'm nervous or not and go through the whole performance.
The big show is now ready to be viewed by audiences. Is there any advice you'd give to other student performers going through the same experience as you?
Lorena Aguilar Rojas: Have fun in your own space.
Galloway: Just do it. Don't be nervous or scared to try something out. Do it without question.
Ressl: I agree with Lillie. It is your identity. It is who you are. Do what you believe in, don't let the pandemic stop you. We'll get back to leaping across the floor again.
"Untamed Visions. Thurs.-Fri., 7 p.m.; Sat., noon & 7 p.m. Q&A with the cast and crew following the shows will be on Thursday and Friday. $10. For tickets to watch the recorded performance, go to the CSUDH Theatre and Dance Department. For further information, email PerformingArts@csudh.edu or call 310.243.3589
csudhbulletin