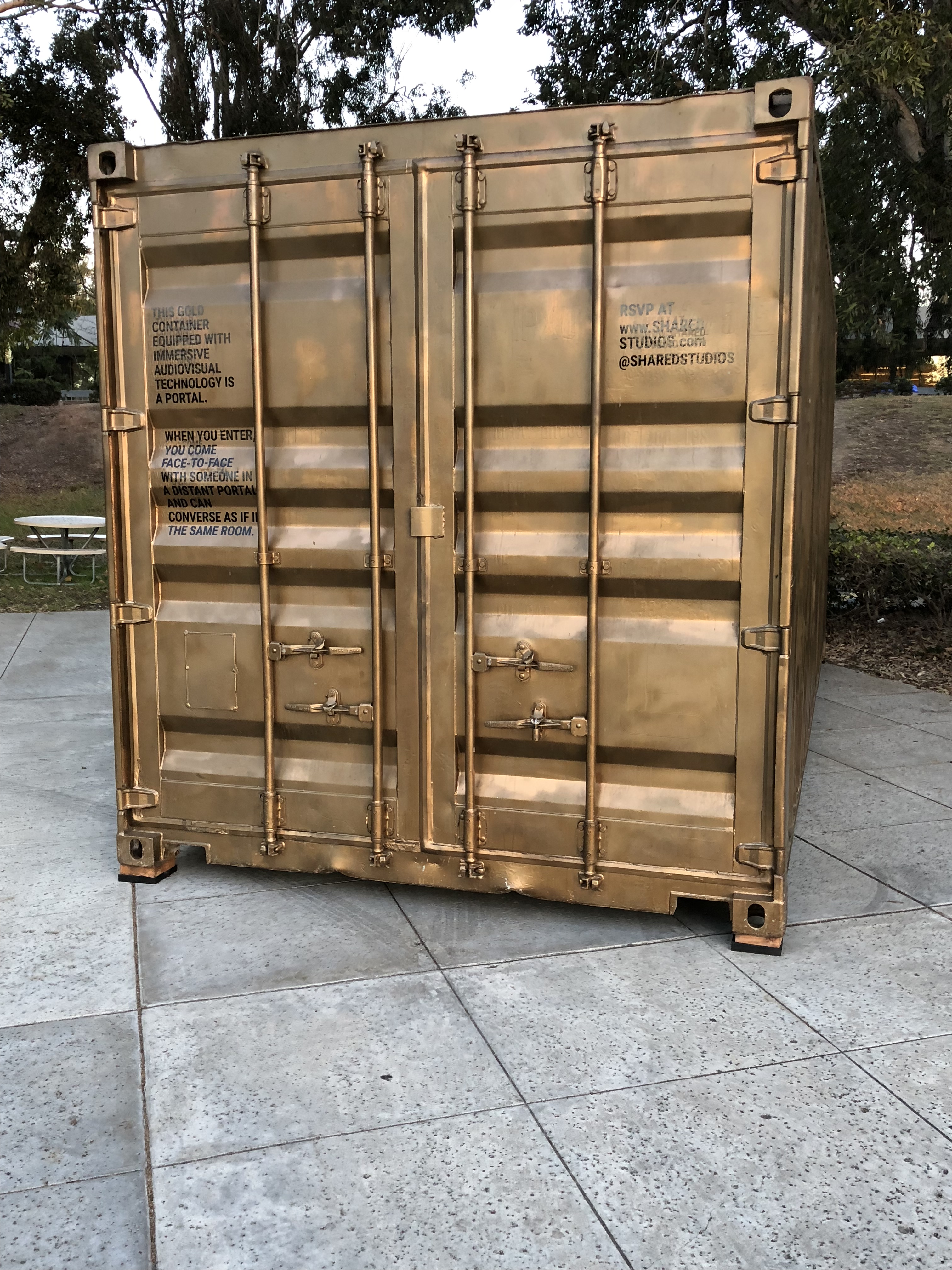 By Andrea Scott
Staff Writer
What's the deal with that large, gold-painted shipping container in front of the Loker Student Union?
It's part of "Portals," a mobile art installation on display at Cal State Dominguez Hills through the end of the semester.
The artwork was created to encourage dialogue about the criminal justice system.
Praxis Studio, a year-long initiative aimed at engaging social awareness through art, and its co-founder, Devon Tsuno, an assistant professor of art and design at CSUDH, created the event. Tsuno jump-started the program with help from the Big City Forum in Los Angeles and a $40,000 California Arts Council grant.
"Portals" are gold-painted shipping containers equipped with audio-visual technology that immerses viewers in dialogue about sensitive topics. Conversations feature "people in identical shipping containers across the globe," according to a campus news release.
This live experience includes a 20-minute collection of dialogue discussing police violence. The incidents up for discussion include conversations from individuals in highly policed communities, such as Newark, N.J., Milwaukee, Wis., Baltimore, Maryland, South Chicago, and Mexico City.
The goal of the public art initiative is "to amplify the voices of individuals and communities directly affected by police violence, and whose perspectives are too often missing from conversations on this critical issue."
Yale University's Justice Collaboratory, as well as the MacArthur Foundation, contributed funding to the project.
The portals are open to the general public. Viewers need to be 18 years or older to participate. Participants are welcomed to enjoy the work on a walk-in basis.
Those interested can find the "Los Angeles Portal" in front of the LSU until the end of the semester. Hours of operation are 10 a.m. to 4 p.m. Monday to Thursday.
For more information regarding content specifics, or to reserve a timeslot, please visit sharedstudios.com/losangeles.
csudhbulletin