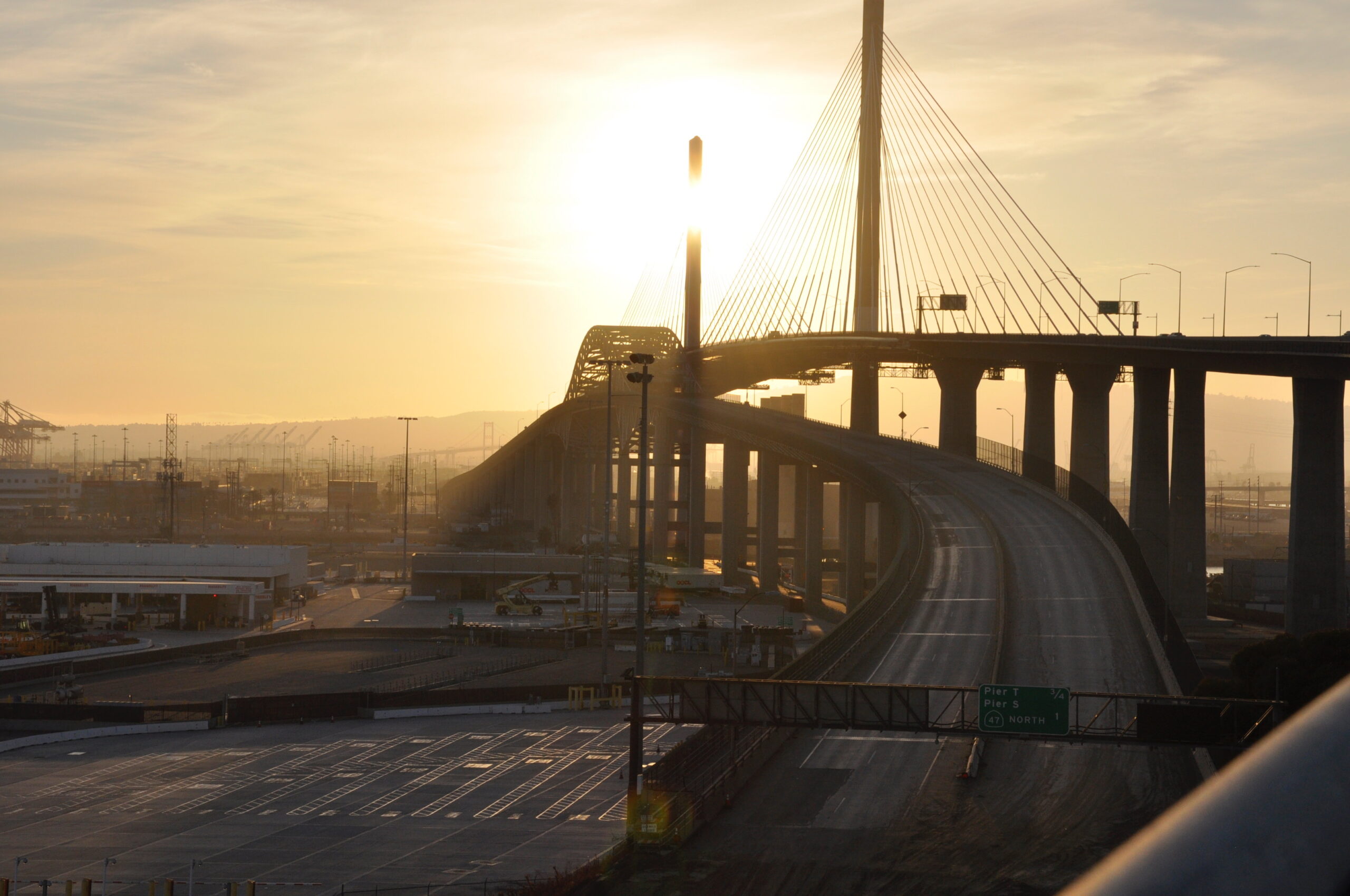 By Jeannette Montoya, Staff Reporter
It took seven years and about $1.5 billion, but the newest addition to the short list of noteworthy bridges in Los Angeles County opened earlier this month.
The Gerald Desmond Bridge connects the 710 Freeway and downtown Long Beach with the Port of Long Beach, the second busiest port in the country, next to its neighbor, the Long Angeles Port. An estimated 60,000 cars and trucks will cross the bridge, which sports two main towers that rise 515-feet, making it the second-tallest cable-stayed bridge in the United States.
The new bridge, which is just north of the old one, was originally budgeted at $950 million and it was supposed to open in 2017. But construction delays increased the time and cost.
The bridge is 50 feet taller than the original one, which was built in 1968 and cost $12.7 million. It has three lanes in each direction to help improve traffic flow and will eventually include a pedestrian and bicycle path named after Mark Bixby, a bicyclist killed at the Long Beach Airport in 2011.
And what does $1.5 billion pay for? How about 75 million pounds of rebar, 47 million pounds of concrete and 18 million pounds of structural steel.
Additionally, It includes 30-foot shock absorbers meant to absorb any earthquake motion.
"Fifteen percent of all imported cargo goes across that bridge every day. That's why this is such a vital project to the national economy, "Duane Kenagy, capital programs executive for the Port of Long Beach, said.
The Gerald Desmond Bridge served 52 years; the new Gerald Desmond Replacement Bridge was designed to last 100 years.
Here is a look at some other architecturally significant bridges in LA County.
Vincent Thomas Bridge
San Pedro
This bridge in San Pedro spans the main channel of Los Angeles Harbor. It opened in 1963, cost $21 million and is named after a longtime state assemblyman who represented San Pedro nearly 40 years. Its main suspension spawn is 1,500 feet, making it the fourth-longest suspension bridge in California. (In comparison, the main span of the Golden Gate Bridge in San Francisco is 4,200-feet)
When the bridge opened, there was a toll of 25 cents in each direction. In the year 2002, the toll ended.
Colorado Street Bridge
Pasadena
Built over an arroyo in1912 at a cost of $191,000, the Colorado Street Bridge is as known for tragedy as it is for its beauty.
In 1932, it earned the name Suicide Bridge, on account of a reported 95 people hurling themselves to death between 1919 and 1937.
"Its eerie reputation came into place before construction even began, when a construction worker accidentally fell 150 feet to the bottom and landed in wet concrete. Supposedly, his corpse is still there to this day," according to Brittany Corral.
Since 2013, signs with the phone number of a suicide hotline have hung near the main entrance.
Sixth Street Bridge, Los Angeles
The original Sixth Street Viaduct bridge, which connects Boyle Heights to downtown LA and its Arts District, was built in 1932 and stretched 3,500-feet across the Los Angeles River. The most iconic bridge in the county, it has been shown in many films.
But it began deteriorating only 20 years after it was built due a chemical reaction in the concrete and by the 2000s, experts estimated there was a 70 percent chance the bridge would be destroyed by an earthquake in 50 years..
In 2016, it was demolished and a new bridge, the Sixth Street Viaduct Replacement Bridge, is currently under construction. The estimated completion date for the $482 million bridge is summer, 2022 and it will include 10 pairs of arches, a bike lane, and wider sidewalks.
.
---
csudhbulletin