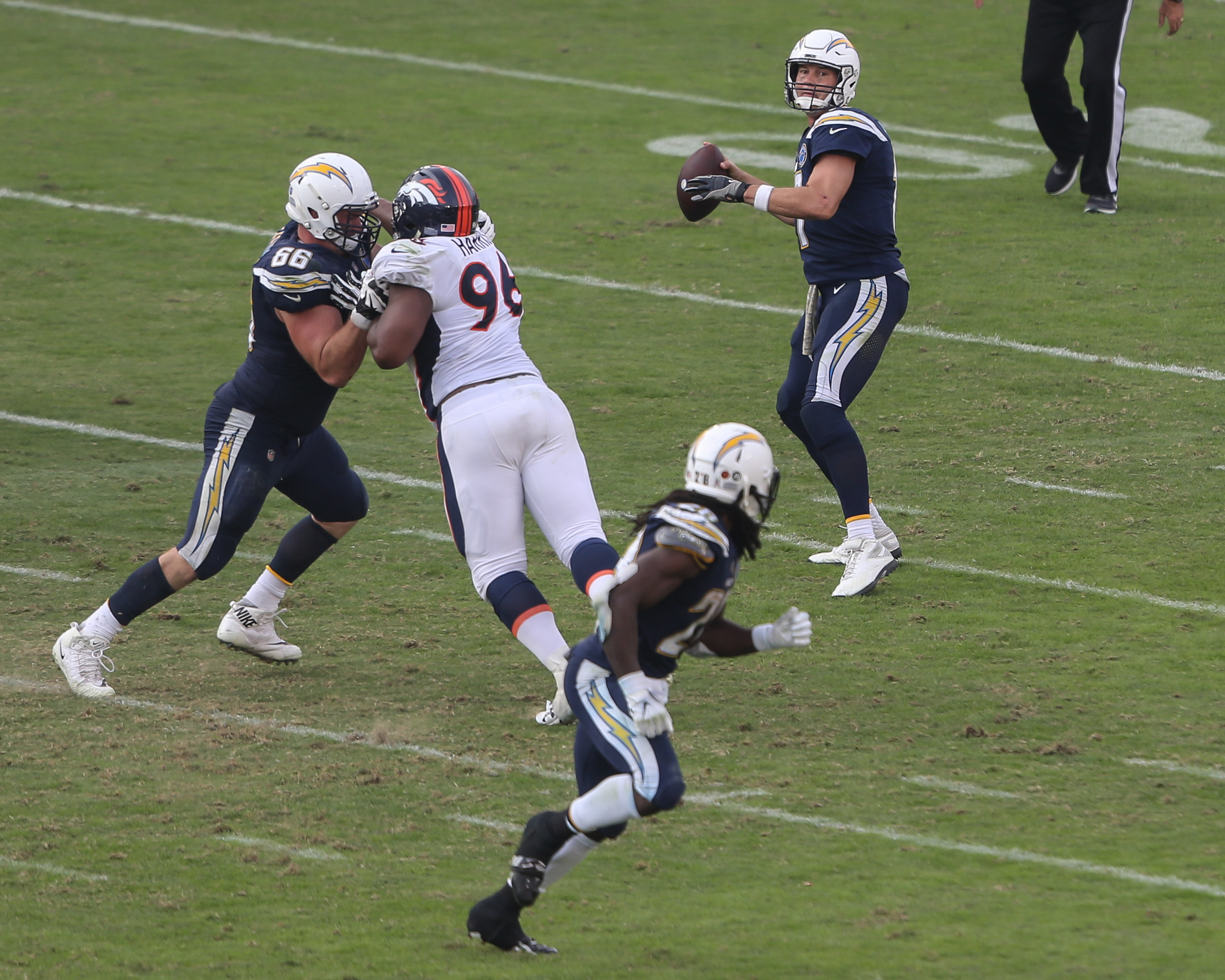 By Omar Hassoun
Staff Writer
With the $4.96 billion Los Angeles Stadium at Hollywood Park still under construction, its future tenants, both of which moved to Los Angeles in order to play there, have had to find temporary homes.
The Los Angeles Rams, who returned to LA in 2016 after 20 years in St. Louis, are playing in the Los Angeles Coliseum until the new stadium opens in 2020. And the Los Angeles Chargers, who left their home since 1961, San Diego, are playing at the StubHub Center, which is connected to the north end of the CSUDH campus on land that directly belongs to the university. 
For CSUDH, a CSU university that has never fielded a football team, the presence of a professional team would seem to be an exciting time for our students and staff. But the reality is that the Chargers' support on campus matches up with its home attendance: at Chargers games, the small-by-NFL standards Stub Hub Center (27,0000) is never at full capacity, and most games opponent's fans outnumber Chargers fans three to one.
And while there are several factors for that, it seems the Chargers lack of embracing our campus population, is part of it. To say the Chargers have laid out a proverbial carpet to CSUDH is an understatement.
While the Galaxy, the Major League Soccer team that has called the StubHub home since 2003, offers discounts on all tickets to CSUDH students, the Chargers do not. General admission to Galaxy tickets are $35, but CSUDH students and alumni may purchase up to eight tickets for about $20 each.
Not only are Chargers tickets not discounted for CSUDH students, most of us could only dream of buying one. According to Statista, a website dedicated to providing statistics and studies from over 22,500 sources, the average Chargers ticket has increased from $84.55 in 2017 to $199.10 in 2018. This over 200 percent increase in price is due to the limited seat availability in the stadium, and the intimate experience provided at StubHub Center. (I must admit, even the furthest seats come with a great view of the field) But at these prices, trying to afford a ticket to the game as a student is challenging, to say the least.
Not only is it expensive, but the Chargers' presence on campus negatively affects students. On game days, traffic advisory on the CSUDH website suggests that students need to give themselves two hours of extra time to get to class. Of course, every Chargers game this season has been on a Sunday, so it's not like that many students are being affected. But still, two hours is not a small amount of time.
The CSUDH website also recommends that students print out a special pass to put on their dashboard so that they can be waved through the parking lots efficiently. Furthermore, the website states that because of the volume of vehicles on game days, they ONLY have three lots that are guaranteed spots for the campus community.
All these inconveniences cause potential hiccups in the routine of a student. The lack of any contribution to the CSUDH community by the Chargers is not proportionate to the hindrance forced on staff and students.
As a journalist for this newspaper, I would love to cover a Chargers game and help expose them to fellow students on campus but gaining press access is difficult. On the Chargers official website, the credential request form states:
"Only media outlets covering offseason events as well as all preseason and regular-season games will be considered for Season Credentials. The Chargers do not credential freelancers, personal blog sites, fan sites or college media." 
Sure, The Bulletin isn't exactly the Los Angeles Times, but we are the voice for a campus community, and not allowing the student newspaper any access seems less of a slap in the face than a bad business decision. The Chargers are the only NFL team directly attached to a state university. It seems like a perfect opportunity to build a relationship with that university and increase attendance. But explicitly stating that college journalists aren't allowed access, doesn't seem like capitalizing on that opportunity.
Embracing the CSUDH community would be beneficial to the students as well as the Chargers organization, creating possible business opportunities, potential jobs, discounts for students and maybe filling those seats for this team that is playing as well as anyone else in the NFL. Discount tickets, press access, and opportunities to attend the games would encourage us to attend and support the closest thing we have to a football team here at CSUDH. 
Just ponder this. After Sunday's game against the Cincinnati Bengals, the Chargers are 10-3. It's conceivable they could finish with the best record in the AFC, win a divisional game and on Jan. 10, will host the AFC Championship game with the chance to advance to their second Super Bowl appearance in their 59-year history.
And without a single CSUDH student in attendance.
Photo by Jevone Mooreitor | Fi360 News
csudhbulletin