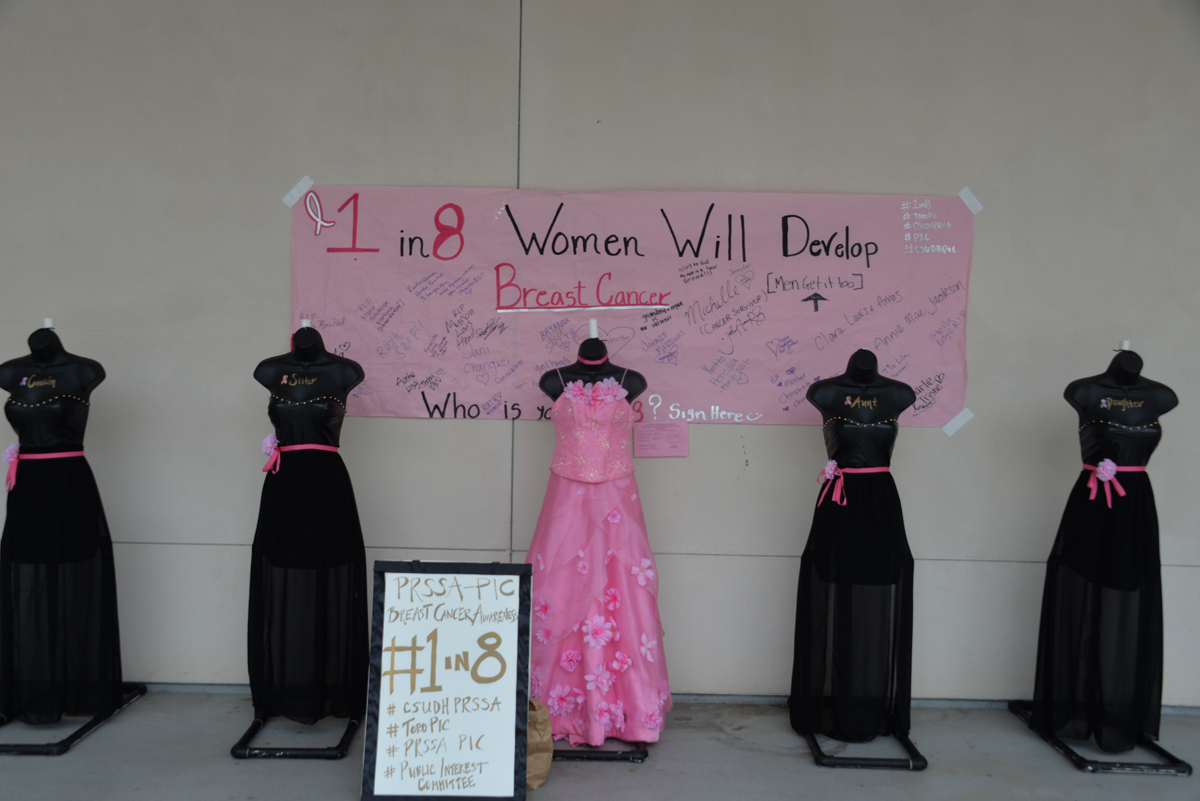 By Alyssia Gilchrist
Staff Writer
Dresses in the "1 in 8" exhibit at the CSUDH symbolize American women diagnosed with breast cancer. The event took place Oct. 27-28 as part of Breast Cancer Awareness Month.
The Public Interest Committee presented an art installation in support of Breast Cancer Awareness month on Oct. 26 and Oct. 27 on the Loker Student Union's East Walkway.
The installation featured eight mannequins, seven of them dressed in black dresses and one in a pink dress. The installation was called "1 in 8," representing the statistic of American women who have been or will be diagnosed with Breast Cancer in their lifetimes.
Erica Galvan, the chair of the Public Interest Committee (PIC) said that she wanted to visually depict all women through this installation. She was looking for a way to get the importance of this matter across while still capturing the communities attention.
"That is a very startling statistic," said Galvan. "Wow, that is really overwhelming. At the same time, [I was thinking] how can I relay this message, visually, to the students here?"
The bright shade of pink used in the installation to represent the one out of the eight women who would potentially be diagnosed with breast cancer, drew the public in.
Angie Madrid, firm director of Toro Tactics, a student-run public relations firm, has been cancer-free for three years. Although she did not have breast cancer, she said she can still connect with the fear of having a serious disease.
"I think it's a beautiful project," said Madrid. "Uniting the beauty of surviving and the harshness of the fact that one out of eight women end up having breast cancer."
Dylan Miller, the associate chair and director of public relations for PIC, not only helped to plan and promote this event, but can relate to the cause.
"I think it's a great idea. Breast Cancer is a serious issue that's going on. I've had family members affected by it," said Miller.
Miller said that PIC doesn't only want people to be aware of the breast cancer statistics, but also wants to drill the importance of getting tested for it.
"The five-year survival rate is 100 percent," said Miller. "Testing is something that we want to focus on."
Miller also expressed that breast cancer is not just an issue for women, but men as well. It is a serious issue that can affect everyone.
According to Cancer.net, approximately 2,600 men will be diagnosed with breast cancer every year.
Founder and former chair of PIC Emily Cristales believes that art installment aligns with the organization's mission.
Galvan said that her goal for PIC is striving to create projects that will uplift the vision and the image of CSUDH.
"Because we are not as well known in the Cal State system like Cal State Long Beach or Cal State Fullerton, we try to create projects that we can get some media buzz for the campus, but that also creates opportunities for the students to  have some more content for their portfolio," said Galvan. "We offer [opportunities] for students in the committee to write press releases and be part of the actual logistics and planning of the event. It builds a lot of confidence into the students."
A flier submitted by PIC will have more information on self-examination for younger women to help prevent breast cancer. Normally, women do not get tested for breast cancer until their 40s.
PIC created some hashtags, like #1in8 and #ToroPIC, to give students the opportunity to share the message on social media.
PIC is working with the Office of Student Life and David Braverman, the interim associate vice president of student life, on further events to strengthen and support student life on campus.
csudhbulletin