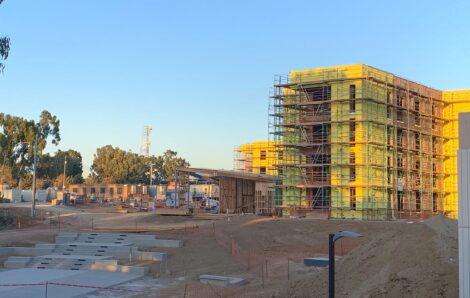 By Monique Davis
Staff Reporter
With enrollment increasing by nearly  percent this semester, California State University, Dominguez Hills has set a new enrollment record, but it also means a huge crunch in the University Housing Complex.
According to housing student assistant Daylin Joseph, "For the 2019-20 school year, the housing department has experienced the longest waitlist in the history of housing."
Since the waitlist to get into the dorms was about 500, interim Vice President of Student Life Matthew Smith coordinated with Marymount California University in Rancho Palos Verdes to add an additional 100 beds. This collaboration gave some students on the waitlist the opportunity to live as close to CSUDH as possible.
The university also worked with the company Rent College Pads Inc. to create a website that offered alternative living locations besides Marymount California University. This list of alternative housing gave students "peace of mind of finding fellow CSUDH roommates in a secure fashion," said Lynn Arthur, the housing director of Residential Life.
But not all students' minds are so peaceful.
Symphony Kelly, a senior majoring in theatre arts who said she had lived on campus her first three years, had to lease an apartment at the Lorenzo Complex near The University of Southern California.
"It's incredibly frustrating especially because it was my last year, and it would have been so much easier and cheaper to live on campus like I've been doing for the past three years," she Kelly said. "I spend more money on gas, and I have extra miles on my car even though it's only leased. Also, instead of walking from the dorms to my classes, I now have to commute from USC and spend 30 minutes searching for a parking space on campus."
Deja Anderson, a senior majoring in health science, also found her closest alternative living space was the same complex as Kelly.
"I'm extremely hurt and a little depressed," Anderson said. "I've been living on campus since I was a freshman, and the fact that I have to live somewhere else still hasn't registered yet."
When applying for a dorm, the housing department emphasizes the importance of submitting all paperwork on time. If paperwork is late, your chance of getting a space is impacted. Due to the enrollment increase and these two students submitting their application about an hour late, they could not secure a room in the dorms.
While the enrollment push means some students are facing challenges they'd never encountered before, Arthur said it is exciting if one looks at the big picture.
"It is exciting as a new employee to see that Dominguez Hills is the first choice for students and parents," Arthur said. "Dominguez is definitely making strides and attracting students from across the state. If enrollment increases in the future, the housing department is still undecided on what the process for receiving a space will be."
But hope is on the horizon. The university is currently constructing Phase III of the new dormitories. The new residence hall will be a four-story building that can hold 506 beds. It is expected to open during the fall semester of 2020.
csudhbulletin