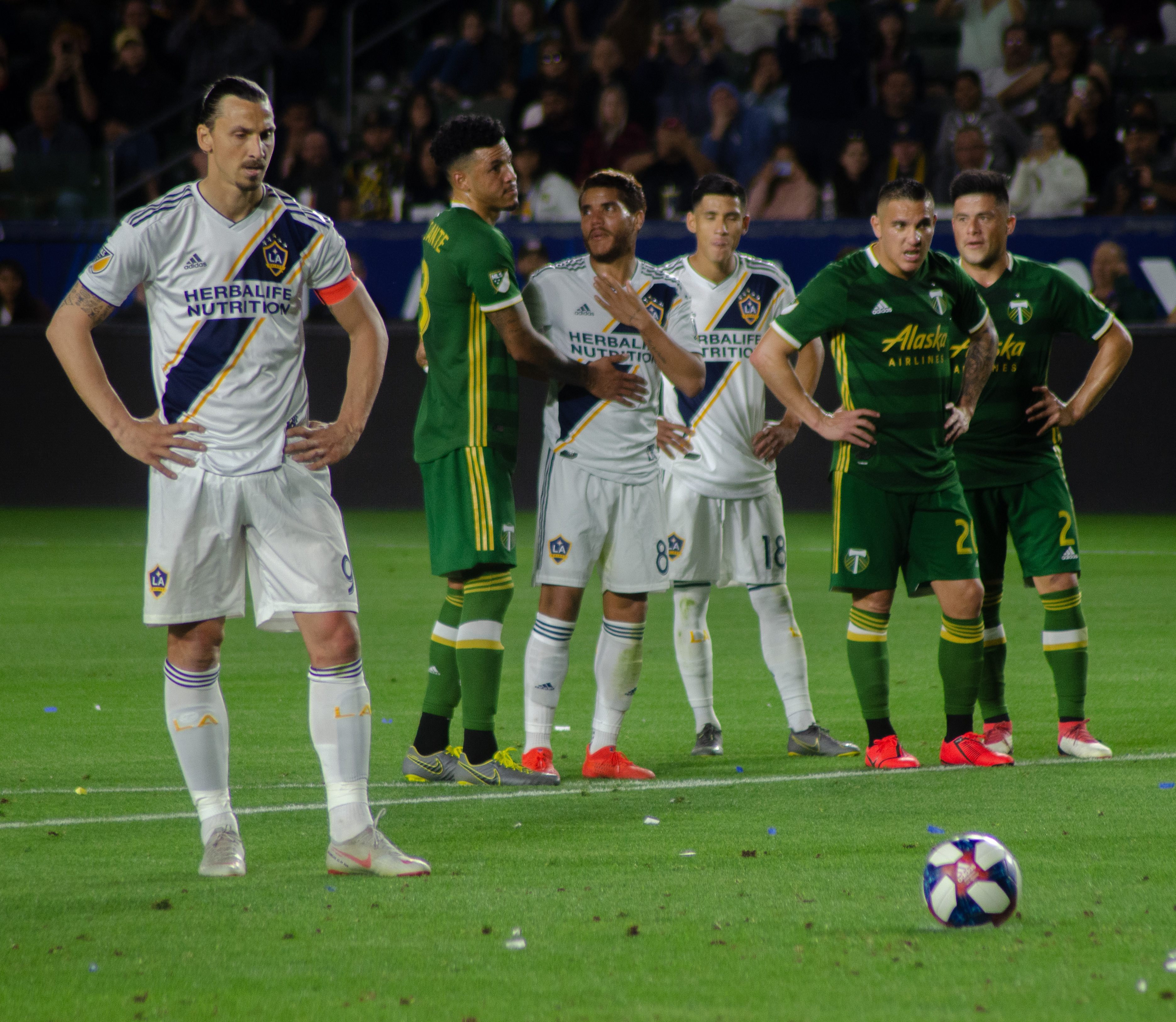 By Victor Munoz, Sports Editor
On the one-year anniversary of his MLS debut, Zlatan Ibrahimović, for the second consecutive year in Dignity Health Sports Park (formerly known as the StubHub Center) which use to be called StubHub Center in 2018) Sunday scored two goals and led the LA Galaxy to another victory in front of 23, 820 fans . The Galaxy 2-1 win came over current Western Conference champions Portland Timbers.
"We had crazy support from the fans and that gave us more motivation to keep going," said Ibrahimović
After the victory, the Galaxy remain undefeated at home, without letting a single point slide, winning three out of three at Dignity Health Sports Park.
Galaxy head coach Guillermo Barros Schelotto said that it is important to continue obtaining victories at home to keep the aspirations high in the title race.
In the 14th minute of play, Ibrahimović was inches away from giving the fans another "out of this Galaxy" goal (remembering the 35-yard screamer in the LA Classic last March 31. Off a cross from Rolf Feltscher, Ibrahimović pulled out his karate skills and connected with the ball but it hit the post and did not go across the line for a goal.
During the 21st minute, Portland had its best opportunity shut down as Galaxy goalkeeper David Bingham saved a left-footed shot by Timbers midfielder Sebastián Blanco.
Just after the half-hour mark, defender Claude Dielna brought Ibrahimović down inside the box, and the Galaxy was awarded a penalty kick which Ibra himself cashed in to make it 1-0.
Before the referee called the first half to an end, Timbers players Diego Chara, Diego Valeri and David Guzman connected beautifully to set up Jeremy Ebobisse and level the game at 1-1.
In the 64th minute, Ibrahimović got past the defenders and for the second time in the game is brought down inside the box, this time by the goalkeeper Jeff Attinella, and Galaxy was awarded a second penalty kick.
Ibrahimović, with bold, confidence and style, clipped a beautiful Panenka to score from the penalty mark again and put the Galaxy ahead, 2-1.
In the final minutes of injury time during the 2nd half, Galaxy defenders Daniel Steres and Diego Polenta crashed and lost possession, leaving the ball loose. Timbers midfielder Valeri took the ball and headed full speed to goal but Galaxy defender Jorgen Skjelvik made a crucial interception to keep the score 2-1.
March 31, 2018, the LA Galaxy was trailing 3-1 against arch-rivals Los Angeles FC when Zlatan was subbed on in the 71st minute making his MLS debut. In less than 20 minutes the "King" Zlatan scored two goals and conducted a monumental 4-3 comeback in el trafico (the LA derby).
For She Spanish version of this story, go to Galaxy Invicto en Casa, 31 de marzo Día de Zlatan.

csudhbulletin