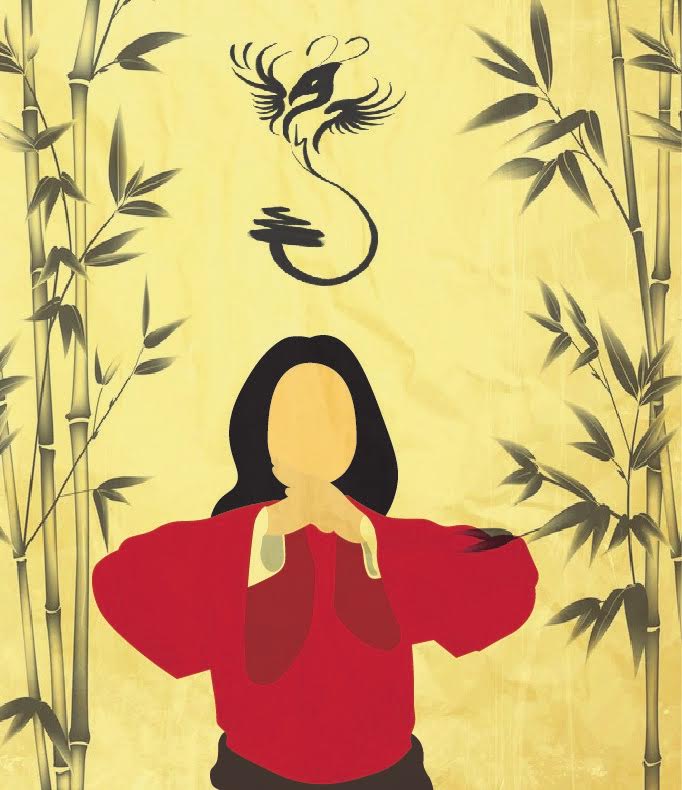 Mulan (Liu) reveals her secret and asks to be persecuted to keep honor to her name. Illustration by Carlos Martinez.
---
By Carlos Martinez, Staff Reporter
It was 1998 when Disney created an animated-action adaptation based on Chinese folklore, the story of Hua Mulan. a fierce warrior who disguised herself as a man and took her father's place in the Emperor's army against the nomads.
It was a huge risk for the house of mouse because it haven't created a movie like this before. A tale about an independent girl who evolves into a kick-ass fighter while restoring honor to her family name and going on an inner journey to find her identity in a male-dominated world.
Disney only had three films with a female protagonist in its "Renaissance" era at the time: "The Little Mermaid," "Beauty and the Beast" and "Pocahontas." Despite each leading lady being extraordinary in her own right, they were still trapped in the traditional Disney princess role. So Disney had to learn to swap out itscultivated, branded culture in order to preserve and introduce western audiences to Chinese culture.
Whether people loved Disney's attempt to diversify its brand or hated that it felt Americanized, "Mulan" was a huge deal in 1998. According to The New York Times, Asian American representation was so considered a sub-genre in the 1990s due to scarcity. In fact, "Mulan" was released three years after "All-American Girl," the first primetime sitcom that featured an Asian American cast. "Mulan" led the push for more people of color to appear in front or behind the camera.
Since 1998, the industry has seen a surge of Asian representation in films such as the 2018 adaptation of "Crazy Rich Asians" and "Parasite," which won an Oscar for Best Picture.
Now, the media conglomerate has decided to release a live-action "Mulan" on its Disney+ streaming service with a $30 "Premium Access" fee after facing delays of its release due to the COVID-19 pandemic.
With expectations of it being as good or greater than the 1998 version, Disney had to make sure that "Mulan" was closer to its Chinese roots instead of being a movie about "America's version of China."
In their ambitious attempt to bring Hua Mulan to life, Disney selected New Zealander Niki Caro as the director instead of an Asian filmmaker.
Granted, she has experience with managing a coming-of-age film, "Whale Rider," in which a girl breaks gender roles to become the chief of her tribe. Caro also has experience working for Disney with the sports-drama film, "McFarland, USA."
"Although it's a critically important Chinese story and it's set in Chinese culture and history, there is another culture at play here," Caro said in an article with The Hollywood Reporter. "The culture of Disney, and that the director, whoever they were, needed to be able to handle both."
But it ignores the elephant in the room: a lack of Asian representation behind the camera. It blows my mind to think that it's the same company that produced "Black Panther," a superhero film that serves as a milestone in Black representation in film.
In addition to lack of representation, "Mulan" becomes problematic with two other controversies surrounding its production.
According to The Guardian, the film location in the province of Xinjiang contains internment camps that abuse human rights of Uighurs and other Muslim minorities. Additionally, Mulan's leading actress Yifei Liu announced publicly of her support of the Hong Kong Police during the 2019-20 Hong Kong protests.
In a sense, "Mulan" is similar to the 1998 version by being risky for Disney. However, it's for the wrong reasons this time. It becomes apparent that the film has an awkward disconnect from Chinese culture and still feels Americanized like the 1998 film.
"Mulan" is a hypocrite of its own source material. In "The Ballad of Mulan," the titular warrior goes to war in order to protect her family and be a voice of her people by fighting for them. With everything surrounding this movie, "Mulan" just simply rejects the warrior's purpose.
The movie does a great job on the costume and set designs as it's able to capture the look of Ancient China. However, there's a feeling of disconnect that brews somewhere along with the first half-hour of the film.
There wasn't much character development with many of the characters in the film. Most of them stayed the same for the majority of the film, making them forgettable in the overall experience. Sorceress Xianniang (Gong Li) and Rouran warrior leader Bori Khan (Jason Scott Lee), new characters to this adaptation, were mostly used for the visual aesthetics of the film instead of being fully fleshed out villains that Mulan (Yifei Liu) faces on her journey.
It's hard to tell at first but as the film goes on, it becomes apparent that the film disconnects itself from Chinese culture and steers closer towards Disney's "movie-magic" experience. As a result, "Mulan" transitions from being a movie about a woman's journey into becoming an honored warrior to an unofficial Marvel movie with "Captain Marvel" vibes. Much of Mulan's relatability with the kids who grew up with either the 1998 movie or folklore are stripped away, leaving instead a superhuman who didn't have to work ten times as hard as her fellow soldiers.
In the end, "Mulan" is a type of movie that is only good for killing time. It does have some moments filled with entertaining fight choreography and small banter within between the soldiers in scenes, but it does a half-hearted job on upholding the values of honor, loyalty and character familiar from its animated original. It becomes a perfect example of how risky films with significant culture are and how it can backfire if not handled with care.
As a movie that has a girl trying to find who she is inside, "Mulan" fails to find it's own identity in the fight between the culture of a country and a conglomerate.
csudhbulletin