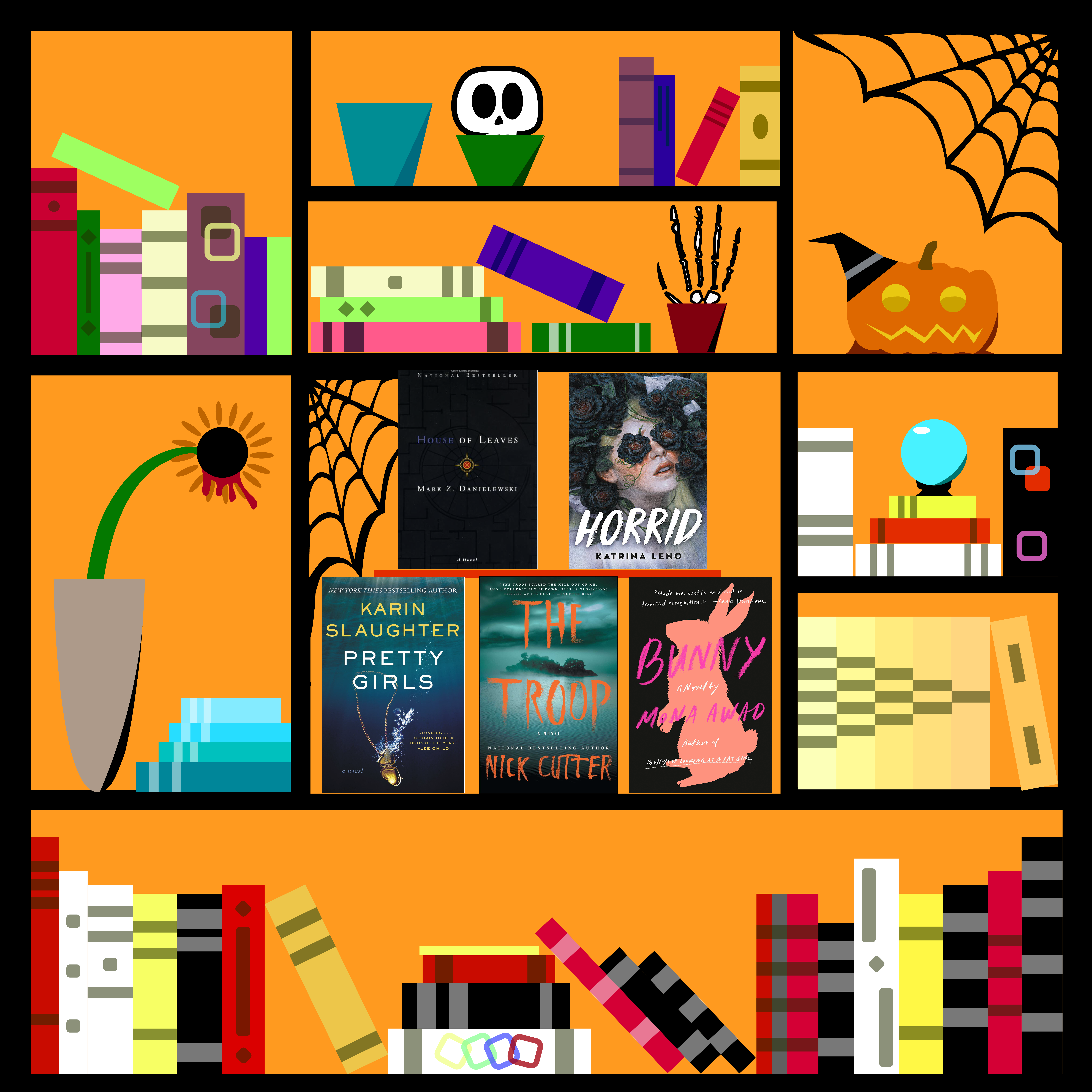 The horror genre can be hard to navigate, so these are five books that are a sure hit every time. Illustration by Nova Blanco-Rico.
---
By Destiny Torres, Contributor
Since the beginning of the spooky season, I have been on the hunt for the best scary books to distract me from the horrors of today's reality. As October has come to an end, I have finally found the stories to do just that.
"The Troop" By Nick Cutter
This book centers around a Canadian boy scout group who go on a retreat in the woods. They are attacked by these parasite-like creatures and then their trip takes a turn for the worst. Cutter tells the story from the point of view of the campers but also includes interviews and newspaper clippings to give the reader more of an outsider perspective as well.
My only warning is that if body horror makes you too queasy, this won't be a book for you. But if you're looking for a book that is terrifyingly and disgustingly good, pick this one up when you can.
"House of Leaves" By Mark Z. Danielewski
"House of Leaves" is unlike any other haunted house book I have ever read. No ghosts or monsters are lurking in the halls, the main character is the house. It is not written like a regular book either, it follows a documentary style about the home. Even that explanation is too simple for how this book is written. If I can compare the execution of this book to any other work, it would be the Blair Witch Project. The book includes other people's tellings of what goes on in the house, notes from a documentary and footnotes on top of footnotes. It's a very interesting book to read if not for the story, for the style it is written in.
"Bunny" By Mona Awad
If you are at all interested in the dark academia aesthetic, look no further than "Bunny" by Mona Awad. Taking place at an elite university, the main character Samantha is there on a scholarship for the master's writing program. In her class, there is a group of snooty, rich girls who call each other "Bunny." When Samantha receives an invitation from them to join their group, she is fixated on their world which turns out to be a lot darker than she imagined.
I recommend this book to anyone who wants a book that continuously leaves you wondering, "what the hell just happened?"
"Horrid" By Katrina Leno
After her father's death, the main character Jane and her mom move to the mother's childhood home in Maine for a fresh start. The home brings a lot of dark memories for the two women. For Jane, she struggles with the grief over her father and tries to find solace in the old books in the home. Her mom has a very strange attitude towards the house, especially the "storage room."
This is another great haunted house story that gave me the creeps at times, but aside from that, it's a story about grief and mental health which I think makes it even more of a captivating read.
"Pretty Girls" By Karin Slaughter
*Warning: this book includes sexual violence, torture and other subjects that may be difficult to read for some.*
This book follows Claire Scott. One of her sisters was kidnapped and had disappeared when she was young. After years of searching for her, Claire's father committed suicide and her other sister became a drug addict. Flash forward to 20 years later and Claire's husband is murdered in front of her. So much tragedy for one family, what are the odds that these deaths are linked? Claire reunites with her estranged older sister to find out.
This book messed me up when I first read it, some parts are difficult to get through. The whole time I thought I had the ending figured out when Slaughter knocks me with a plot twist. If you choose to read this pick, I can assure you that you won't be able to put it down.
The horror genre has so many titles to choose from that it may be difficult to pin down the really good ones. These five are all picks I'd suggest whether you are familiar with the genre or if you want to try something new. So find a comfy spot, open one of these reads and make sure you leave the light on.
csudhbulletin