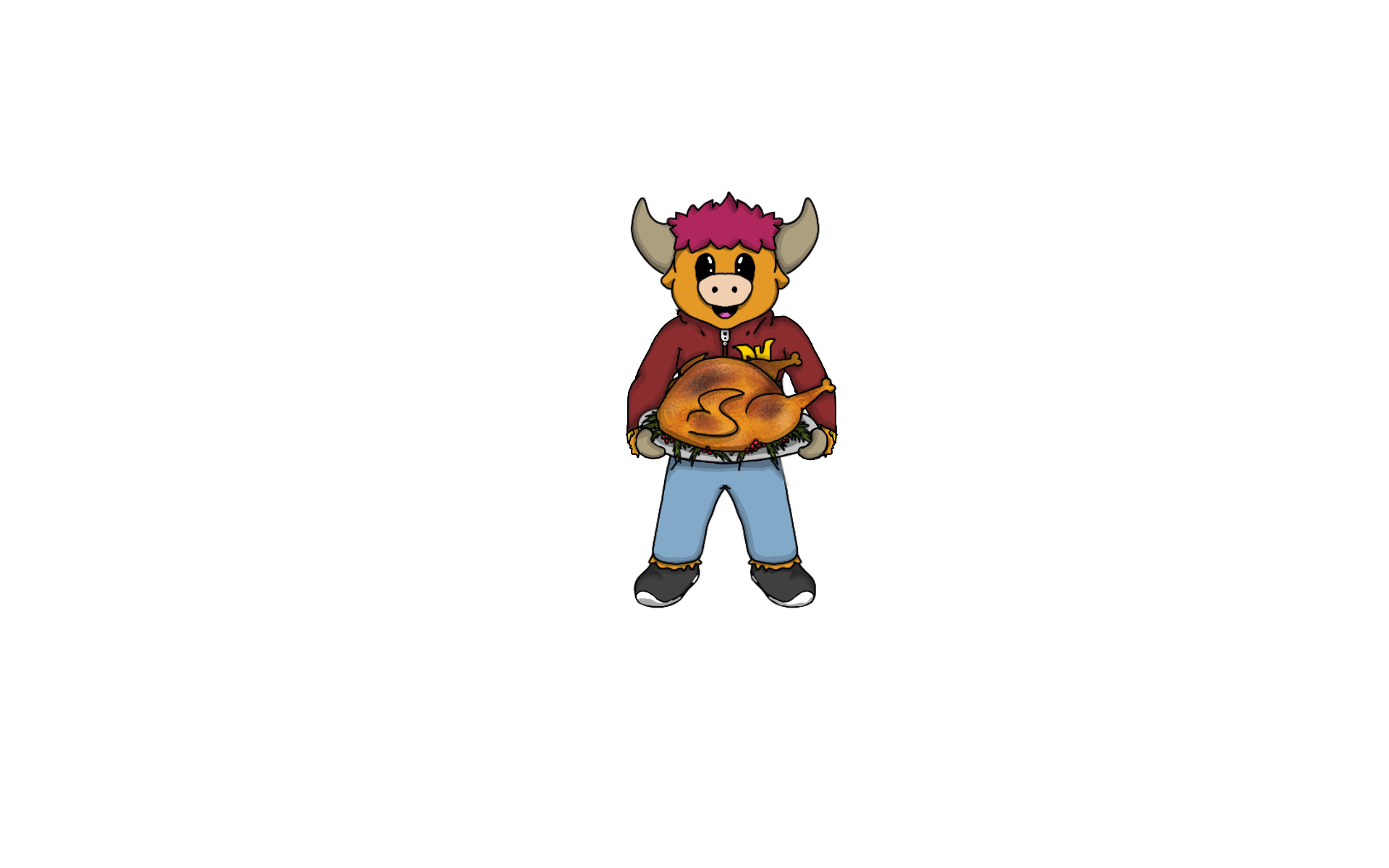 Illustration by Darlene Maes.
---
By Robert Rios, Campus Editor
It's always rough during the holidays for anyone dealing with food and housing issues. Compound that with living in a pandemic, and this year those insecurities are only harsher.
But a number of campus organizations are doing what they can to ease some of the difficulty.
They are assisting students this holiday season by directing them to off-campus resources where they can find essential items to meet their basic needs.
With the campus not being able to staff a food pantry or offer as many food drives as previous years,organizations like the Rose Black Resource Center, ASI, Basic Needs, and CSUDH CalFresh Foods are putting the word out on social media as to where students can find off-campus resources.
"We're helping students by continuing to support them from an advocacy level and by continuing to host various events and giveaways," ASI Program Coordinator Stephen Janes said. "We are also sharing and making accessible what some of our constituents are offering."
All semester-long, CSUDH Basic Needs and the Office of Sustainability hosted a food distribution event that was held every other Thursday.
Students arrived on campus to receive their bag of food and produce provided by the CSUDH Farmer's Market.
A pop-up thrift store launched in November that allowed students access to clothing and personal hygiene items.
"It is very important to help students during this time because the pandemic has really affected our students," Basic Needs Coordinator Morgan Kirk said. "A lot of our students are still unemployed, experiencing food and housing insecurities."
Kirk said the campus outreach programs are helped greatly by the role that faculty, current students and alumni play, whether it's through donating, soliciting donations or volunteering.
"It shows how folks like to give back to their alma mater because they know these students have the potential to succeed and move forward with their degree," Kirk said. "We have so much to be thankful for and so why not give back to those who are in need?"
One obstacle faced by those with an interest in helping fellow Toros is that with campus closed for the most part, students are spread throughout LA county and beyond. Kirk says for students and others who live far away that getting online and searching in their communities for food and clothing distribution agencies is the best thing they can do.
For students or anyone looking for assistance closer to CSUDH, here are a few local options:
*SHIELDS for Families College Bridge Academy: Food drive Friday, Dec 18 from 9 a.m to 12 p.m. Location: 15116 S. Gibson Avenue, Compton.
*Lutheran Social Services – Long Beach Food Pantry
*New Challenge Ministries Torrance
*Mama Rosa's Food Pantry – Gardena Genesis Comm. Church SDA
*Carson Hope Community
*Manos Que Sobreviven & Food Bank
CSUDH and the university's programs have followed guidance from the Centers for Disease Control and Prevention (CDC) as holiday activities quickly approach this winter season and to slow the spread of the virus.
"We are entering into the holidays, but also we're entering into the part of the year when things cool down and people are more likely to congregate…in settings that put their physical proximity and likelihood of transmitting disease at higher risk," California Gov. Gavin Newsom said in a press conference in October.
Newsom has been very vocal about limiting contact with people since the beginning of fall and continues to warn residents that they should keep their distance from one another.
"Don't be misled that this disease is any less deadly," Newsom said. "Quite the contrary — it is as deadly as it's ever been in the context of those that are high risk."
The CDC is encouraging people to have a small dinner with friends or family who live in the same household or have a virtual dinner. They also explain how the more people that are at a gathering, the higher the risk of contamination and spreading to others will be.
The California Department of Public Health (CDPH) also put out a set of tips for people to follow in order to have a safe holiday season. CDPH Guidelines include:
• Celebrate with those who live with you, but if you invite others, only invite a maximum of two other households to your gathering.
• Wear a mask around anyone you don't live with.
• Don't share utensils or drinks.
• Commit to keeping gatherings short, whether inside or outside. Shorter (two hours or less) is safer.
People at higher risk of severe illness or death from COVID-19 (such as older adults and people with chronic medical conditions) are strongly urged not to attend any gatherings, especially indoor gatherings. If you gather with older people or those with chronic conditions, make sure they wear a surgical or N95 mask.
It is safest to celebrate the holidays with the people who already live with you, but if you
invite others, only invite a maximum of two other households to your gathering.
With more holidays coming around, it is important that universities be able to help students at a time when things are uncertain.
"We need to make sure we think about our students especially during this time and that we provide a caring approach when we are communicating to students who are facing any food, housing insecurities and to continue on helping them," Kirk said.
csudhbulletin