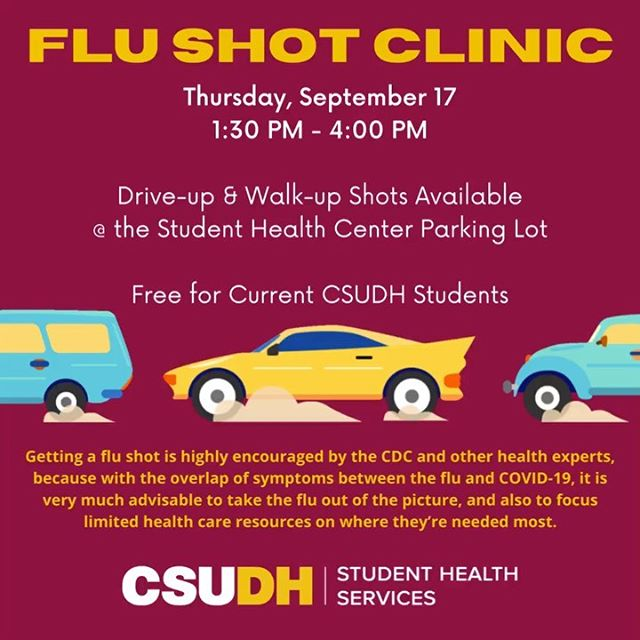 The free drive-up clinic will be accepting walk-in appointments on Thursday, Sept. 17 from 1:30 p.m. – 4 p.m. Photo courtesy of Student Health Services (SHS).
---
By Chris Martinez, Staff Reporter
The Student Health Services (SHS) Center will be hosting a flu shot clinic this Thursday, Sept. 17 from 1:30 p.m. – 4 p.m. to provide free flu shots to all current California State University, Dominguez Hills students. The clinic will be held at the Student Health Center Parking Lot 3. There is no appointment needed for this clinic, students will be able to either walk up or drive up to the designated flu shot zone where the (SHS) staff will be administering the shots.
COVID-19 guidelines will be followed and enforced in this outdoor clinic. SHS reminds students to wear a mask, maintain social distance and stay home if they are experiencing any COVID-19 symptoms
With flu season around the corner, The Center for Disease Control and Prevention (CDC) has strongly encouraged people to get a flu shot by the end of October. Although the flu shot can't protect people against the coronavirus, the CDC and other medical experts believe the flu shot can help reduce flu-like symptoms that can be confused with COVID-19 symptoms and reduce hospitalizations during the ongoing pandemic.
If students are not able to attend Thursday's clinic, they can still get a flu shot at no cost with appointment. The SHS will continue to administer and provide flu shots for the fall 2020 semester.
For additional information or to schedule an appointment students can call The Student Health Center at (310) 243-3629 for more information.
csudhbulletin