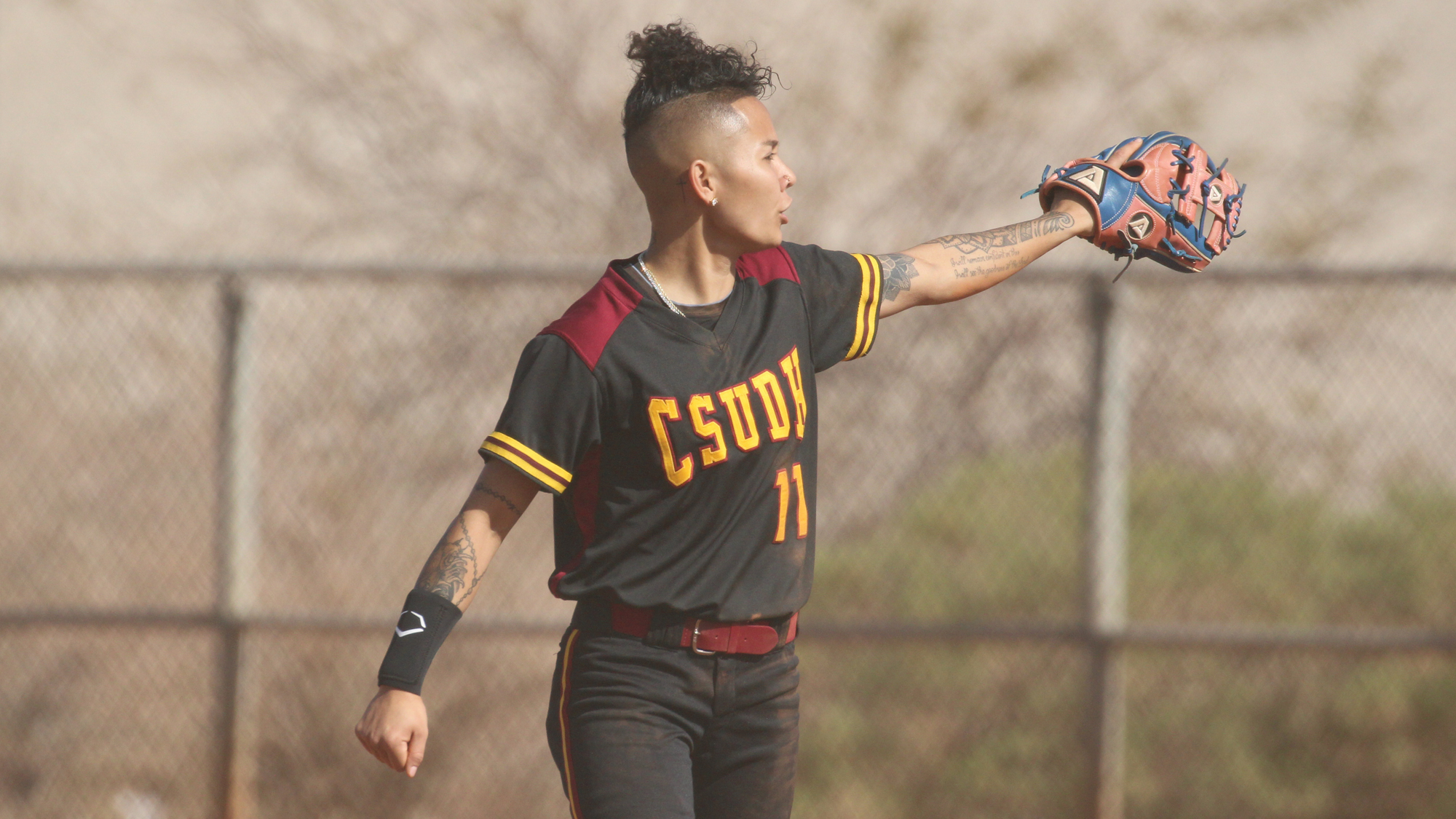 Senior Chenoa Au led the Toros in RBIs and was second on the team with a .333 batting average before all CSUDH athletics were cut short due to COVID-19. Photo by Toro Athletics.
---
By Jeremy Gonzalez, Co-Sports Editor
Senior Chenoa Au currently suits up for the CSUDH softball team, being a utility player who has filled in anywhere in the infield when called to do so. But before she was donning the Toro burgundy and yellow, she was living in her home state of Hawaii, not knowing where the sport of softball would take her.
A glove and bat had been introduced into Au's life at a very young age, beginning her playing days at the age of four when she played tee-ball. She was a multi-sport athlete growing up, playing basketball, some football, baseball and anything she could get involved in, but she ultimately stuck with softball as her main sport.
"Females can only play sports with males for so long, so I saw softball as my ticket to further my education and help finish off my academic career," Au said in an interview.
Once she elected to continue playing softball in college, she decided to stay home and suited up for the University of Hawaii at Manoa for her freshman year and the University of Hawaii at Hilo for her sophomore year.
Although she was very close to home, Au felt that neither school matched her playing style. In her search for a more fitting program, she unexpectedly saw the Toros play in a softball tournament in Las Vegas one day and decided to reach out to the coach. After being welcomed into the Toro family, Au felt like she had found her home away from home.
"In Hawaiian culture, family is everything," Au said. "You would do anything for family. The program here at CSUDH presented that aura of family and I felt welcomed."
Au redshirted the 2018 season and began playing for the Toros in 2019, where she batted .250 with five hits and 18 runs while going a perfect 6-for-6 on stolen bases. In the current season, Au has started 23 games and is batting .333 and leads the team with three triples and 20 runs batted in.
The Toros have a 16-8 overall record and a 9-5 conference record, sitting third in the CCAA standings. Just recently the team had cracked the NFCA D2 Top 25 Coaches Poll and became the No. 23 ranked team in the nation.
The team is already nearing its win total from last season, needing 11 wins to match the 27 from last season and there is still 31 games left to be played. Although the Toros have enjoyed some early success, Au thinks they can still be better.
"We have 20 girls who all have one vision," Au said. "We all play hard for each other. This program is still growing and developing. We're getting better as the time goes on. The Toros could be a national powerhouse in a couple of seasons."
Au hopes to be the person that helps more Hawaiians come over to join the Toros softball program because she feels playing for the Toros gives athletes a chance to compete in a winning program.
"I hope anyone who reads this and doesn't know who Dominguez Hills is understands just how competitive this program is," Au said. "If you want a new home, if you want to play at a high level with a coach who really takes time to make each individual a winner and brings it all together as a team, then athletes should really consider coming to Dominguez Hills."
csudhbulletin