GET ON THE HORN: Los Angeles Dominates Washington, Sweeps NFC East, Behind Full Team Effort
csudhbulletin
October 14, 2020
0 COMMENTS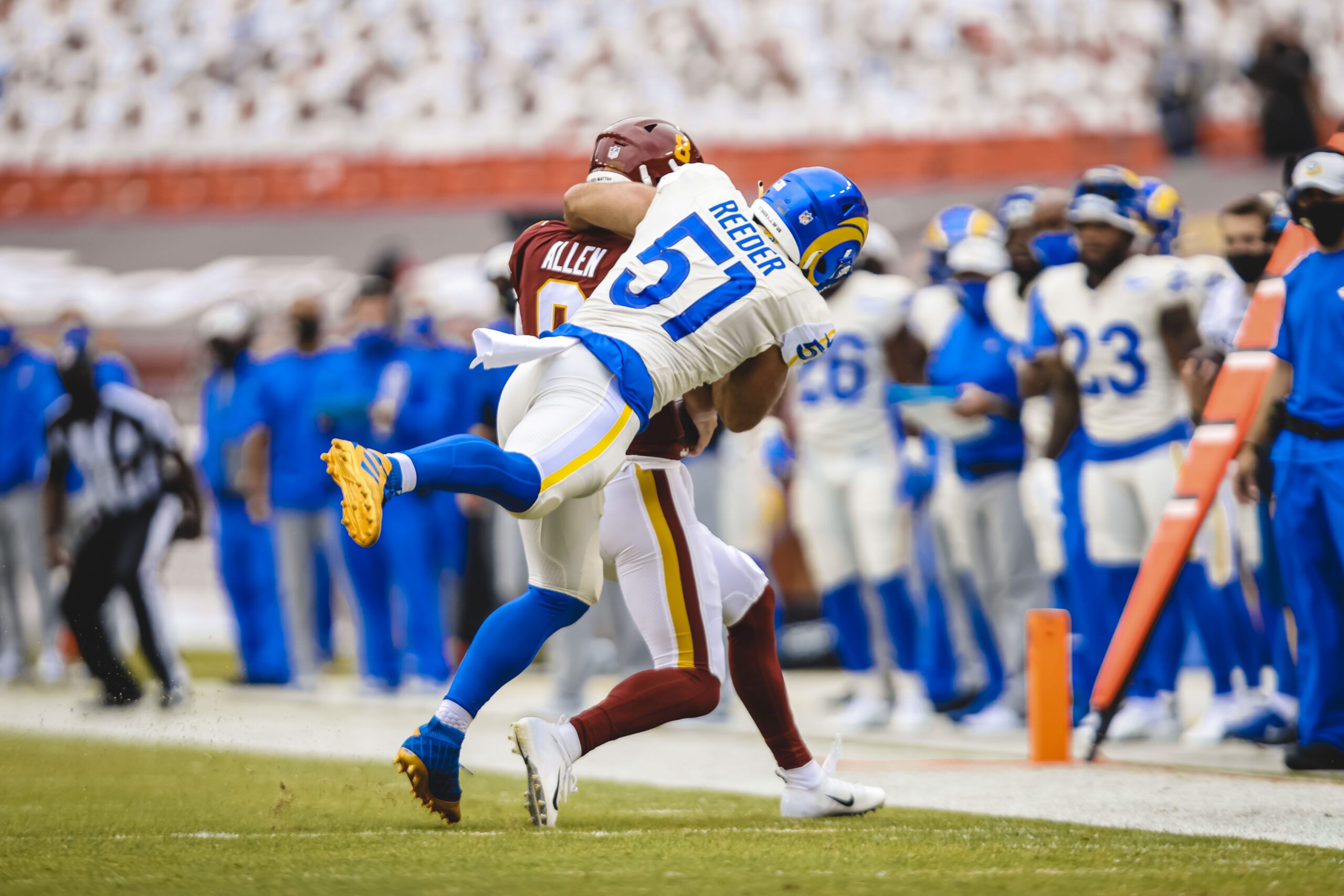 Rams defense balled out Sunday afternoon and turned the nation's capital into Sacksville, U.S.A.
---
By Matt Barrero, Assistant Sports Editor
LOS ANGELES 30, WASHINGTON 10
How sweep it is! The Los Angeles Rams completed a season sweep of the NFC East following
Sunday's victory over the Washington Football Team. After a bit of a downer last week against the Giants, the Rams went into the nation's capital and handily defeated Washington even with a downpour of rain all afternoon. Both sides of the football produced all game long, and Los Angeles improved to 4-1 and currently hold second place in the NFC West.
The most impressive stat line from these first five weeks of play is how well the Rams have played on the road. For the third time in four weeks, the Rams traveled to the East Coast and played in the 10:00 a.m. PST slot again. The Rams have played well in such situations (6-1 overall under Sean McVay), and the expected toll of having to travel coast-to-coast hasn't been much of an issue. Additionally, in all three road games this season the Rams have produced at least 30 points in every game. Does the lack of a crowd make a difference? Maybe. But this is 2020 and the Rams have had zero problems producing week-to-week under abnormal circumstances.
OFFENSIVE PERFORMANCE –
Speaking of producing, and especially on the road, how about a round of applause for Jared Goff. The University of California product had shown his offensive prowess in the first two road games of the season and Sunday was no different. On three consecutive offensive drives, Goff and company produced three touchdowns. Goff went 7-of-7 on the opening drive and Darrell Henderson Jr. capped it off with a 1-yard score. On opening-drives this season, Goff has now completed 20-of-21 pass attempts (95%). Following a missed PAT and a Washington score, Goff quickly retook the lead with a four-play, 75-yard drive which ended on a Robert Woods 56-yard touchdown pass. A forced punt for Washington gave the ball back to the Rams. Nine plays and 83 yards later, Goff rushed for a 2-yard touchdown to give the Rams a 20-7 midway through the second quarter. It was a quiet second half as the Rams offense only produced 10 points, but it was the last touchdown, a Goff-to-Henderson Jr. 11-yard connection, that sealed the victory. Goff finished the day passing for 309 yards, two touchdowns and an interception and added a rushing touchdown to his performance. Henderson Jr. had 38 yards rushing and 30 yards receiving with two touchdowns total. Tight end Gerald Everett had his best day of the season so far, finishing with four catches for 90 yards.
DEFENSIVE PERFORMANCE –
As mentioned in this week's preview, Washington had switched quarterbacks this week from Dwayne Haskins Jr. to Kyle Allen. Alex Smith, who suffered an almost life-threatening leg injury in 2018 suited up for the first time since the injury and was backup to Allen. At the two-minute warning of the first half, Smith found himself back under center after Allen exited the game with an arm injury. The moment was triumphant and emotional, but the Rams defense didn't care if a tackling dummy was under center as the end goal was still the same: don't let your opponent score. The "Mob Squad" did just that as they dominated Smith and only allowed Washington to produce 108 yards of total offense all game. With stats like that, you would expect Aaron Donald to be at the center of the conversation. Well, you're not wrong as Donald finished with four tackles on the day, all of which were quarterback sacks. "Cheat Code" (Donald's nickname) was not alone with top defensive performances as second-year linebacker Troy Reeder finished with a career-best 11 total tackles and three sacks. This was the first time that two Rams teammates each recorded three sacks in a game since Chris Long and Robert Quinn did it against the Seattle Seahawks in 2013.
FINAL THOUGHTS –
Sean's Second Half Stars- Since McVay's takeover in 2017, the Rams are a perfect 29-0 when they have the lead at halftime. Additionally, this is the fourth time the defense has allowed their opponent to only score three points or less in the entire second half of a game.
Sack Lunch: The eight total sacks on Sunday are the most recorded by the Rams defense under Sean McVay in one game.
INJURIES –
Linebacker Micah Kiser (groin) did not suit up for Sunday's game.
Linebacker Obo Okoronkwo left the game early in the third quarter with an elbow injury and did not return.
Safety Jordan Fuller (shoulder) made his return to the lineup on Sunday and finished with four total tackles.
COMING UP –
The Rams will once again be on the road but this time they won't have to leave the state of California as they head north to take on the San Francisco 49ers. Kickoff is scheduled for 5:20 p.m. PST for Sunday Night Football on NBC.
Washington will look to break a four-game losing streak as they head to the Big Apple to take on the New York Giants, the first of two games in a three week stretch. Kickoff is scheduled for Sunday morning at 10:00 a.m. PST on FOX.
csudhbulletin