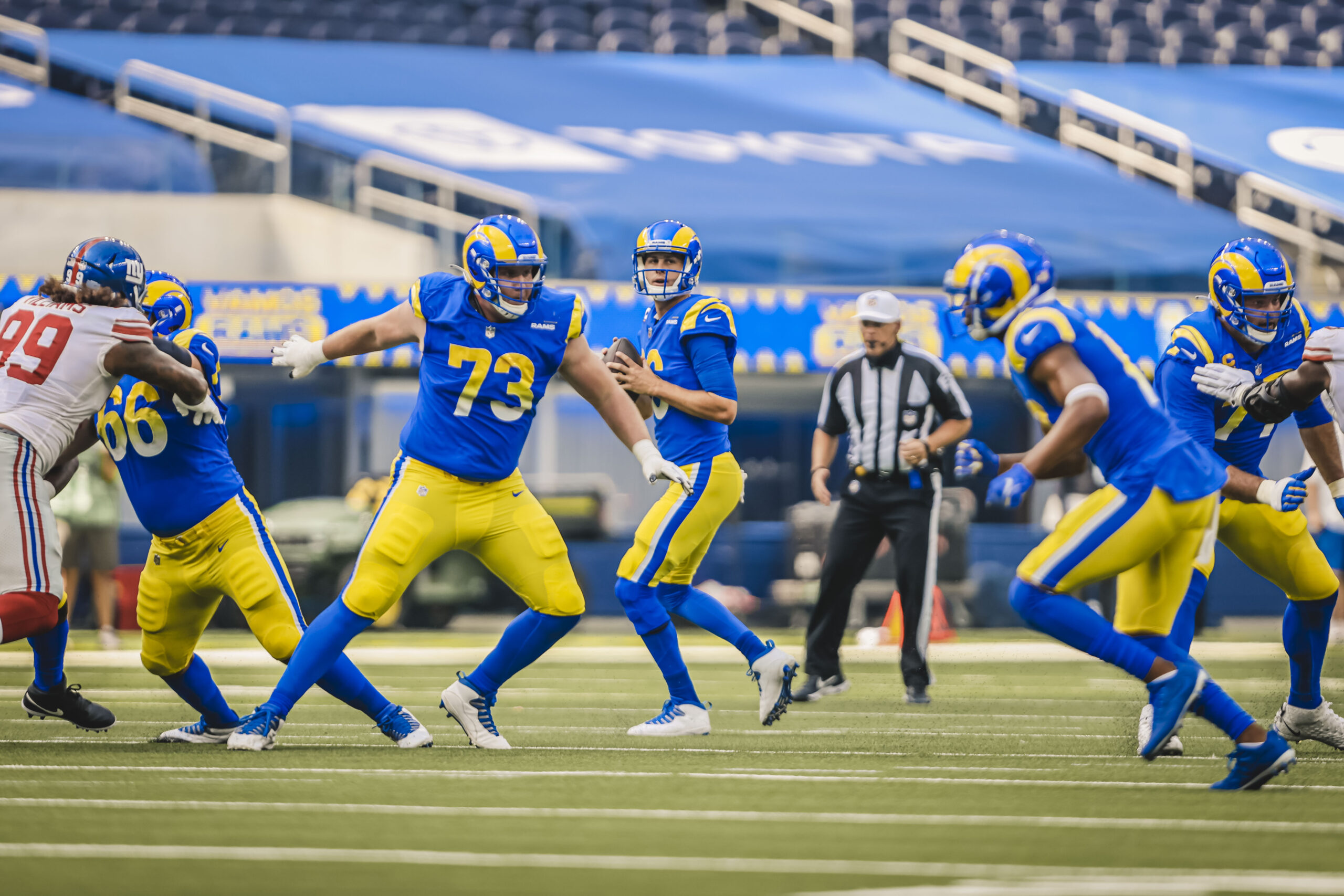 Jared Goff has his eyes set on improving the Rams to 4-1 this season and staying in the hunt for an NFC West title. (Photo by Los Angeles Rams)
---
By Matt Barrero, Assistant Sports Editor
THIS WEEK –
The Rams (3-1) will once again head to the Northeast for the third time in four weeks to take on the Washington Football Team (1-3). Washington is currently second in the abysmal NFC East and is currently riding a three-game losing streak. Los Angeles, meanwhile, got back on the winning track as they defeated the New York Giants 17-9 last Sunday.
HISTORY –
This will be the first time since 2015 that the Rams will visit FedEx Field and the first time since 1987 that they will represent Los Angeles in our nation's capital. In their last meeting in 2017, Washington came into Los Angeles and beat the host Rams 27-20 with a late touchdown from Kirk Cousins to wide receiver Ryan Grant. In the 40 matchups since 1937, Washington holds a record of 26-13-1. The Rams, as a franchise, are on a two-game losing streak against Washington and will look to earn their first victory over the D.C. franchise since 2014.
PLAYERS TO WATCH FOR –
QB Jared Goff
After completing 25 of 32 pass attempts for 200 yards and a touchdown last week, Goff will look to continue his hot road play when he takes the field Sunday afternoon. In the two games on the road this season (Philadelphia and Buffalo), Goff has completed 43 of his 59 pass attempts (72% completion rate), for 588 yards, five touchdowns and only one interception. The stats do not lie, and Goff should be in for another solid afternoon as Washington ranks 22nd in the league against quarterbacks allowing an average of 226 passing yards and two touchdowns per game.
TE Tyler Higbee
Higbee has been quiet since his three-touchdown performance in Philadelphia back in Week 2, but still remains the top target for Goff when it comes to tight ends. The Western Kentucky product has already matched his career high in touchdowns and will look to add more this Sunday against a Washington defense that ranks 27th in the league against tight ends. In Week 1 they allowed Philadelphia's Dallas Goedert to catch eight passes for 101 yards and a touchdown and just last week allowed Baltimore's Mark Andrews to gain 57 yards and two touchdowns. Look for Higbee to have a bounce back week and take advantage of a porous Washington defense.
LB Micah Kiser
After a season-ending pectoral injury in 2019, the 25-year-old linebacker out of the University of Virginia has played tremendous football. In Week 2 against the Eagles, he finished the game with 15 total tackles (10 solo) and currently leads the Rams with 32 total tackles this season. The man has been nothing short of spectacular through the first quarter of the season. Kiser did leave last week's game with a groin injury and is currently questionable for Sunday's game. While the Rams defense has great depth, losing Kiser could be detrimental and could allow the Washington offense to take advantage of the middle of the field.
GAME CHANGERS –
Back to the Old Stomping Ground
Sean McVay makes his return to FedEx Field for the first time since he was hired to head coach the Rams back in 2017. McVay has proven how good of a head honcho he can be as he took the Rams to the Super Bowl in just his second year as head coach. Through his three full seasons, McVay is averaging 11 wins per season and has made the playoffs twice in those three seasons. The roster then is a lot different now as only five players and one coach are still with the Washington franchise. There is nothing McVay will want more than to beat his former team, handily.
Who's Under Center?
Washington head coach Ron Rivera alerted the media that second-year quarterback Dwayne Haskins Jr. was demoted to third string. Rivera revealed his decision Tuesday night that he promoted Kyle Allen to starter and Alex Smith, who was inactive the last four weeks, to second string. Allen knows Rivera's playbook well as the two worked together last season for the Carolina Panthers. The move is a bit surprising as Haskins is coming off a 314-yard passing day against Baltimore just last week, however, is riding a three-game losing streak as per mentioned. Allen took over for 12 games last season for then Panthers quarterback Cam Newton (season ending foot injury), winning his first four games in a row, but ended up finishing with a 5-7 record overall. Rivera trusts Allen's familiarity and hopes to gain some ground in a still winnable NFC East.
FUN FACTS –
Be Afraid. Be Very Afraid: In 24 career games played in October, Aaron Donald has recorded 19.5 sacks, 34 tackles for loss and six forced fumbles. Donald already has 13 total tackles, 3.5 sacks and a forced/recovered fumble through September. The man is a monster and will look to strike more fear in his opponent on Sunday.
Historically Famous for The Wrong Reason: In 1940, Chicago Bears coach George Halas reportedly showed his players newspaper clippings in which the Washington owner called the Bears "crybabies and quitters" after Washington defeated the Bears in a regular season game by a final score of 7-3. Poetically, the Bears defeated Washington in the league's championship game (not called the Super Bowl then) with a final score of 73-0. To this day, it is still the biggest blowout in NFL history.
GET ON THE HORN (G.O.T.H.) PREDICTION –
RAMS 42, WASHINGTON 21
csudhbulletin