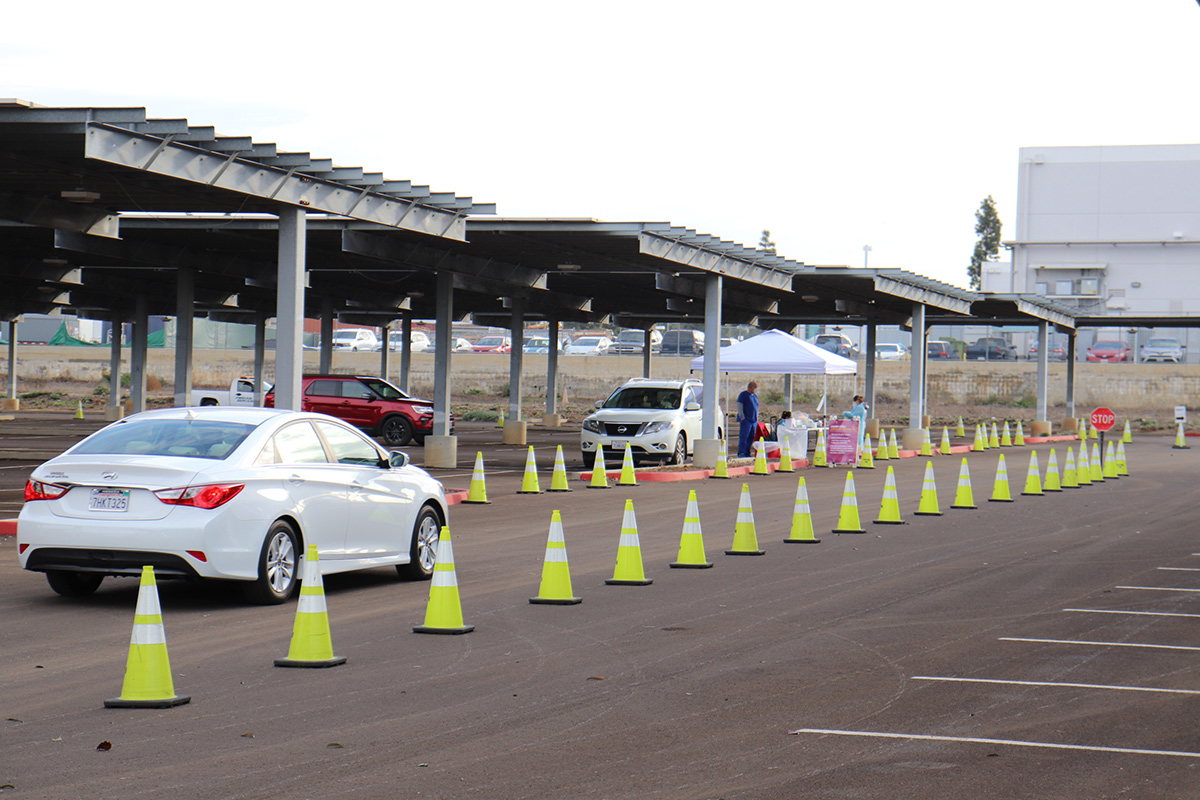 Free COVID-19 testing, offered Wednesdays in Parking Lot 1, is mandatory for all students enrolled in person classes this semester. Faculty is not required to be tested, but it is highly recommended. Photo By Iracema Navarro.
By Robert Rios, Senior Campus Editor, and Chaz Kawamura, Staff Reporter
Barring a close-to-last-minute decision by the university, Monday will mark the first day of limited in-person classes this semester at California State University, Dominguez Hills But any students enrolled in the approximately 70 classes that have received clearance for in-person classes must first take, and pass, a COVID-19 class administered on Wednesdays in Parking Lot 1.
All student housing residents must also take the nasal COVID-19 The tests are not mandatory, but "highly recommended" for any faculty or staff returning to campus, according to the school's Toros Together page on the university website.
All students returning to campus next week must take the test today and receive a negative result. They must take the tests weekly throughout the semester.
Only students who are asymptomatic, or not showing or feeling any symptoms, may take the free test. Any student who receives a positive result must wait a week and retest with a negative result before returning to campus. Any student who cannot take the test on the appointed date must delay their return to campus.
However, proof of a negative test result is not required to enter a campus building or classroom, nor will instructors be checking to make sure all students took the test and received a negative result, Amy Bentley-Smith, a university spokesperson, told the Bulletin.
Compliance will stem from the university's master list of students enrolled in in-person classes and living in campus housing. Failure to comply with ongoing COVID-19 testing could result in disciplinary action," Bentley-Smith said.
There also is no guarantee that a student could take the test Wednesday, receive a negative result on Friday and not contract the virus in the days between taking the test and returning to campus.
Still, while the mandatory testing is just one aspect of the university's campus-wide coronavirus plan, it is a "tool in the toolbox" to help ensure the safest possible campus, said CSUDH's Emergency Preparedness Manager Nora A. Garcia.
"There is no guarantee that someone couldn't be exposed to the virus following a negative test which is why it is crucial for students to get tested weekly and continue to follow public health protocols," Garcia said.
Weekly testing also allows the university to detect anyone who may be infected but shows no symptoms, thereby potentially limiting the number of people who they could unwittingly infect.
"Anyone who is on campus should feel safe being here, and this program offers that assurance by identifying asymptomatic positive cases right away, which allows the university to take the appropriate action to reduce further spread of the virus on campus," Bentley-Smith said.
CSUDH has, to this point, stuck to that Feb. 8 opening, although Parham did say at last Wednesday's Academic Senate meeting that date could change based on advice from public health officials.
If Mondays' date is kept, CSUDH will resume in-person classes earlier than neighboring CSU campuses. On Jan. 13, Cal State Long Beach announced that it was moving its original date of Feb. 1 to resume classes to March 1. Last week, Cal State Fullerton's student newspaper, the Daily Titan, reported the university's decision to cut its number of in-person classes from nearly 300 to 76.
Those universities have not, to this point, required mandatory testing for those students enrolled in physical classes. CSUDH announced its testing protocol Jan 8.
"There's no guarantee that someone couldn't be exposed to the virus following a negative test which is why it is crucial for students to get tested weekly and continue to follow public health protocols."

Nora A. Garcia, manager of CSUDH's Emergency Preparedness
Those students, faculty and staff eligible to receive the test will receive an email link weekly allowing them to make an appointment. Those with appointments must have a state or university ID.
The tests will be administered by Phamatech, a manufacturer and provider of diagnostic products based in San Diego, California/ It is one of 11 companies that responded in late October 2020 to a CSU system-wide Request for Proposal (RFP) for COVID-19 services.
Bentley-Smith said a CSU system-wide contract was not expected until mid-January, but CSUDH wanted to have its testing program in place before then. The school's Emergency Operation Committee (EOC) picked the company from the CSU request process. Parmatech is contracted on a month-to-month basis and the testing process will be paid for by the CARES Act.
CSUDH President Thomas Parham announced the Feb. 8 deadline in December, shortly after a Dec. 10 announcement by former California State University Chancellor Timothy P. White. In that announcement, White said the state was in the early stages of an eight-week coronavirus surge expected to last through the first two weeks of the spring semester.
While leaving the decision of when to re-open to the presidents of the 23-campus CSU, White urged those presidents to delay face-to-face instruction, even for classes with limited in-person instruction to "as late as possible in January or even into February, with appropriate testing, sequestering and tracing protocols in place to help mitigate the virus' spread in your region."
csudhbulletin