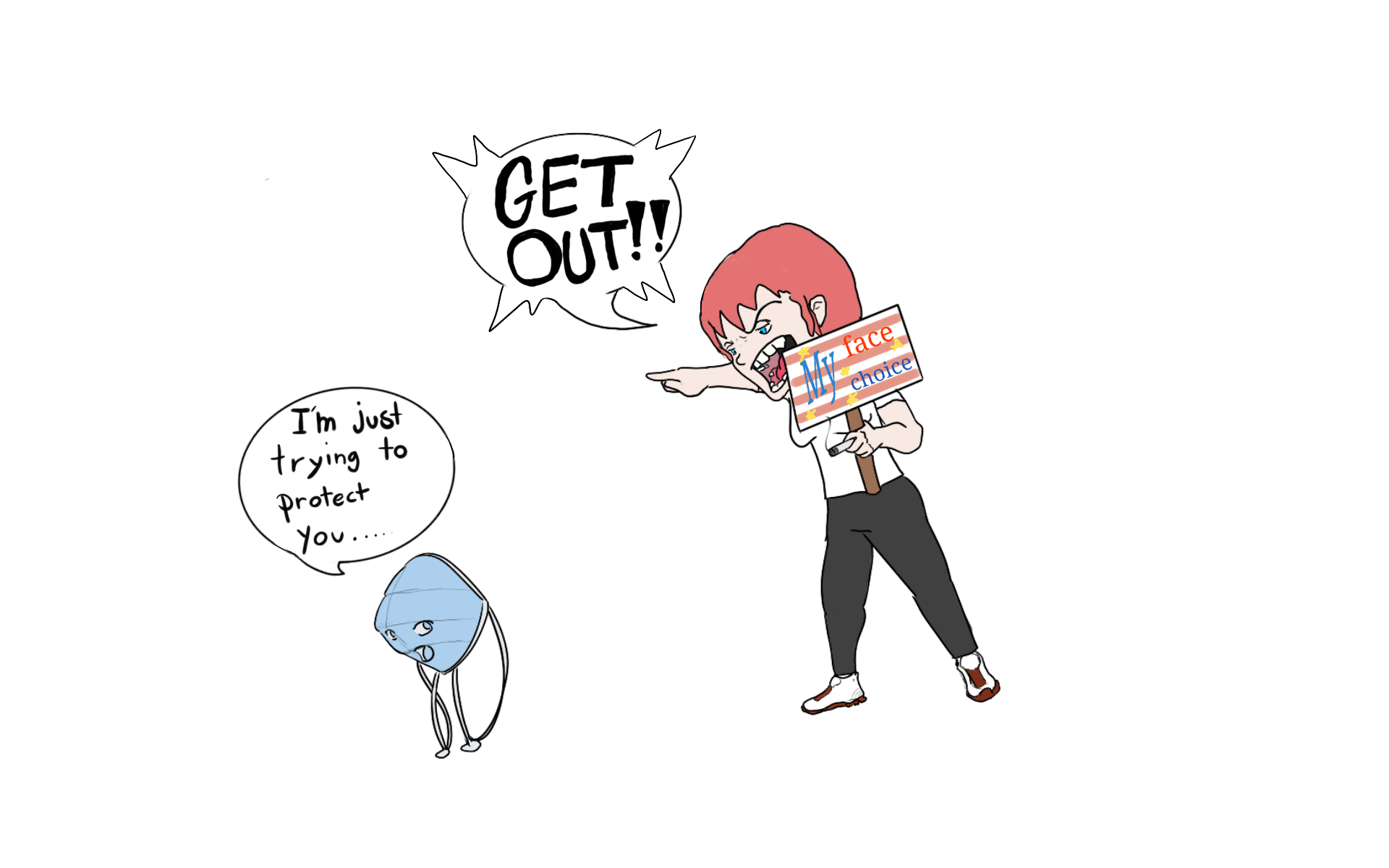 Illustration by Darlene Maes.
---
By Darlene Maes, Staff Reporter
The ongoing changes and routines that have come from the spreadable COVID-19 virus has altered our way of what was once everyday things. You have to sterilize yourself and almost dress up as a superhero in order to shop at a grocery store or run errands. Getting gas or going to the bank requires constant distancing. Mindful individuals can see the recommendations and steps to limit the spread from the Centers for Disease Control and Prevention (CDC) to serve as protection. As states across the nation manage their way through the hoops set by local and federal governments, it appears certain individuals refuse to deal with the restrictions and requirements any longer. In fact, it appears to be almost "illegal.'' This growing issue has made its way from protests in public spaces to our government.
According to contributor C.J. Ciaramella for Reason.com, "U.S.. Attorney General William Barr issued a memo Monday ordering federal prosecutors across the country to "be on the lookout for state and local directives that could be violating the constitutional rights and civil liberties of individual citizens." This is a result of the constant stances against the lockdown orders from demonstrators. The infringement on our rights and freedoms as citizens is being called into question. Something many either hold near and dear to their hearts or are slightly aware of them and see no need to vocalize the limits set. To reopen what are considered "non-essential" business, to return to normal classroom settings, to do something so simple like get your haircut or work out, these are the reasons. The reasons that hundreds of people are flooding streets to advocate for.
A statement collected by Tal Axelrod for The Hill from New Jersey protester Ayla Wolf details some of the frustrations fueling these anti-COVID demonstrations. "Businesses are suffering, unemployment checks are not being sent, landlords are not getting rent. We feel like these directives are causing more suffering than is necessary." Throughout the county, state and local officials have publicized the efforts everyone can make to protect themselves and others. However, various right-wing groups are arguing to the fact that limiting their recreational and "essential" time outdoors is a violation of our rights. Now those of us who have yet to see this perspective, is there really an issue practicing safety measures towards COVID-19?
Brooke Seipel, contributor for The Hill, detailed California Gov. Gavin Newsom's response to the excessive gatherings and timing of how long this may still be going.
"If we can hold the line and continue to do good work and just avoid the temptation to get back and congregate with people in ways where we can see an increase in the spread, we'll get there much sooner than many people perhaps think," Newsom said.
This vague sense of time for the hopeful future reflects constant ongoing research and statistics of what medical professionals are projecting currently. It is not in favor of the far out reasoning of keeping us "prisoners" but for the sake of all lives at risk.
The amount of time and exposed unmasked protesters are out in public not only will contribute to the extension of these orders but will not help flatten the curve of it spreading. COVID-19 continues to restrict us from attending events, going out on a regular basis, and pretty much any social life we once had. Although the days are flowing into together and the sense of normalcy is appearing to drift away, is it worth making this continue on by not limiting ourselves and others from exposure? The government has asked for our help in voting, involvement in our Census, and support in passing certain laws. The least we can do to help our communities is remain unbiased and help lower the number of coronavirus cases and deaths by following cautious measures meant to safeguard us.
csudhbulletin