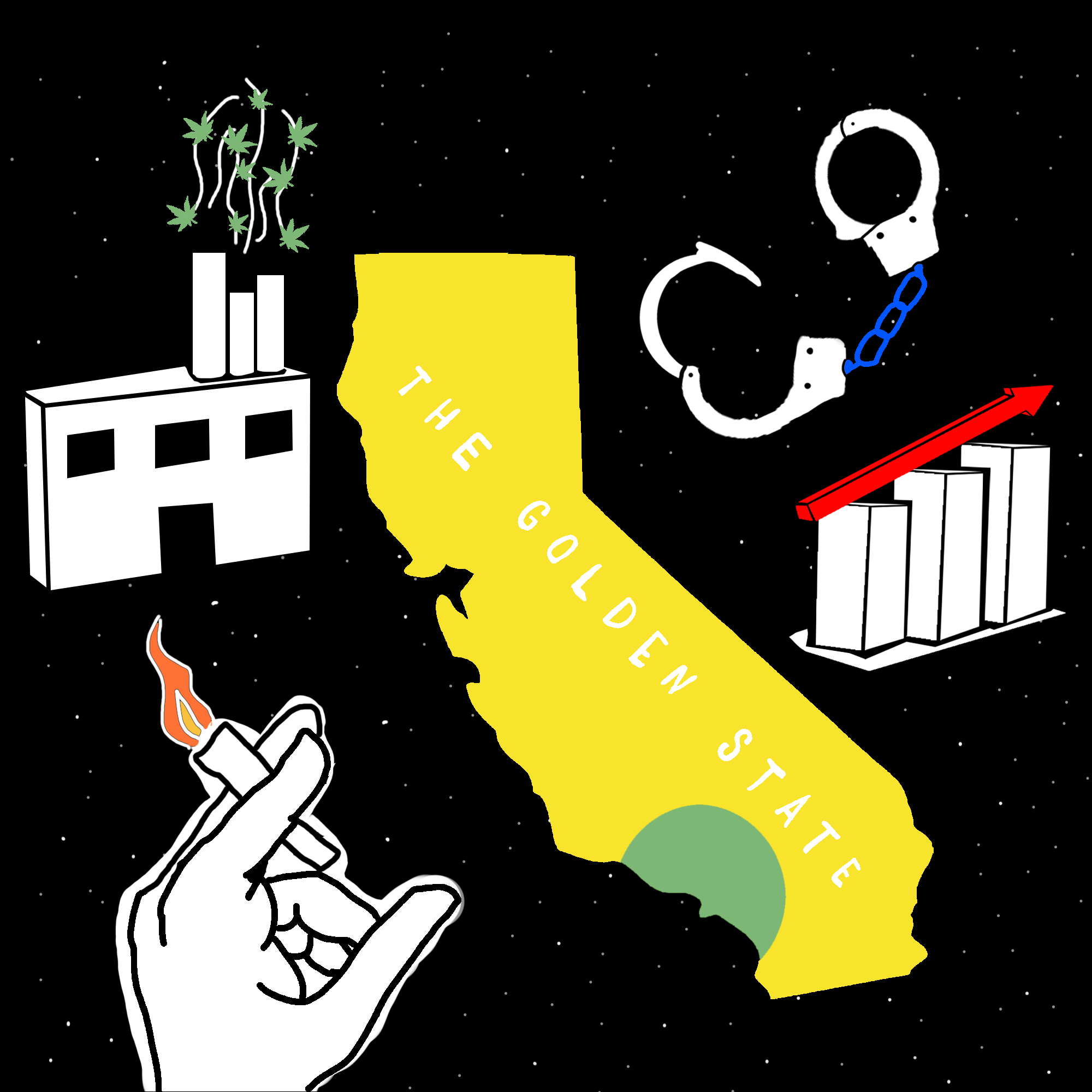 A team of researchers at CSUDH receive a grant to investigate the economic and social impacts of the cannabis industry. Illustration by Nova-Blanco Rico.
---
By Yeymy Garcia, Production Editor
A crew connected to campus is fired up because they scored nearly $2 million last month and plan to spend every cent on pot.
Researching it, that is.
CSUDH was one of 35 universities in California to receive a $1.8 million grant courtesy of the Bureau of Cannabis Control, the state agency that regulates licenses for medical and adult-use cannabis as part of its mission to evaluate the impacts of our legal cannabis system.
"It feels very good to have CSUDH's proposal selected, for the uniqueness of our proposal acknowledged, our scholarship represented in a state funded study, and to be doing research alongside (other state) universities," Dr. Anthony Samad, who is spearheading the research proposal, said. "It shows our capacity to collaborate across campus in a significant and competitive way."
CSUDH's grant of $1.86 million was the third largest, and it was the only California State University other than CSU Humboldt to receive one. More than 150 universities applied, and each needed to submit a research proposal that fell into a specific area, including public health, criminal justice and political safety, environmental impacts, cannabis industry regulation or economic.
Dr. Samad is the principal investigator of the research project, Cannabis Industry in South Bay Los Angeles. He's lined by representative of CSUDH's South Bay Economics Institute, including: Dr. Jennifer Brodmann, Dr. Jose Martinez, Dr. Fynnwin Prager, and College of Business Administration and Public Policy (CBAPP) representative Dr. Rama Malladi.
The focus of their research will be on the economic and social impacts of the marijuana industry in the South Bay.
The team of researchers hope their research will help not only policy makers in the Southbay and California, but nationwide. Dr. Malladi said the team will research inequities in the cannabis market in the South Bay, conduct an economic impact analysis of Proposition 64, and examine job creation, cannabis tax revenue by state and local cities, legal and illicit market prices, reasons behind tax evasion by ethnic groups, and assess criminal justice policy impacts on recreational cannabis policy and intended outcomes.
---
As recreational marijuana use increases among ages 19-22, so does its potential economic and social impact. Graphic courtesy by University of Michigan.
---
Dr. Samad emphasizes this research project is not about recreational or medical cannabis use, but an all-inclusive economic evaluation of Proposition 64, the 2016 initiative that legalized recreational use for adults in California.
"Prop. 64…has had a lot of social, political and economic ramifications for local governments, particularly around poor communities and communities of color," Samad said. "We cannot forget the devastating effects that cocaine and crack epidemics had on our communities. There are already some regulatory and manufacturing policy challenges with weed that need to be studied (and there) are also some unintended consequences around retailing and distribution that need to be studied as well."
California began the first steps to legalize cannabis in 1996 with Proposition 215, the Compassionate Use Act (CUA), which "allowed qualified patients and approved caregivers to possess and cultivate medical cannabis." It wasn't until 2016 when California voters passed Prop 64, the Adult Use of Marijuana Act (AUMA) where adults over 21 can legally grow, possess, and recreationally use cannabis. In 2018, AUMA made it legal for businesses to legally sell and distribute cannabis.
Since then, the use of cannabis among college students has only increased.The University of Michigan found in its annual national Monitoring the Future Panel study that the use of marijuana among college students is at its highest since the early 80s with 43% full-time college students reported using marijuana in the past 12 months and 23% in the past 30 days.
Seeing that cannabis affects college students, including CSUDH communities, is the reason why Dr. Samad and his team are enthusiastic about this project.
"This one excites us because, as a regional study, it is an opportunity to study our communities, which also happen to be the service areas of the university," Samad said. "It affords us the opportunity to take a firsthand look at how adverse public policy impacts social, political and economic realities of different communities from the same region."
Dr. Malladi also finds another deep connection to CSUDH.
"Two of the vision statements of CSUDH state that 'faculty and staff across the university are engaged in serving the dynamic needs of the surrounding communities' and 'sustainable environmental, social, and economic practices are a way of life,'" Malladi said. "Through this project, we aim to accomplish the two visions of CSUDH by researching a topic that has a significant community impact."Dr. Samad's team is looking for eight research assistants (both faculty or students) to help them conduct their research for the next two years. Reach out to Dr. Samad (asamad@csudh.edu), CBAPP (rmalladi@csudh.edu), or the South Bay Economics Institute (fprager@csudh.edu) if you're interested in participating.
csudhbulletin