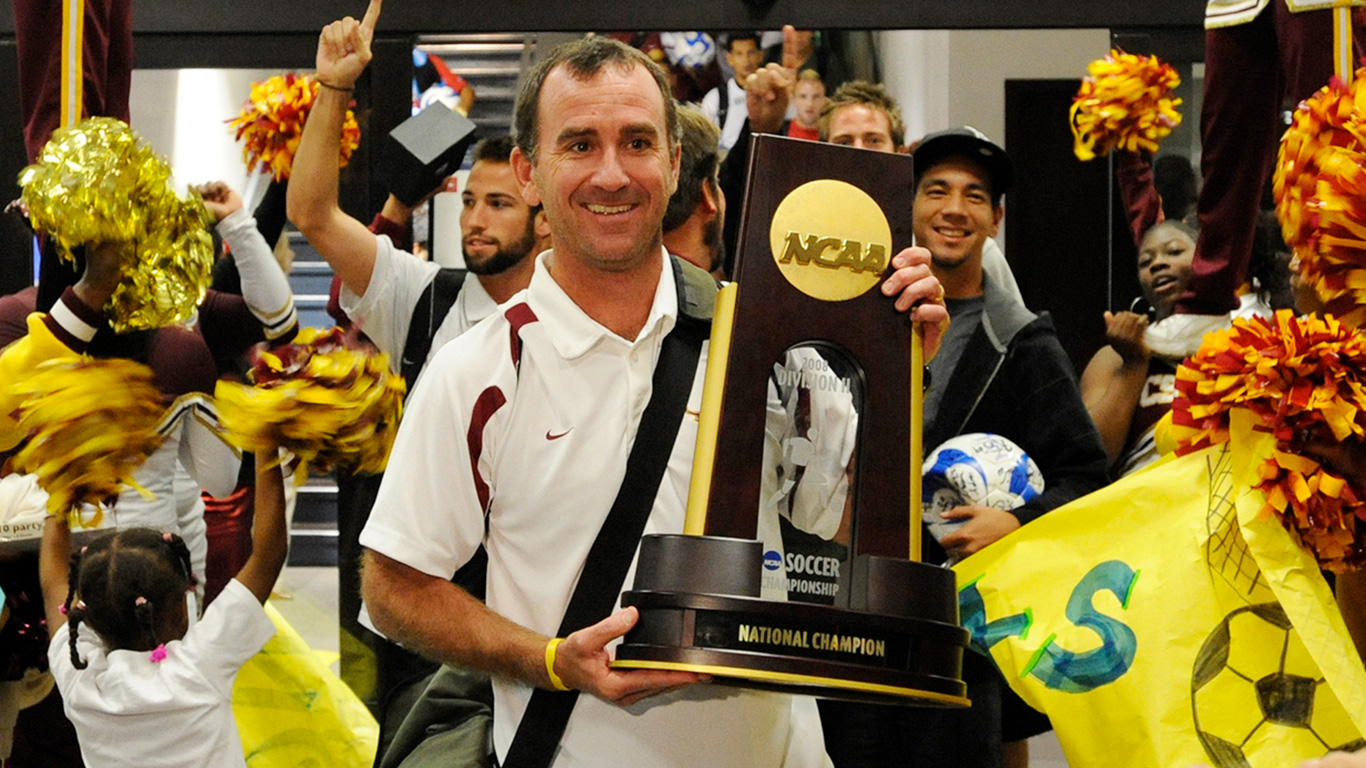 Editor's note: In light of this being the 50th year of CSUDH Athletics, The Bulletin continues its three-part series on the state of Toro athletics. The first installment talked about how students view our sports team. This issue will discuss how the athletics program views itself.

By Jeremy Gonzalez and Victor Munoz

Students may not pay attention (as we addressed in part 2 of this series) and the university may have other priorities (we're not saying it does, but we will explore that issue in part 3) but there is one part of this campus that absolutely cares about the identity and culture of CSUDH athletics.
CSUDH athletics.
So, we checked in with the person who has run the sports department since 2015, Athletic Director Jeff Falkner, and picked his brain about a few of the things that we think are crucial in helping shape an identity and a culture for a sports program: who leads its teams; where those players compete; and how it gets the word out to other students.

COACHES
There are many elements that must work together for any sports program to be successful, but none are as important as the people who manage the young men and women who compete on the field and court, pursue their academic studies, and prepare themselves for life after college.
"Facilities and scholarships are very important, but coaches make the biggest difference," said Falkner."
Obviously, coaches are critical in assembling and managing the talent needed to win at any university. But at a school like Dominguez Hills, a commuter campus surrounded mostly by homes and industrial businesses instead of a college town vibe, they're even more important. Without a constantly replenishing student fan base, and a strong network of alumni boosters, coaches aren't just charged with keeping their teams together year after year; in a way they are the spines of the entire sports program, for they are called upon to both create, and sustain, the infrastructure that helps to build the culture that a sports program can add to a university. Players, students, administrators come and go, but the coaches tend to stick around.
Especially at CSUDH. One-third of the baseball program's 1,200 victories came during George Wing's three tenure as head coach, totaling 19 years; Dave Yania was the men's basketball coach for 19 years; Van Girard coached women's basketball for 24; Marine Cano and Joe Flanagan combined coached men's and women's soccer for 57 of the teams' 72 seasons-and Cano came back this season! Track coach Warren Edmonson is currently in his 19th season. Volleyball is our least successful sport and, no surprise, it has the most coaches of any program: 11 in 42 years.
As far as softball, just check out our feature on returning softball coach Jim Maier elsewhere in this issue.
So, if coaches are so important at Division II, then their departures must be equally important, right? That seems to be the case recently at CSUDH, as in the past six years or so, every longtime coach has left a huge void that it takes a few seasons to fill.
Flanagan coached men's soccer to 21 straight winning seasons and two NCAA Championships. His final season was 2017. This season, the Toros set school records for fewest wins (4) and most losses (13). Molly Goodenbour coached the women's basketball team to powerhouse status in her four years. In three seasons since the team hasn't finished above .500.
The men's team was never as consistently good than under Damaine Powell's 10-year tenure. But after he was bounced in 2013, the team hit the skids for several years–but coach Steve Becker definitely has it pointed in the right direction.
Big programs such as UCLA basketball or even Cal State Fullerton baseball, can rebound quite effectively when a coach leaves; the infrastructure exists to absorb the loss. Here at CSUDH, the immediate turnarounds just don't happen–unless we bring an old coach back.
Falkner agrees that the role coaches play at a smaller university like CSUDH can't be exaggerated; and why losing one, for whatever reason, is one of the most difficult parts of his job.
"The problem with coaching transitions is the time it takes to go through the hiring process. In some cases, this can set a program back two years in recruiting. Programs like UCLA men's basketball have a way of recruiting themselves. Recruiting at the DII level is different and the coach-recruit relationships take time to build. I think that's why you tend to see a long rebuilding process when you have coaching changes."

FACILITIES
It's often said that sports are a university's front porch, the first thing most people who don't work or attend the university see first. If there's any truth to that then few would argue that CSUDH's porch needs some sweeping.
Our athletes don't have permanent locker rooms, a luxury even our bitter rivals at Cal State Los Angeles have; it's not uncommon to see baseball and soccer players changing in their cars before and after practice. They share a 1,400-square-foot weight room with 14,000 other students and 12 hours of kinesiology courses each week. While Cal Poly Pomona has raised $1.3 million in a campaign to rehabilitate its track, our athletes couldn't even practice on our dilapidated one for years until it was finally upgraded in 2016.
All of that takes money and for an athletic program like CSUDH, which doesn't generate much in terms of ticket sales and doesn't have big-pocket donors lining up to donate cash to get their name slapped on the side of a building, it all comes down to the money it gets from the university every budget cycle.

We'll discuss that more in our next issue, but if you think our athletic facilities are lagging just imagine if your job means you are reminded of you every day.

"Our biggest challenge right now is in facilities," said Falkner. "We need dedicated locker rooms for each team and film rooms. But we'll get there. Our institutional leadership understands this need and we're working to find solutions.
It all comes down to more funds, whether it's from the CSUDH operating budget, or donations. But while admitting the seriousness of the issue, Falkner said in no way does anyone associated with the department use it as an excuse.
"Resources can't be an excuse for competitiveness," said Falkner. "We make every effort to recruit student-athletes who are passionate about their own success in the classroom, in competition, in their future careers and as members of society."

PROMOTION
Name one complaint that CSUDH students have when it comes to our sports teams and it's is the perception that there is a lack of promotion
Public relations and advertising major Christine Rivera said she only sees marketing on social media, and if she didn't follow the athletics page she would never know when a sporting event is taking place. That comment, or something like that, also surfaced many times in the informal survey we took of CSUDH issues that we reported on in part 1
At least one former athlete, Kelly Garzon, who played with the Toros women's soccer team in 2016-17, said there is a lack of game promotion and "it could be promoted or marketed better."
On one hand, it's hard to disagree with those assessments. On the other hand: why is so hard to know when the Toros are playing at home? The athletic department's GoToros website has the entire schedule for every team posted months before the season start. We just wonder that if those students who can't even take the initiative to spend five seconds accessing that site would care about a game even if they received a notification on their phone the day before, the Goodyear blimp orbiting the university for a week, and a personal Tweet from Donald Trump reminding them.
But this idea does sound good: what about more flyers around campus?
Cal State LA English major Juan Fernandez said at his campus, flyers are posted everywhere to promote an upcoming game. The average attendance for a CSULA men's basketball game was more than double the attendance of a CSUDH men's basketball game.
Falkner believes it is a two-way street between the sports programs and its fan base.
"We have no right to ask others to come out and support us if we aren't also across campus and in our community supporting them," said Falkner. "It's a partnership and a culture that is incredible to be a part of and enriches everyone's experience. Anyone who wants to sit down and talk about ways we can partner, I'm all in."

For the moment, the department's biggest marketing tools are social media and the Toro Rewards Program, a free app students can download.

"By attending games and checking in, you accumulate points that can be used to redeem prizes. I encourage students to download the app and also follow us on Twitter and Instagram at @torosathletics… we would love to implement a student section at home games. Anyone who has ideas please contact me."
csudhbulletin