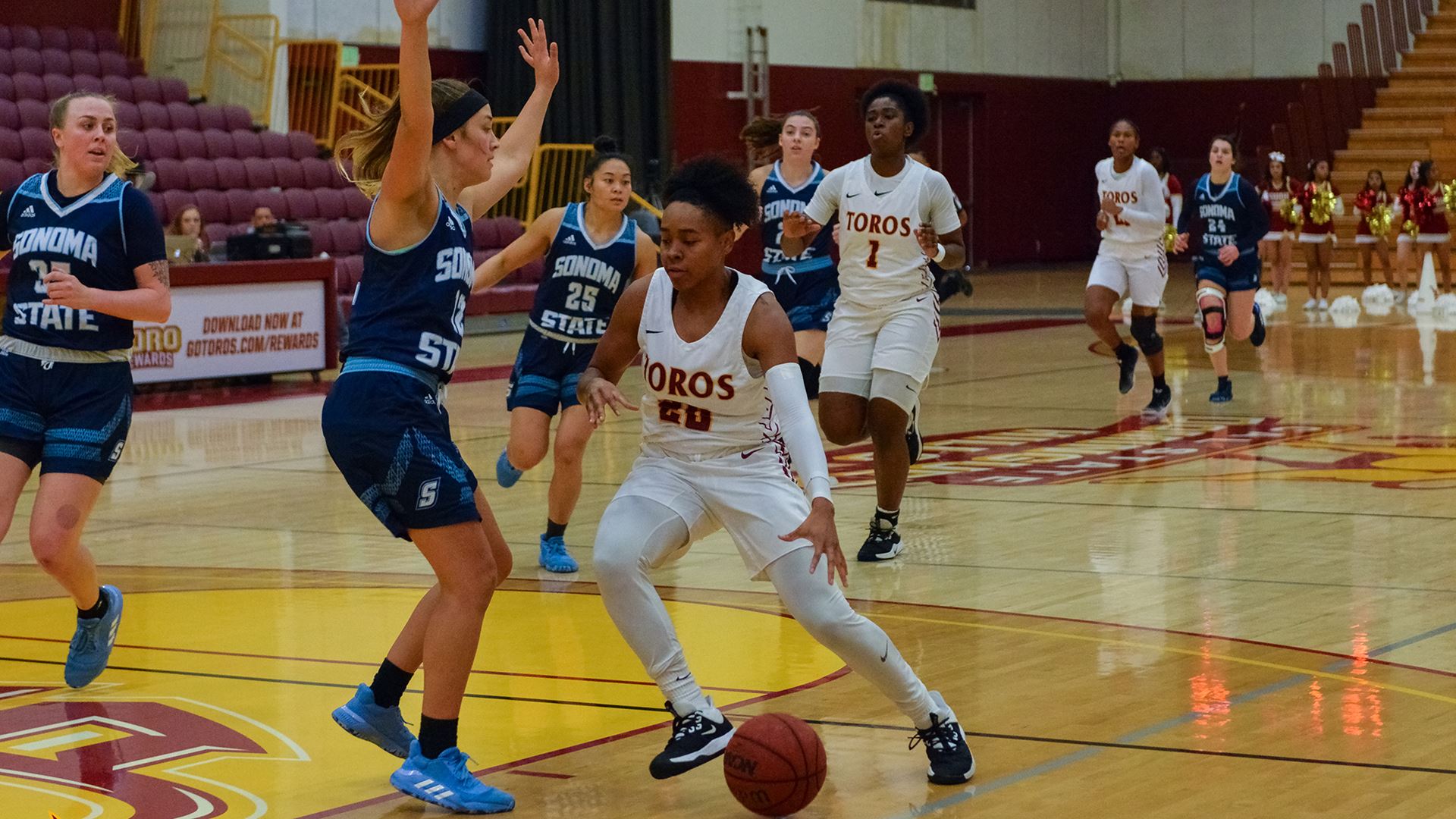 Freshman Ariana Harper, pictured against Sonoma State Dec. 7, leads the Toro women in scoring, averaging 11.8 points per game. Photo by Jena Rouser/courtesy of Toro Athletics
By Jeremy Gonzalez, co-sports editor

Both Toros basketball teams returned home last weekend at the mid-way point in California Collegiate Athletic Association play battling to stay in contention for a postseason berth. They exited in the same way, the men splitting a pair to get them into a three-way tie for seventh place, and the women also splitting two, good for a tie for ninth.

Before the break, the men's team (5-7 in conference, 9-9 overall was scorching hot as it had won seven of its eight games. The team then cooled off, losing six of seven.
Two losses were 19-point defeats at the hands of ranked opponents. The Toros lost to No. 8 UC San Diego at home and No. 25 Cal Poly Pomona on the road.
The team lost in heartbreaking fashion to rival Cal State Los Angeles Dec 19 as the Golden Eagles knocked down the game-winning shot with 4.8 seconds remaining in the game. Toros guard Wonder Smith's buzzer-beater attempt was no good and the Toros were defeated 66-65.
Similar losses came against Chico State, Cal State San Bernardino and, most recently, last Thursday against Humboldt State. The Toros came within three points of Chico State Jan. 4 with 22 seconds remaining in the game but saw their game-tying attempts miss and the team lost 86-81.
In their matchup Jan. 9 with Cal State San Bernardino, the Toros led for most of the game but found themselves down with 36 seconds remaining in the game. They had the game's final possession, but could not get a clear shot off and were defeated 65-63.
In the first of two home games last weekend, Sophomore guard Alex Garcia made five points in the final minute against Humboldt State Thursday to force overtime, but the Toros were defeated in the end 98-93.
The team rebounded Saturday against Stanislaus State, led by Colton Kresl's 23 points and Garcia's 20, routing the Warriors, 88-64.
With 10 games remaining, the Toros are tied with Cal State LA and San Francisco State for seventh. They play Thursday at second-place Chico State, and Saturday at Cal State LA before returning home Feb. 6 and Feb. 8 for games against sixth-place Cal State East Bay and 12th place Cal State Monterey Bay.
The women (5-7 in conference, 8-10 overall) began the season 4-1 but then dropped six conference games in a row but turned it around in late December, winning three of five heading into last weekend. i
The Toros won big in back-to-back victories against Cal State Los Angeles Dec. 19 and Cal State Monterey Bay Dec. 21, winning both games by more than 15 points. Toros guard Janelle Sumilong was named CCAA Women's Basketball Player of the Week for her performances against the Golden Eagles and Otters, averaging 14.3 points, three rebounds and two steals over that stretch.
A pair of six-point victories against Cal State San Bernardino and Humboldt State helped the Toros inch closer to the final playoff spot. Senior center Ahlisha Henderson contributed heavily in both contests, with 17 points and eight rebounds coming against Cal State San Bernardino Jan. 9 and a 10-point, 10-rebound double-double against Humboldt State Thursday.
The Toros trailed Stanislaus State by 12 points with less than four minutes remaining Saturday, but Henderson and Ariana Harper keyed a 9-1 run to cut the lead to five with 46 seconds remaining, but the Warriors made their free throws, pulling out an 88-74 victory.
The ninth-place women facer fifth-place Chico State Thursday and eighth-place Cal State LA Saturday before returning home Feb. 6 and Feb. 8.

csudhbulletin