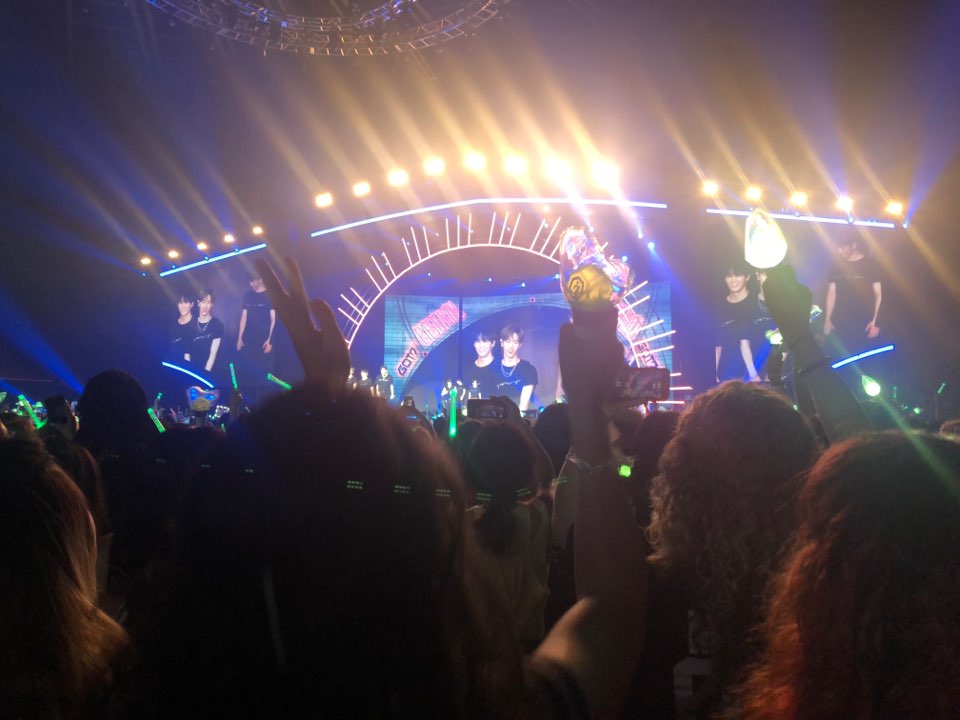 K-pop fans at a Got7 Concert at The Forum.  Photo by Jasmine Nguyen
By Jasmine Nguyen, Editor-in-Chief
There's always a pit in my stomach when I see the words "K-pop Stans" trending on Twitter or in a headline. Maybe it's due to flashbacking to my very intense phase of enjoying Korean idols and pop culture rushing into my brain in less than 10 seconds, or maybe it's the overwhelming urge to cringe due to the fact that it's rarely good news to see "K-pop Fans" trending outside of the fan bubble. But this time it was for something political
Usually, it's trending because the Korean boyband BTS has broken another Youtube record, some non-K-pop fan complaining about how annoying the community that follows these groups can be, someone threatening to ruin a comedian for saying something mildly negative about their idols, or flooding a random hashtag on Twitter with fancams of their favorites dancing to a catchy pop song.
When I was deep into my K-pop phase at 15 years old, my grandfather told me about how he read that back in Vietnam, some fans were so obsessed with Korean idols they stole a chair a member was sitting on. So, the image of K-pop fans was never positive to those outside of the community, at least for me.
K-pop fans have always had the reputation of being vapid teenage girls who carelessly spend their free time crying over foreign music groups instead of being productive members of society; the criticism is similar to most hobbies teenage girls care for, like being way into makeup or reading books about sparkly vampires but that's an issue for another time.
But amazingly, for the last two months, most of the press on K-pop fans has been surprisingly positive, as many of the fans have used their online presence to bring awareness of things that need to be addressed.
Example one: On May 30, in the midst in the midst of nationwide protests against police brutality, Dallas Police called for the public to send videos of illegal activity by protesters. Instead, Kpop fans flooded the department's website with countless videos of dancing Korean pop stars. The app iWatchDallas went temporarily offline several hours later because of the influx.
Example two: Earlier this month, K-pop fans used a similar tactic to take over the "WhiteLivesMatter" hashtag. They flooded the hashtags with videos of their idols, along with pictures and memes.
Example three: President Donald Trump was expecting a massive turnout for his rally in Phoenix on June 20th, instead the results were less than stellar. The reason for the low turnout? The New York Times reported that it may be due to a prank pulled by TikTok users and K-pop fans. Users of Tiktok and as well as K-pop fans on Twitter shared information on how to RSVP to the event and trick the campaign into believing that there would be a higher turnout.
But according to the Washington Post, it's a bit more complicated. While the so-called prank by online communities led to the Trump campaign believing there was a large demand for entry, it's not the sole reason for the low turnout.
Regardless, the act of activism showed an organized reaction by TikTok users and K-pop fans.
So why are K-pop fans suddenly becoming such a political force that even Representative Alexandria Ocasio-Cortez of New York tweeted a shoutout?
To tell you the truth, at first, I had no idea why. I have known about K-pop for a long time, even before I became a big fan.
I've known about K-pop for quite some time even before I became a big fan. Before BTS, I remember seeing K-pop girl group Wonder Girls perform on Fox in 2009. But it wasn't until I was 13 I really got into it. I remember asking my mom to buy me albums (back then there were hardly any albums available in person, you usually had to have them online) I ended up with a bootleg 2PM tour album from Chinatown.
My K-pop phase lasted for quite some time, but it hit a peak in high school. I would have much rather spent time crying over Korean idols like Bang Yongguk, or Im Jabeom, then going to parties or paying attention to my actual prom date. I was definitely disappointed when my first real boyfriend did not give me the same butterflies that K-pop stars did.
I still went to multiple K-pop concerts with friends and kept up with the activities for my favorite band GOT7 up until a year ago, though the obsession definitely cooled down in the past three years because I got busy with school work, friends and life outside K-pop. I still do listen to some Korean music like Hyukoh or DPR Live (and sometimes I love corny pop music so I keep the bubblegum pop in my Spotify playlist ).
And while I cringe when I think about my past as a K-pop fan, I gained many friendships along the way through social media sites like Tumblr and Twitter with people who shared the same likes in music, TV shows, and movies. And many of these friends are still involved with the K-pop fandom and are able to explain what's different about K-pop fans.
Marley Yu and I first met on Tumblr seven years ago and bonded over a shared love for a group called B.A.P. Yu, who is now a fan of BTS believes that to be a K-pop fan, you usually have to have an open-minded and a more liberal outlook on life.
"You have to have an open mind [to listen to K-pop] because it's isn't in English and a lot of people can be ignorant and hold this prejudice," Yu said, "So to be a K-pop fan, you have to have a progressive mindset."
Adri Guzman and I also met on Tumblr seven years ago. Guzman, a fan of several K-Pop girl groups like Red Velvet and SNSD explains that K-pop fandoms have activism and organization built into the fan culture which makes it easy to transition into political activism. Pointing out that fans are used to waiting in online queues for tickets, organizing special events for their favorite groups, or even mass emailing the record labels to protect their artist or to call out sensitive issues.
"The activism that K-pop fans possess can be seen as a form of assembly," Guzman said."They have the power to come together for one specific cause for the greater good."
Yu also points out that K-pop fans have become political because the idols themselves have become more open about politics.
"BTS promotes the message of ending violence and spreading love and Armys [the name for BTS fans] do a lot to spread that message too. I feel like it'd be the same for other K-pop groups," Yu said.
Many Korean celebrities have shown their support against police brutality and support for BlackLivesMatter. For example, BTS donated $1 million dollars to the organization, and other American born K-pop stars like Mark Tuan of Got7, soloist Jay Park, and many others also showed their support for the cause.
I remember being 15 years old on Tumblr, seeing donation links on the various blogs I followed, urging fans instead of spending money on flashy gifts for idol's birthdays to think about donating money to an organization in a group's name. So it isn't too surprising to see K-pop fans coming together to donate their time and money to political issues like police brutality.
A lot of people can say it's a waste to spend your time fawning over Korean idols and being a part of the K-pop fandom, and yes it can be a bit cringy when you're in it full force, but I think this a great example of the youth coming together and using something they love to achieve change in real ways.
csudhbulletin