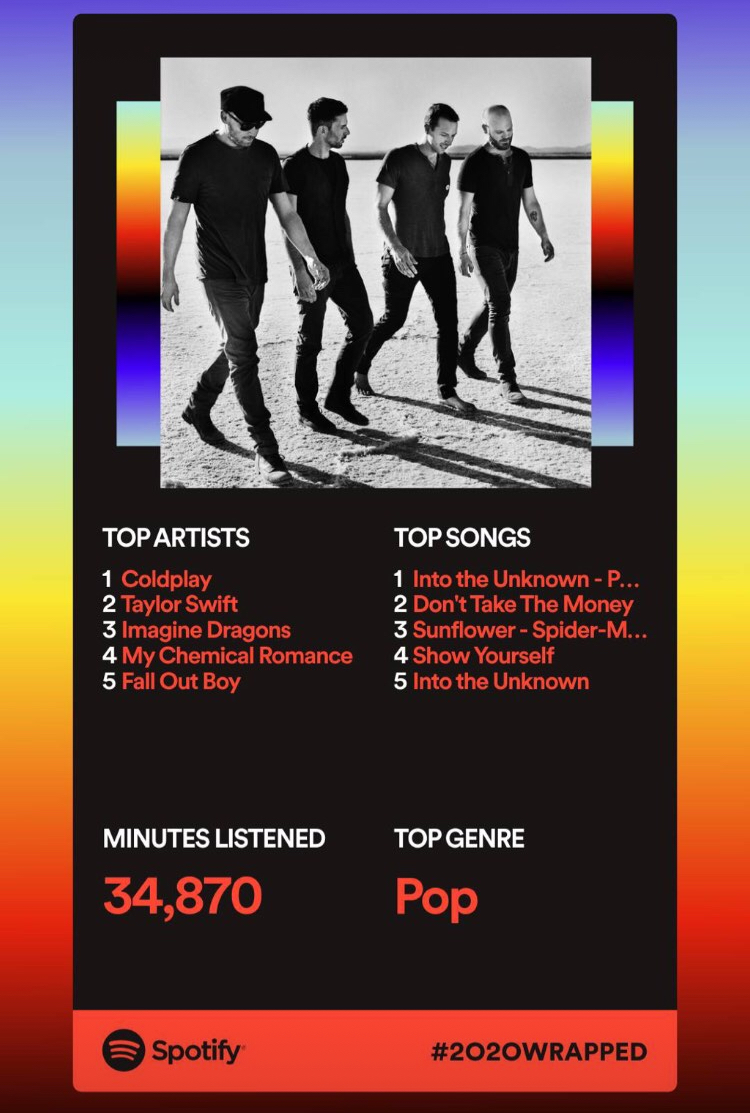 I have collected the infinity stones of white modern pop-rock music. Screengrab from Spotify by Destiny Jackson.
---
By Destiny Jackson, Opinion Editor
As a citizen of the Black community who occasionally shops at gentrified ass places like Whole Foods, Mother's Market, or at The Grove in Los Angeles, I know I'm an outlier. This is not to say that Black people don't also shop at generally "white" grocery stores like the ones aforementioned. They do. So please don't cancel me. It's just in addition to that, I also know that my favorite band for the last 20 years—mind you, I'm 27—is and will forever be Coldplay.
And for me, growing up in North Long Beach, considered the rougher parts (read: working class; People are just dramatic.) of the notoriously breezy and beautiful metropolitan city has always anchored me in the center of my Blackness when I would mostly be attending white majority schools (by district permits outside my area) for my K-12 schooling. While the kids at school were listening to bands like The White Stripes, The Killers, and Green Day, my friends at home were listening to Destiny's Child, Brandy and B2K. It was only natural for me to pick up both musical tastes including oldies from my parents, but I guess somewhere along the way, I leaned more into rock music and turned away from the cool beats of R&B records.
The point here is that after almost two decades, a Childish Gambino concert, streaming artists like Kendrick Lamar, Megan thee Stallion, banging to all things Beyonce… apparently I still have a lot of work to do. I knew that as long as I continued to hardcore stan the likes of Coldplay, My Chemical Romance and Imagine Dragons my Black card would always be in flux.
Destiny, are you sure you want to drag yourself on the internet?
Yeah, it's time to come clean.
"Come clean", huh? You know that song by Hilary Duff, right?
[blinks uncomfortably.] I didn't mean to reference that song.
So, let's start from the top, why are you like this? I mean an artist of the year? Coldplay? Really?
I stand by my British boys. And, in the defense of my Blackness, Coldplay hasn't collabed with many artists in their twenty-plus years of music. But the ones that they have collabed with have been Black: Jay-Z, Beyoncé, Big Sean and Rihanna. Besides, I already have my wedding song picked out, it's "A Message" by the way.
Are you the sole reason they got nominated for the Grammys next year?
It's been a really hard last couple of years for Coldplay fans, at least for me. Their latest eighth studio album "Everyday Life" admittedly wasn't their best…
Spotify clearly has you labeled as being in the top 2% of Coldplay listeners…
And 843 minutes listening to their music … what about it? Don't look at me like that.
What's going on with the rest of this list? Not one ounce of melanin in your Top 5. Explain yourself.
[visibly sweating.] Look, the "Frozen 2" soundtrack really slapped, and "Into the Unknown" a song about self-discovery really resonate—
Destiny, it's a children's movie, you're in your late 20s.
Like I said, it's a great soundtrack. This lyric hits hard for me: "I'm afraid of what I'm risking if I follow you into the unknown." Who hasn't felt afraid to embark on a new journey or career path in their life?
The movie that retconned Indigenous Peoples featuring a talking snowman and a man who talks to reindeer has inspiring songs to you?
…yes. [deep sigh.]
You're problematic.
I know …
Let's just get through the rest of this list.
Well, I listen to Taylor Swift just as much as Coldplay. But oddly enough, I'm not very invested in her fandom. I hated "Reputation", I felt ambivalent about "Lover" but "1989" and her latest "Folklore" take the cake for me. My Chemical Romance is a staple in House Jackson so that tracks too. I was surprised that Imagine Dragons and Fall Out Boy rounded out my Top 5. I was listening to a lot of Anderson Paak and Megan thee Stallion this year, but clearly not enough. If you were to look at my Spotify playlist Top 20, you'd see more folks of color in my 2020 mix.
Yeah, but overall your Spotify Wrapped said you spent nearly 600 hours (34k mins) listening to this white music but you still have the nerve to be talking about BLM? I mean why are you like this?
Is it the fact that I walked into a Gelson's once because I had to use the restroom?
Or is there something more sinister afoot? Am I an unknowing victim of a ceramic teacup hypnotization session by the mother of the ONE white boyfriend I had three years ago like in the movie "Get Out?"
Who knows, I'll just chalk it up to colonization.
Do better.
OK.
csudhbulletin