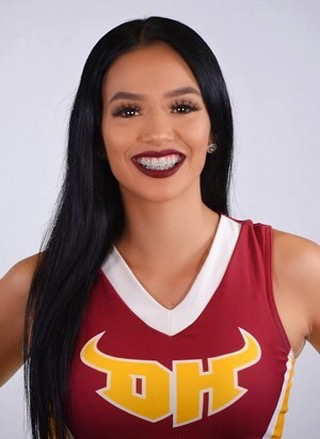 Ariana Jaramillo is one of four captains of the CSUDH dance team. Photo by Toro Athletics.
---
By Melany Ruiz, Assistant Opinion Editor
Seven months ago, CSUDH sporting events consisted of students cheering on athletes, cheerleaders leading chants for their school and athletes swirling around the court or field itching to win the game while the crowd in attendance was engulfed with school pride. Now, athletes are stuck at home, due to COVID-19, to be students, work and keep up with their workouts from home.
Ariana Jaramillo, one of the four captains for the CSUDH dance team, moves her team forward and keeps them motivated despite COVID-19 isolation. While being a student-athlete comes with a lot of responsibilities, Jaramillo holds daily virtual workouts for her team. Prior to the isolation order, the CSUDH dance team would have training that began at 7 a.m. and varied from three to five days a week.
When sports tournaments and dance competitions were taking place, the team would do weekend practices and "two-a-days" where the coaches would work around the student-athletes' schedules, requiring them to practice twice a day, once in the morning and again in the night.
Currently, all 28 dance team members are required to report to daily training at 7 a.m through Zoom, with their camera on at all times. Every week the coach provides a detailed list of instructions and needed supplies that the student-athletes need for that specific workout on Blackboard. The dance team focuses on a variation of training that consists of cardio and choreography overview. Practices are held on a preference and sign up basis, all around the athlete's work and academic schedule.
Dedication to the team goes beyond the physical training exercises as a two-hour virtual study hall is required for all members to ensure they maintain good grades.
Currently, the CSUDH dance team is not doing anything in person and is not planning to perform at any sporting events or dance tournaments in the near future since the CSU Chancellor's announcement that Spring 2021 will remain virtual. This announcement brought a lot of frustration and created a lack of motivation for the team. Jaramillo said that the team has something called "families" and "littles" where each captain is the head of their families and their "littles" are their mentees.
Jaramillo constantly checks up on her littles to make sure that they are staying on top of their training and work in such difficult times.
"As a captain, I think it's really important to just keep a positive mindset, keep an open mindset," Jaramillo said. "They do what you do, [and] they look up to you. You just have to really watch what you do and say because it will trickle down and affect everyone else on the team."
Though motivation is something that can be difficult to maintain during these times, Jaramillo keeps her team united and assures that her team moves forward successfully.
"At the end of the day it's your responsibility as a captain to not only hold yourself accountable but be able to hold a team accountable too," Jaramillo said.
csudhbulletin