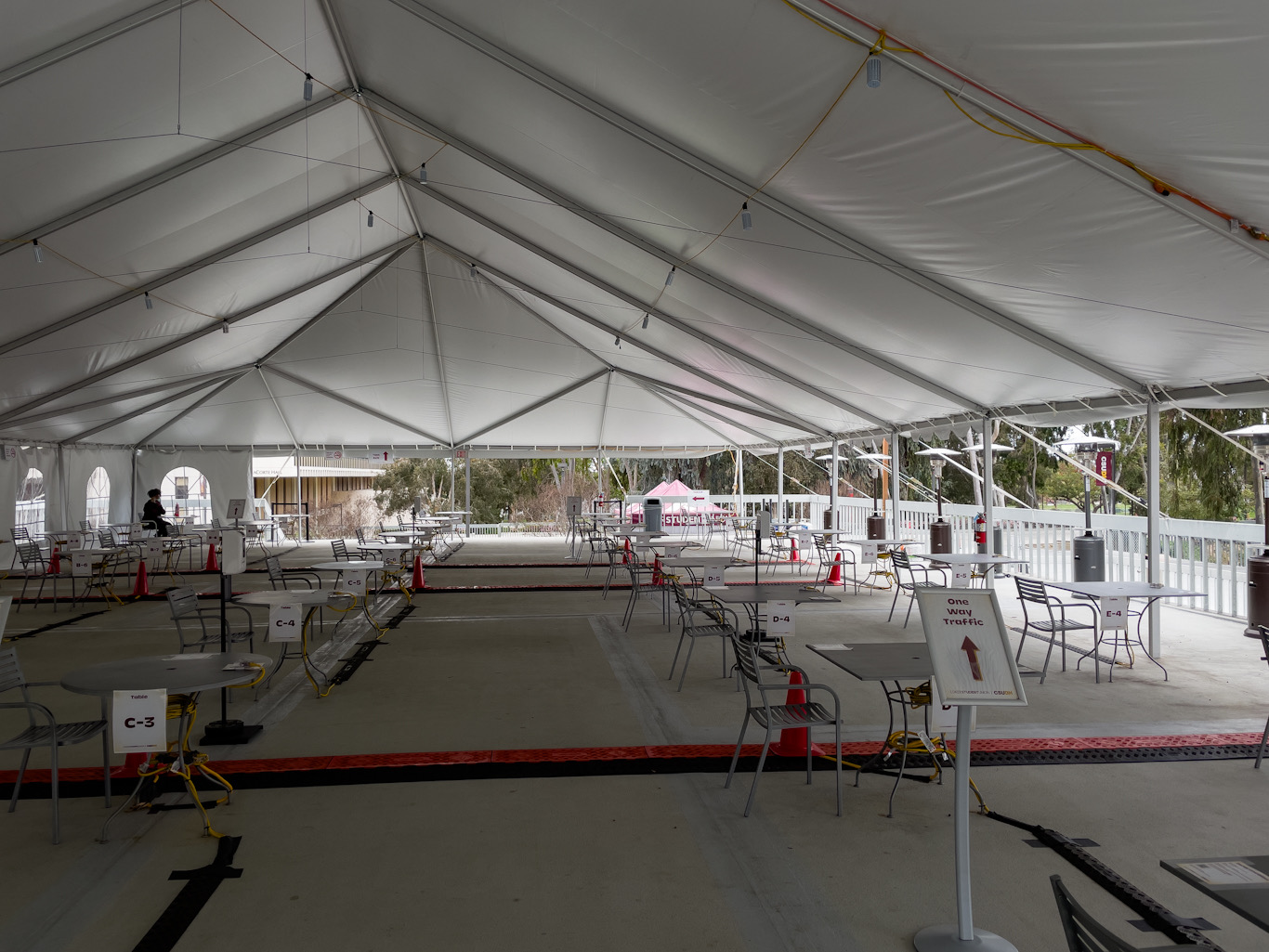 The Toro Touchdown space utilizes its vast open area as a place to study and connect online. Photo by Carlos Martinez
By Carlos Martinez, Web Editor
After a year of having all but 8% of classes held in the virtual landscape, the Loker Student Union partnered with the Emergency Operations Center, the President's Cabinet, University Administrators, Risk Management, LSU Operations, and Finance and Marketing teams to create an outdoor space for those students with mixed modular classes. Despite being open four days a week, the newly constructed gated study area with heaters within its borders, which costs the university $113,310, is not being used to its maximum capacity, even a month after its grand opening.
Constructing around the previous semester, Toro Touchdown was originally established for students who are often in a battle with time and have to attend in-person sessions with online courses in between or vice versa. On March 2, associate vice president of Student Life and Dean of Students, Matthew Smith wrote an email announcing the study space's grand opening.
"The Toro Touchdown space is available to all currently enrolled students, on a first-come, first-served basis," Smith wrote in the email.
Cecilia Ortiz, Loker Student director, said she developed the idea after seeing the need for a safe and supportive area that gave students access to the campus Wi-Fi during the pandemic.
Many student unions, like CSUDH very own LSU, serve as a resource to their prospective student community providing them with academic and extracurricular opportunities. According to Ortiz, the campus LSU has support from a wide network of colleagues throughout the nation, which facilitated in the development of stages of this space.
"The LSU operations team connected with colleagues from various institutions to share solutions and to learn from those who had already opened spaces," she said.
Ortiz added that the team communicated with Colorado State University and the University of Nevada, Las Vegas in order to gain insight on their own processes when building a space such as the Toro Touchdown. CSU campuses such as Fullerton and Long Beach have also provided limited study spaces for students involved in both in-person and virtual classes this semester. Due to their guidelines, their indoor areas have more limited seating and fewer operating hours.
According to Ortiz, Toro Touchdown hosted 25 students during its first week of operations. In recent weeks, that number dropped and the space allocates 10 to 15 students, only utilizing 25% of its capacity, according to an anonymous source.
According to Amy Bentley-Smith, director of University Communications and Affairs, the LSU incurred costs for the construction of the space and will be reimbursed through the university's CARES Act funds.
"The Toro Touchdown space is an allowable expense per Higher Education Emergency Relief Fund guidelines," Bentley-Smith said in an email to the Bulletin.
The HEERF II grant fund is a program that was included under the CARES Act as a way to provide more than $14 billion in emergency funds to higher education.
According to the National Association of Student Financial Aid Administrators, "More than $6 billion must go directly to students in the form of emergency financial aid grants (HEERF-student share) for expenses related to the disruption of campus operations due to the COVID-19 crisis."
As CSUDH is considered a commuter school in the CSU system, attendance during the operation hours doesn't meet the threshold. According to a US News and World Report, student attendance is sparse as 96% of CSUDH students live off-campus or commute during the 2019-2020 school year, with numbers estimated to be during the pre-pandemic portion of the school year.
"There's usually an average of five students with mixed modularity that use the event daily," a second anonymous source said.
According to that same source, it is dance and theatre students who are often seen utilizing the large movement space in various ways such as exercise and performances.
Located in between the Leo F. Cain Library and the Loker Student Union, across from the south entrance of the bookstore, Toro Touchdown is set up under a large outdoor tent with fencing that surrounds its perimeter, covering a great portion of what was an empty space in between the two buildings. This was done to ensure the space is compliant with COVID-19 regulations that were implemented by campus officials since its inception.
Inside, tables that are enough to accommodate 50 students have spread out at least six feet apart from each other while having long extension cords for students to use to charge their equipment. Each table had a sign that informed student workers or anyone utilizing the space what is being used or in need of sanitizing. Along the outer lining of the tent, space heaters are set up to provide students warmth when using the space in inclement weather.
---
However, students are not permitted into the space without being registered first. Students planning to utilize the space are required to reserve their station using the Toro Touchdown and show proof of a negative COVID-19 test before arriving on campus. Upon arrival, students will have their temperature taken before entering the space and utilizing their station.
In addition to traffic management and daily sanitizing before, during and after operating hours; University Police also make hourly rounds to areas across campus to safeguard certify students are safe, according to anonymous sources.
As California is planning to reopen its economy by June, the structure of the space will flex with the changes of the mandate.
"The Loker Student Union has a multi-tiered reopening plan that includes Toro Touchdown Space operational contingencies," Ortiz said.
As mentioned by the California Faculty Association meeting on March 15, 19% of the CSUDH population is projected to return to campus in the fall 2021 semester. Decisions for the operation of Toro Touchdown space are tentative and will be finalized in coordination with student and campus, state and local regulations and LA County Fire Marshal approval.
csudhbulletin