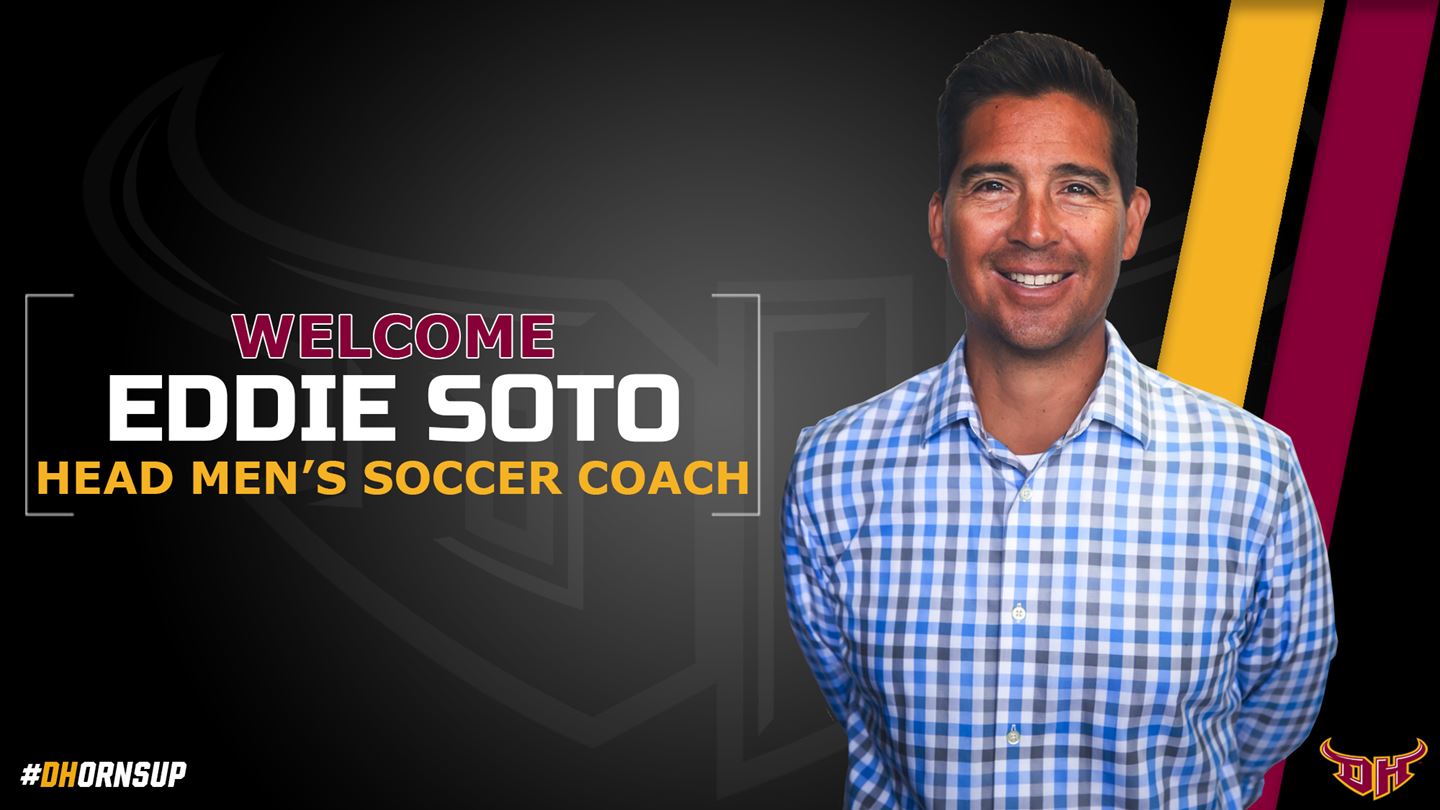 Photo courtesy of Toro Athletics
By Victor Munoz, Sports Editor
The CSUDH men's soccer team, arguably the most successful sports team in the history of the university, finally has a new head coach: Eddie Soto, former head coach of the University of San Francisco's men's team and former LA Galaxy Academy coach.
CSUDH Athletic Director Jeff Falkner announced Soto's hiring Thursday, March 21, 2019. Soto will start on April 1. It is the first time in more than a year that the Toros have had a permanent coach, as Sean Lockhart has served as interim coach since March 2018, after Joe Flanagan, who had led the men's team to two NCAA Championships and 20 consecutive winning seasons, was apparently not asked to return after the 2017 season.
But none of that involves Soto, an Artesia native and Cerritos High School product, who couldn't be happier returning home.
This is homecoming for me so I couldn't be happier to be back in Southern California with my family," said Soto in a GoToros press release. "The culture here at Dominguez Hills is one that resembles my philosophy, which is hard work, family and winning."
In his first season at USF, Soto led the team, one of the most successful soccer programs in Divison I soccer, to its first winning season since  2006. In his five years, the Dons were 34-35-3, and in 2017, he led USF to its 35th conference championship, earning West Coast Conference coach of the year.
Prior to USF, Soto served as under-18 coach for the LA Galaxy Academy, and also worked as an assistant coach at UCLA, Cal State Fullerton and Long Beach State. He was also a two–time All American at Cal State Fullerton in 1992 &1993,
"We are thrilled that Eddie has agreed to be our head men's soccer coach," Falkner said. "He has a wealth of experience in the game and great relationships within the soccer community in the region. I am confident he will lead Dominguez Hills back to national prominence."
Soto's task is to return the team to the consistency it exhibited  for nearly a quarter of a century er former head coach Flanagan. Last year, it finished 4-13-1, its first losing record in more than 20 years. That was also the first season in 24 years that Flanagan did not coach the team, which he coached from 1994-2017, and led to  two NCAA Championships and nine conference championships.
A two-time national coach of the year and the winningest coach in Toro history, with 336 victories as men's coach and women's coach (which he led from 2002-2013), Flanagan's last season at the helm for CSUDH was 2017, when the Toros won the conference with a 9-2-1 record, the 20th consecutive season the team had finished above .500.
After that season, however, Flanagan said he was not asked to return, and still does not know why.
"That's the funny part, they didn't give us a reason," Flanagan told The Bulletin last semester. "We felt like they cut our CSUDH legacy short."
No announcement that Flanagan would not return was ever made on the CSUDH Athletic website. The last mention of him was on Nov. 11, 2017, after the Toros lost in the second round of the NCAA championships. The article mentioned that "head coach Joe Flanagan and the Toros will return eight starters for 2018…"
Asked about it last semester, CSUDH Athletic Director Jeff Falkner said the information was confidential because it was personnel related and he had no further comment.
"We are still in shock on how things happened," said Flanagan, who said the athletic department never contacted him about an opening . "I gave more than half my life to this program and for it to end like this is shocking,"
csudhbulletin