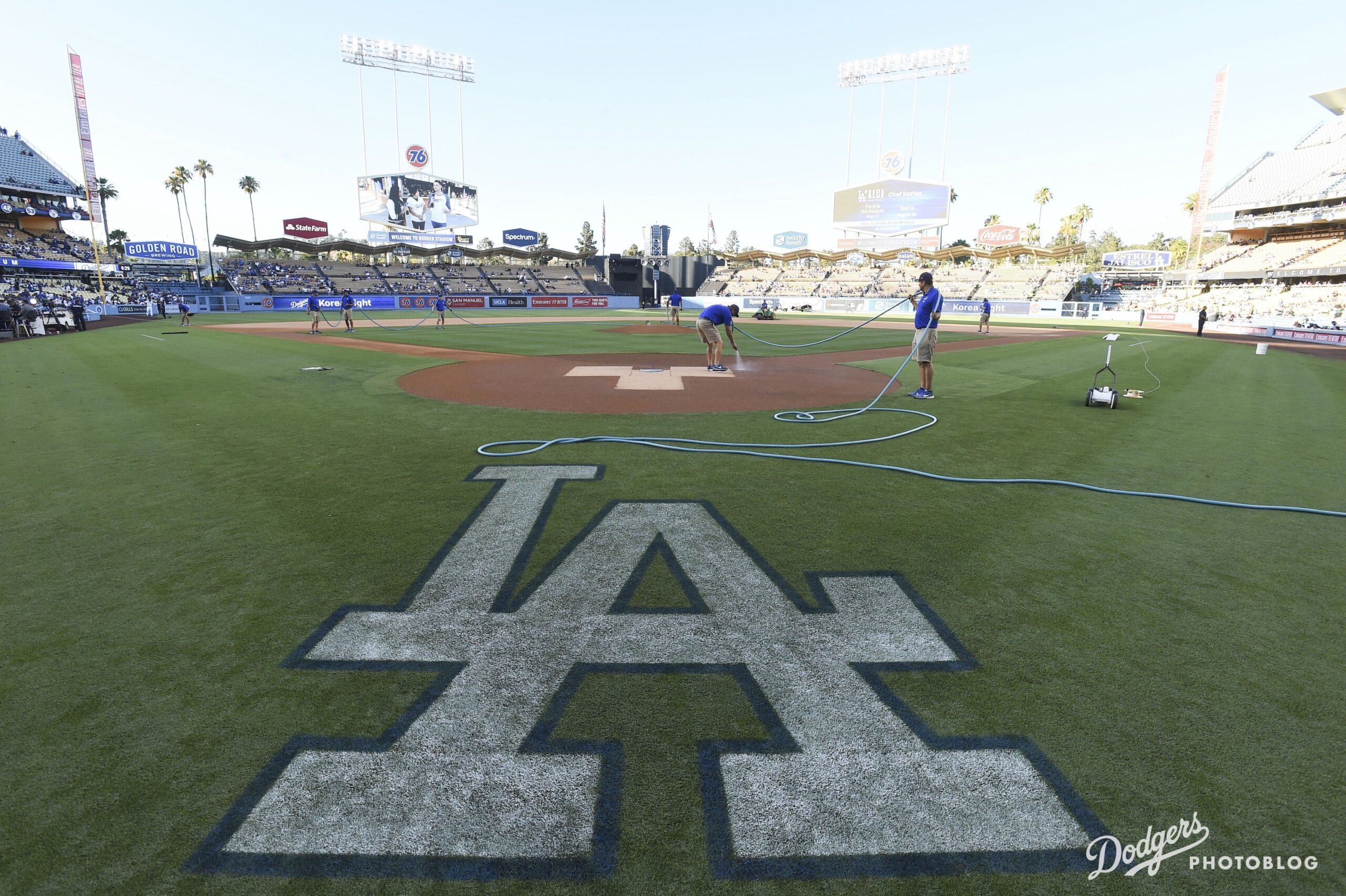 Photo by Josh Barber on Dodgers Photoblog.
---
By Jessica Olvera, Co-Sports Editor
While most of the world is trying to find ways to keep themselves busy and sane during this quarantine, I am left with mixed emotions ranging from depressed to worried about my beloved Los Angeles sports teams, the star-studded Dodgers and almost-unbeatable Lakers.
The NBA season has been temporarily suspended in response to the coronavirus pandemic and the MLB has decided to postpone opening day to at least mid-May, but this is all subject to change as the situations surrounding COVID-19 develop.
So what does a die-hard LA sports fan such as myself do to fill this empty void left by the absence of my favorite sports teams?
I try to relive the memories of the game-winning shots and the walk-off home runs, and dream of the day that I will be able to once again sit in the cramped seats of the All-You-Can-Eat Right Field Pavilion at Dodger Stadium, munching on Dodgers dogs, sipping micheladas and throwing peanuts at Giants fans.
But I also worry about the analytics and statistics for players like Lebron James, who might lose an MVP caliber season, and the possibility that the Dodgers might not cash in on the year they were guaranteed to have Mookie Betts on the roster.
James has continued to produce on the stat sheet in his 17th season as he was averaging 25.7 points, 7.9 rebounds, and a league-leading 10.6 assists per game this season for the Lakers.
Before the break happened, James and the Lakers were only two games behind the Milwaukee Bucks to overtake them for the best record in the league.
For the Dodgers, their blockbuster, nine-player, three-team, and 10-asset trade in February, in which we acquired Betts, might be in jeopardy due to the service-time agreement.
It is possible that Betts might not suit up in Dodger Blue and add his MVP talent to our already star-studded outfield if the season is canceled.
This could be a nightmare scenario and a zero-value year for the Dodgers and its fans as we gave up two high-valued assets in Jeter Downs and Alex Verdugo.
Verdugo was a fan favorite that never failed to get the fans swooning and cheering with his walk-up song, "Volver, Volver," by Mexican artist Vincente Fernandez.
But Betts is the real prize and is already considered the missing piece we need to win the World Series.
In an interview with Joe Davis on April 16, Betts talked about how he was starting to settle in with the team.
"It didn't take long to get used to, the guys in there made it so seamless," Betts said. "It was like home. It was really home by the time all this stuff happened, and I definitely missed it."
So maybe there is still hope that Betts will stick around and sign a long-term deal with the Dodgers.
A lot can still happen in the upcoming months, but I will continue to look forward to the day that I can once again root for my boys in purple and gold, and Dodger
csudhbulletin