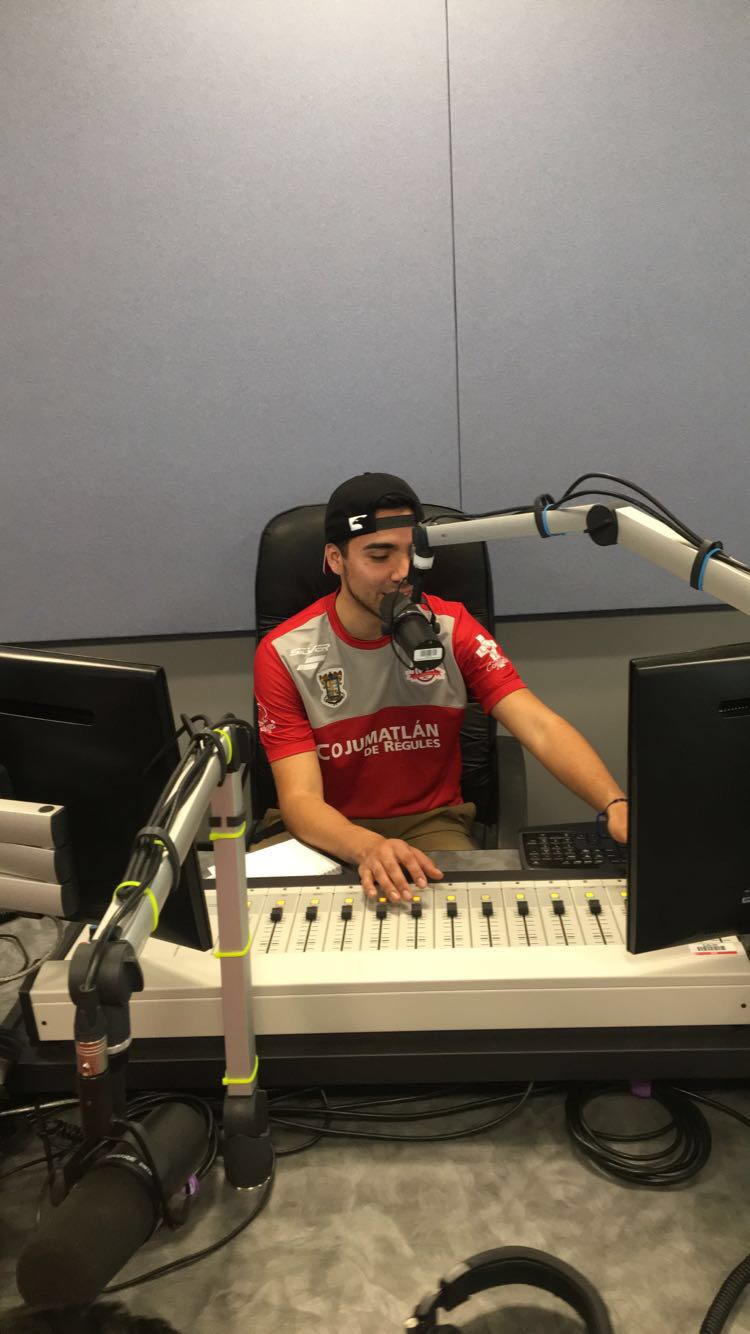 By Victor Munoz
Sports Editor
Note: This is a Spanish-language version of a story that ran in this week's print issue of The Bulletin
Este año escolar fui nombrado el Editor Deportivo del periódico The Bulletin. Al principio no estaba seguro que responsabilidades implicaba este puesto, pero me dijeron que, al estar a cargo de la sección, podía darle el aspecto que yo quisiera.
Tenía una cosa segura: quería contar las historias de esos ex-atletas de CSUDH que en contra de los pornosticos llegaron a los rangos profesionales.  A lo largo del semestre me di cuenta que la profesionalizacion en el deporte no esta limitada a ser jugador profesional.
Desde carreras en medicina deportiva, ser auxiliar o trabajar en las oficinas de una franquicia, hay una gran cantidad de carreras relacionadas con el deporte disponibles para los que no logran ser un jugador profesional.
Tal vez incluso se podría seguir mi ruta: cambiar el sueño de ser un atleta profesional a ser un periodista deportivo.
En tercerode primaria, mi maestra, Ms. Domonquer me impulse a que siguiera una carera que me fascinara. Desde entonces ese consejo siempre se mantuvo conmigo, y sabía que la carrera tendría que ser relacionada con el deporte. Algunos de mis primeros recuerdos son de mi padre y mis tíos hablando sobre noticias deportivas todos los viernes y sábados. Era una rutina semanal y, una vez que aprendí sobre deportes, me unía a las conversaciones, que en algunos momentos se acaloraban y hacían enojar a mi madre y mis tías.
Cada sábado, desde que cantaba el gallo hasta aproximadamente las 7 p.m. mi hermano y yo veíamos futbol.  Cuando mi padre llegaba del trabajo, nosotros corríamos a la puerta para narrar cada partido, en especial los de Cruz Azul. Poco sabía que estas experiencias se convertirían una carrera.
En mi adolescencia mi sueño no era cubrir deportes sino jugar para el equipo preferido de mi padre, el Cruz Azul. El equipo al cual le dedicaba tanta pasión, una pasión que a pequeña edad me transmitió. Pero no tardé en darme cuenta que ese sueño estaba fuera de mi alcance. Por un lado, no tenía las mejores habilidades y, en segundo lugar, no tenía los contactos ni el presupuesto para contratar a un entrenador personal para seguir con ese objetivo.
Ahora no sueño con convertirme en el próximo Leo Messi o Cristiano Ronaldo, sino en un reportero que servirá como conducto para que los fanáticos lean, escuchen o vean información sobre las cosas grandiosas que ocurren en el hermoso mundo deportivo.
Desde que tome esa decisión, hice prácticas profesionales  en Telemundo Deportes(mi mayor hito fue cubrir la despedida de Kobe Bryant de la NBA), trabajéen Panamerican FC (club de tercera-división en Estados Unidos), empecé mi propio programa de radio; Toreando los Deportes, el cual fue el primer programa en español de The Bulletin.y fui nombrado el editor deportivo.
Ahora que ya terminé mis estudios en la universidad de CSUDH, me prepuse en agosto buscar aumentar mis conocimientos sobre deportes en México, en la institución de José Ramón Fernández (un reportero de ESPN).Durante mi estancia en la Ciudad de México espero conseguir un Trabajo con Cruz Azul.
Mi dedicación a esta profesión es como la que el Chaco Giménez le tuvo al Cruz Azul. En otras palabras, una dedicación extravagante. Por ejemplo, a pesar de haber  terminado mis estudios regresé a la universidad para seguir trabajando en el periódico.
Claro, el periodismo deportivo era el plan B, y llegó solo después de que me di cuenta de que mi sueño principal de jugar profesionalmente nunca sucedería. Pero no podría estar más feliz. No solo me encanta hablar con los atletas, aprender más sobre deportes y tener conversaciones con todos sobre cualquier tema relacionado con el deporte, sino que también siento, a mi manera, que estoy siguiendo un legado familiar.
Muchos padres se sienten orgullosos de transmitir sus habilidades atléticas a sus niños, y se sienten decepcionados cuando sus hijos no llegan a los rangos profesionales. Pero al transmitirme su conocimiento y amor por los deportes, mi padre y mis tíos me ayudaron a encender el fuego para que yo lo hiciera profesionalmente.
Supongo que, en cierto modo, ahora estoy buscando una forma de continuar transmitiendo las noticias deportivas a mi padre y mis tíos.
    Sintoniza kdhr.net cada viernes a las 12 p.m. para disfrutar de Toreando los Deportes
csudhbulletin