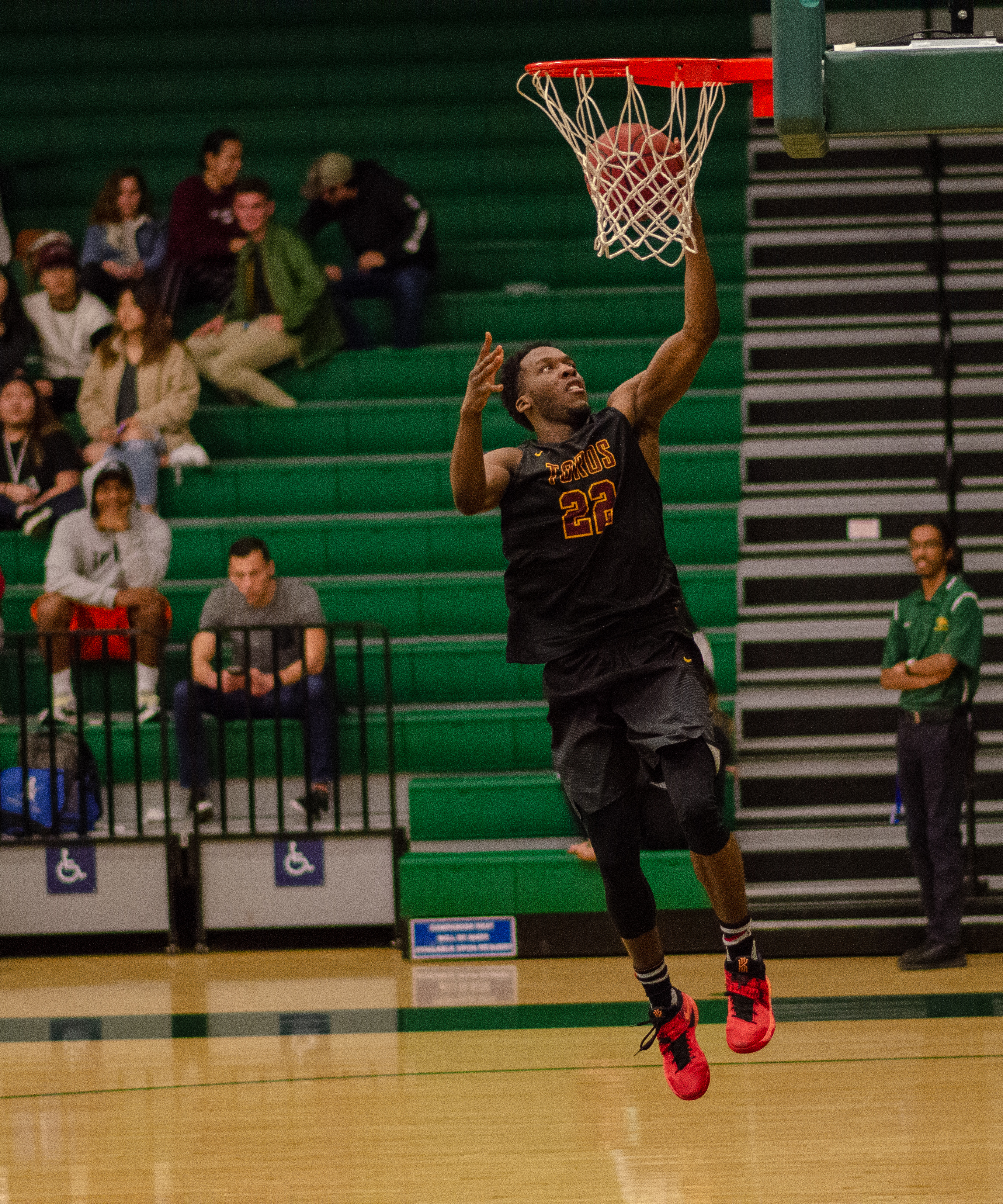 Editor's note: In light of this being the 50th year of CSUDH athletics, The Bulletin begins a three-part series on the state of Toro athletics in this issue. The first talks about how students view our sports team, followed by how the university views our sports team, in terms of funding, and, finally, how the athletics program views itself.
By Victor Munoz, Jeremy Gonzalez and Salvador Perez/Photos by Glenn Marshall
One team statistic in one season of a university with a 50-year athletic history is merely a snapshot, but there's one number involving the recently concluded seasons of the CSUDH men's and women's basketball teams that tells the proverbial 1,000 words.
Actually, two numbers: 139, and 117, the average home attendance for the men's and women's teams, respectively. Both ranked last in the 13-team California Collegiate Athletic Association, behind schools such as Stanislaus State, which has 5,000 fewer students but averaged 558 for men's games, and 330 for women's games, and Cal State Monterey Bay, with 8,000 fewer students but that averaged 208 for men's games and 127 for women.i None of those four teams made the playoffs; Monterey's two teams won three combined games all season.
Both Toro teams made the playoffs for the third straight season.
With a maximum capacity of 2,802, the ToroDome isn't exactly Staples Center, but neither is it a a mausoleum, and that's what it felt like for most basketball home games this season. And the lack of student support seems spread across the Toro's nine programs, with athletes, Bulletin staffers, and those relatively few students who do attend all agreeing crowds are sparse. For instance the March 31 baseball game against Cal State Monterey Bay in which approximately 30 fans attended. All were family or friends of the Toro athletes; unless they were in uniform, there were no other students.
This year's basketball attendance totals, which can be found on the CCAA athletics website, were the lowest The Bulletin could find on a site that is less than thorough, to say the least. There are pieces scattered here and there that suggest more attendance in past years (such as 553 for the men's team in the 2008-09 season, but there are no other schools' attendance listed to compare) but this much is certain:
One year after both teams made the playoffs, attendance plummeted: the men from 330 (10th in the CCAA) in 2017-18 to 139; the women from 288 (7th place) to 117.
It hasn't always been this way. Will Henderson, the equipment room manager for the kinesiology department, has been on campus nearly 35 years. He began as a student and he said "during my time [the mid-1980s] we had all four bleachers full, for basketball and volleyball."
Something has changed. It's not the effort or dedication of our athletes; spend any time watching them and you see they bust their asses during every game and practice. But the passion they display isn't reflected in support from the general student body.
We took a very unscientific story of students on this campus (we basically walked around and asked random students if they followed or cared about Toro sports) and found that of 198 students asked, most of whom said they had some interest in sports, only 38 said they followed any Toro sports or had attended a home game other than for extra credit.
Even free food from In-N-Out, which is usually offered once or twice a year before basketball games, isn't enough of an incentive.
" I love sports but I don't think going to school events here at DH is worth my time," said Anthony Villanueva, a sophomore English major. " I think that the school offering food to go to the games is good, but that's not gonna make people actually stay."
Not exactly doctorate-level research, but it seems clear there's a lack of school spirit, in terms of athletics, at this campus.
And if a part of a newspaper's job when covering its respective community is to ask questions, we have to ask this one:
Why?
Why do so few students seem to support, or care, about their fellow Toros on the field or on the court?
There probably is no one solid answer but a combination of several variables. Some, such as funding and promotion, will be addressed in parts 2 and 3 of this series, but for this issue we focus on possible reasons affecting the student perception of our athletic teams.
DIVISION II STATUS
The Toros play in the second largest chunk of that powerful, ubiquitous beast known as the NCAA, But though the division they play in has nearly as many schools, 309, as Division I's 347, they might as well be playing in different sports systems.

For most sports fans it's Division I or nothing. Those are the schools that everybody knows: UCLA and USC, Alabama and Ohio State, Gonzaga and Georgia. They're the schools on ESPN every night, the ones who bring in the huge amounts of revenue and who always seem to be mired in some kind of corruption.
Division II athletes exchange a usually smaller school, more of a balance between academics and athletics, and a better chance to graduate on time, for little to no love from the major media. D2 schools usually aren't on ESPN or the local news station or local paper, unless they are the only game in town (which may be a reason Chico State's basketball teams lead in basketball attendance), and are not a pipeline to the pros like DI schools. They are not just under the radar for the casual sports fans; they aren't even on the radar.
Junior Ahlisha Henderson registered double-digits in points and rebounds in the Toro's first-round playoff loss. Photo by Glenn Marshall

Freshman Isiah Morris is one of five returnnig Toros who started at least 13 games
Possible remedy: Get over it. This is the university you have chosen to attend, and even if the talent of some of our athletes doesn't match that of Sports 101 universities, their effort and the fact they are representing your university should be enough to pay attention. And every other school in the conference is in the same division, so the level of relative competition at D2 is the same as D1.
Just consider this: Although UC San Diego has won the CCAA men's basketball tournament the past three years, that mini-dynasty is an anomaly. In the past 10 years nine schools have played in the conference tournament finals, with six winning it, including CSUDH in 2011. The women? In the past 11 years, six teams have won the conference, including the Toros' three championships.
Finally, as the CCAA website proudly proclaims, it is the winningest conference in D2, with 153 national championships.
COMMUTER SCHOOL
According to U.S. News and World Report, in 2017-18, 95 percent of our students lived off-campus and commuted. That's a lot, but there are other CSUs with more commuters, including Cal State Fullerton, a DI school where 99 percent of the students live off-campus, and Cal State Los Angeles, a conference rival, with 96 percent. In 2018-19, CSUF's men's hoopsters averaged 978 a game, 236 for women; at CSULA, 306 for men, 170 for women. All easily exceeded CSUDH figures. And last time we checked, traffic in OC and east LA was no better than the South Bay.

Possible remedy: Stop whining.. Yes, we are all busy, attend school, work, have social lives. But considering most teams plays Tuesday and Thursday nights and on weekends, how hard is it for those who take afternoon or night classes, or live within a reasonable distance from campus, to spend an hour or so rooting on their fellow Toros?
LACK OF A WINNING TRADITION
In the past 20 years, Toro teams have won 16 conference championships, and men's soccer has eight, the most recent in 2015. (the 2017 men's team championship is listed as vacated on the CCAA website). The other eight? Women's basketball, (2016, 2015, 2009), softball (2012, 2005), men's basketball (2009). baseball (2006), women's soccer (2004).
That's 16 out of a possible 160 conference championships. Pretty bad right? Think again.
Only two other CCAA teams have more conference championships this century, UC San Diego (35, spread among six sports) and Cal State San Bernardino (22, 14 of which are for women's volleyball, for whatever reason).
Yes, the Toros haven't won a championship in four years, but over the past 11 years, teams have won nine, and that averages out to nearly one a season.
Possible remedy: Not to sound like a broken record, but please get over it. Yes, the past few years haven't been stellar all around for most Toro team sports (baseball's last season above .500 was 2010, softball 2013, women's soccer 2011, volleyball's 14-12 finish in 2017 was only its second winning season ever), but men's basketball has made the postseason the past three years, the women's team has made the playoffs the past eight seasons, and, until its 2018 season, the men's soccer team hadn't finished below .500 since 1997, and had missed the playoffs only twice since 1999.
And keep this mind: CSUDH joined the CCAA in 1980. As of June 2016, it had won 34 CCAA championships in 36 years.Not the same pace as Chico State, which had won 52 in 18 years and UC San Diego's 39 in 16 years, but better than Cal State LA's 36 in 61 years.
And that's good enough for us.

BUZZ AROUND CAMPUS
This is the hardest to quantify, but it may be the single biggest reason for the general lack of support for Toro teams.
"I don't really like going to any games here at school because everyone is always saying that nobody ever goes so that makes me not want to go," said Angel Castro, an English major at CSUDH. "I commute to school so if I stay for a game I have to make sure it's worth my time."
Possible Remedy: Give a shit. This is YOUR school, these athletes are representing it, and they deserve and, quite possibly, even need it for that extra boost.

Just consider this from one of our most decorated athletes:

"Sports is definitely very important to a university," said former track and field star and six-time All-American Chanel Parker. "It creates an environment where you have the opportunity to cheer your fellow student-athletes on."

Possible remedy: Read the CSUDH Bulletin. We talk about sports ALL the time!
csudhbulletin