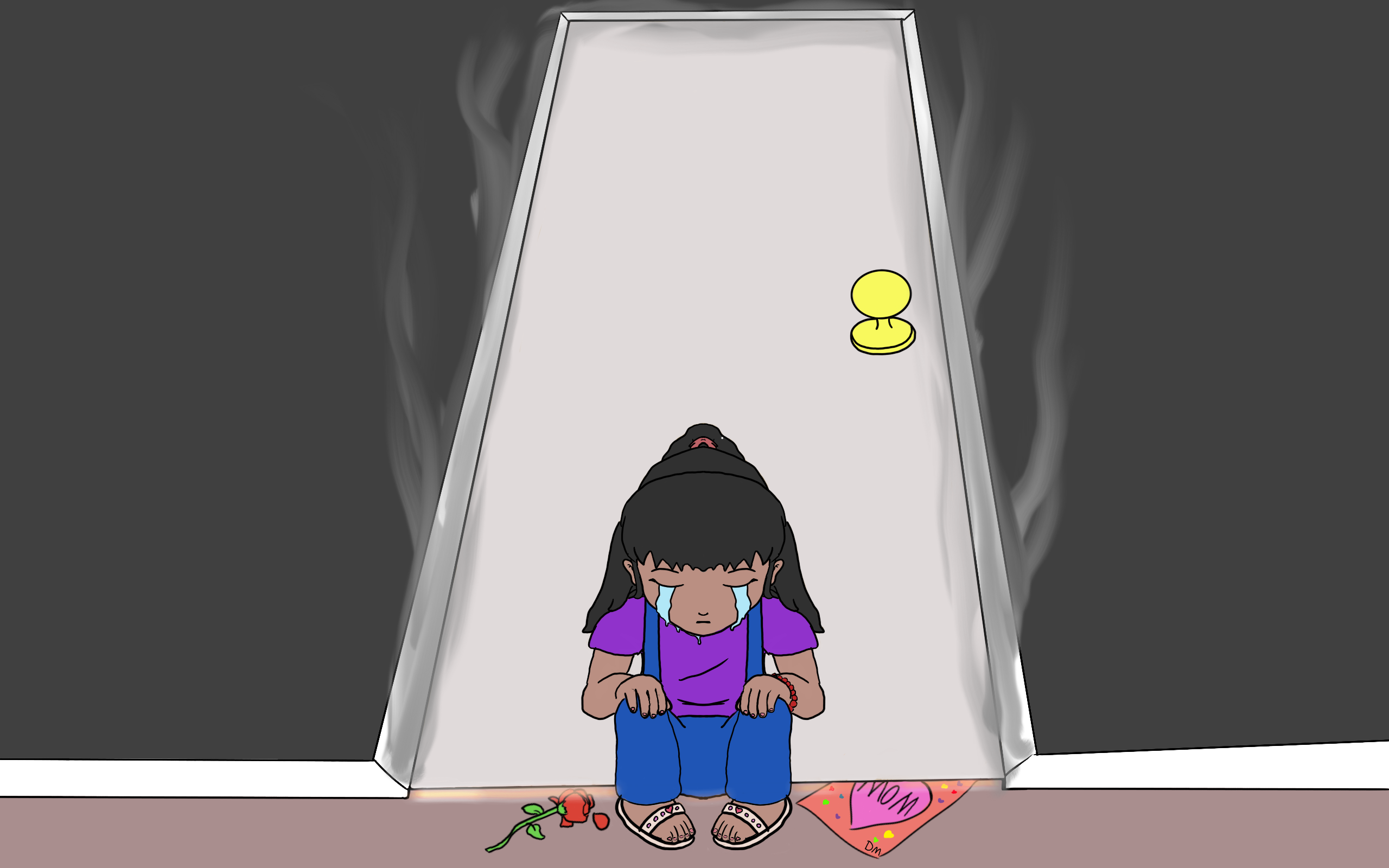 While Mother's Day can be a happy day for some, for others it can be anything but celebratory – bringing up painful memories and feelings of loss. Illustration by Darlene Maes.
By Darlene Maes, Managing Editor
Editor's Note: Trigger warning – The context of this story contains references to substance abuse and self-harm.
You can't do this anymore, I thought to myself. You can't listen to her voice. It has been two years since I have had a conversation with my mother. It's been a pattern of hers every once in a while she would reach out to the few people I speak to and find my number. At the age of 26, you would think I would be free of her lurking eye by now. 
For my safety, I have tried to keep a physical distance from my mother and her illegal addictions for the last 14 years. My own mother is now forced to rely on phone calls as a sole method of contacting me. 
I know to some this may seem cold-hearted of me, particularly after the weekend of Mother's Day. But, we are talking about my mother who chose time and time again to chase the high of crack cocaine over the joy of loving me.
I recently thought it was my doctors' office calling when I saw an unfamiliar number and answered. Then I heard her voice and in an instant, I felt like a child all over again.
"I'm so sorry," she said. The same words she has repeated my whole life after letting me down. "I wish you could forgive me." I tried to calmly listen to her thin regrets for getting high. "Your apologies mean nothing if your actions don't reflect it," I told her.
I am allowed to be angry that she used another burner phone to reach out and attempt to use me as her emotional crutch again. I decided that this would be the last time I would endure the hell of having to hear her speak. I wouldn't let her start the cruel cycle all over again before the holiday that is supposed to commemorate her
THE COST OF CHILDHOOD INNOCENCE
I heard it all the time growing up, "you only get one mother in this life, you have to love her." And that's exactly what I did. As a child, when she would leave to go on her latest drug binge, I cried for her. I would fall asleep on the couch by the front door, hoping I would be woken up by her stumbling in.
At 5 years old I began to understand that I didn't have a mother like everyone else. 
But still — on those days in elementary school when we would craft handmade cards and "presents" to give our moms for the holidays, I covered my hands in fingerpaint and used every color crayon in the box so she could know just how much I loved her. I hoped that with every drawing I ever made and every good job sticker I got on my homework, it would make her so happy that she would stay home.
It was Mother's Day in 2000 and at 5 years old, I celebrated it by having to slide my colorful card through the crack underneath the bathroom door, holding my breath to not inhale a funny smell. Because this time, she chose to get high in our bathroom.
When she saw the card, she opened the door and hugged me. It was at that moment that I truly thought I could save her.
ADOLESCENT LESSONS 
The "motherly" characters in cartoons and movies gave me a better understanding of what I lacked in my home. It wasn't until I began to make friends that I was able to witness all of the "mom" things I had truly missed out on in my life. I began to collect these little moments between my friends and their mothers and would wonder, "why can't mine be there for me?"
It was Mother's Day in 2007, I was 12 years old when I decided to skip a birthday party and wait for a call from my mother while she was in rehab. I made sure to stay near the phone hoping to hear it ring, but it never did.
That night I sat inside my closet and clenched a pillow to my face, screaming out and crying. I was trying to fight my mother's addiction when it was something that I, along with my older brother and sister, could not win. 
I had accepted that my love was not enough. And that the patience, love and effort my older brother and sister made to help her wasn't enough either. If it was, she would be clean and she would've been home for the holiday. We weren't enough and I couldn't stand feeling like I wasn't someone worth getting clean for anymore. 
The next day, I decided to seek comfort for what I felt inside.
At the time, I didn't know how to express my feelings, so I chose self-harm as a method of release. I held my breath, took a razor and slid it over and over on the side of my wrist. The relief I felt as blood seeped down my arm helped me with my suffering.
This began my relationship with cutting. 
HIGH SCHOOL HAPPINESS
I began to use self-harm to fill the void of not having a stable mother from the eighth-grade and continued to until my senior year of high school.
Before those four years, the only consistent love and care I ever received was from my older brother and my best friend Jessica, but even with them, I suffered in silence. I couldn't be vulnerable with my brother the same way a daughter would with her mother. And with Jessica, we were just kids and I didn't want to worry or burden her with my family trauma.
When my pain would become so unbearable and all I wanted to do was make it stop forever, the one triggering emotion that always related to my suicidal urges was guilt.
Guilt that I couldn't be strong enough to care to live on my own. So instead I "faked" it until I made it. I buried my true pain and strived to be one of the happiest ones in the group among my friends.
In the summer before high school began, I was in a relationship with someone who I shared my pain and experiences with. Despite the horrendous details, he still stayed around.
I made him swear to never tell his parents about my life because I knew deep down I couldn't handle another set of adults having their judgments towards my situation.
For the rest of my life, I will be grateful that he broke that promise. He decided to advocate for me when I couldn't do it myself and help me the best way, by talking to his mom. 
One afternoon I went over to his house after school and when both his parents were home, they wanted to talk with me. They let me know that they knew my situation and the second I heard that, I felt so small and exposed. I was so angry that I began to cry. "It's okay, we know you are just in a bad situation, and we want to help you," his mother said.
By him telling my secrets I was able to have a mom of my own. She embraced me not as someone to feel sorry for, but as her "daughter Maes", and I love her as my "momma bear."
The maternal comfort that I was robbed of was being given to me in this home, at no cost to my mental health. I was given not just a partner, but the parents I never had. Having his mother there to reassure me that I have survived so much and I still have so much to thrive for.
Mother's Day 2021:
When holidays like this arrive, I have chosen to celebrate the day by not reflecting on what I lost in my strained relationship with my mother, but instead remember all the moments that I gained from others who welcomed me into their lives.
Because it wasn't until after I graduated high school that I began to understand that I am worth more than what I believed. That my hardships do not define me, but instead motivate me to be the best version of myself that I can be.
I never anticipated living as long as I have. I think back to the times when I wanted to dig the razor so deep that I just stop existing. Yet here I am, alive and set to graduate and earn my journalism degree from California State University, Dominguez Hills on May 26.
Life lessons are often taught by enduring some kind of pain. Rather than letting this destroy me, I found strength in surviving without a mother.
If you or someone you know is struggling with either substance abuse of suicidal thoughts,
Please contact the following resources for more information about treatment and support:
Student Psychological Services (310-243-3818)
National Suicide Prevention Lifeline (1-800-273-8255)
Crisis Text Line (Text HOME to 74174)
csudhbulletin