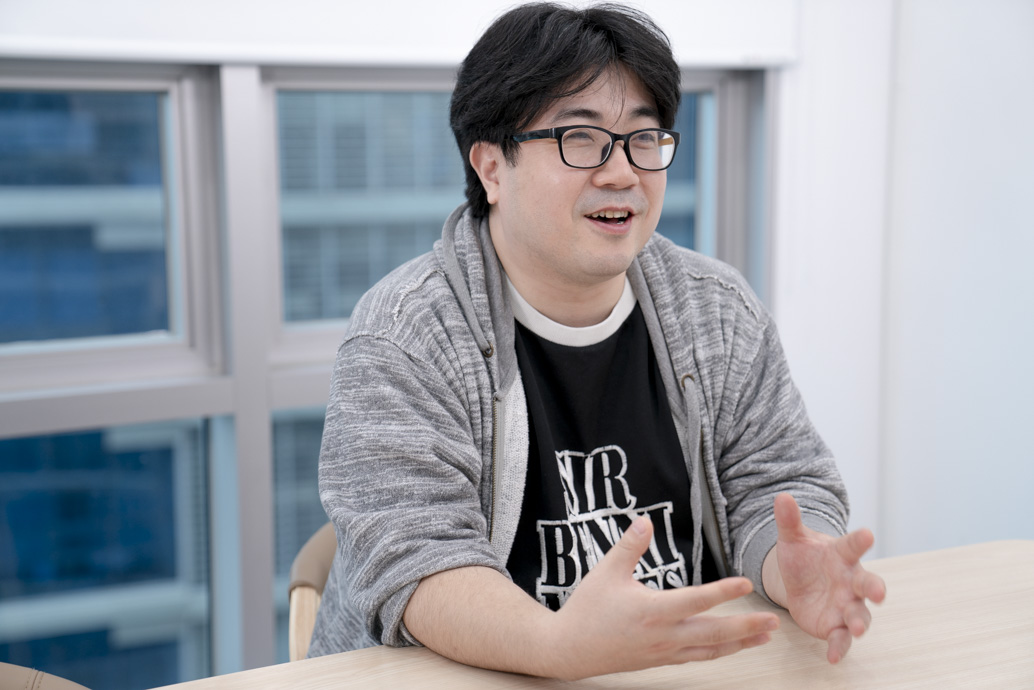 Woonki Min, Development Team Lead at Netmarble N2, talks about the latest installment of StoneAge during the COVID-19 pandemic. Photos courtesy of Netmarble.
By Luis Joshua Gutierrez
From the team behind massive successful mobile games such as Marvel Future Fight, The King Of Fighters Allstar, 7 Deadly Sins: Grandcross and many more have once again strived for greatness and succeeded, with the newest game in the Netmarble family, StoneAge World MMORPG (Massively Multiplayer Online Role-Playing Game).
As someone who has put countless hours into mobile gaming,with games such as Clash Royale Seven Deadly Sins: Grandcross, and Pokemon Go to name a few.. I've even reviewed and demoed many mobile games before they've been released.. With my time in this industry I feel confident knowing what makes a mobile game great.
As for the game setting it takes place in what you'd expect, the stone age. Where you and other players live in prehistoric times battling prehistoric animals, as well as taming them. But the lure is you can capture and tame these prehistoric creatures and use them to help you fight in battles with other people/animals.
For those who may be unaware of the video game industry, it is vital to keep pushing out content to keep your game afloat. It is especially hard when the game is on a mobile format because there are so many of them for free. But one thing about the team at Netmarble is that they are no stranger to the gaming world. Fortunately, Woonki Min, the Development Team Lead at Netmarble N2, had a plan.
"We plan to update the game by adding quests and dungeons based on the storyline of StoneAge World, and content to compete among the tribes," Min said in a recent interview.
As of right now, the game is still new and hasn't been out even a month yet. The game dropped on June 18, 2020, and with MMORPG games they're known for having a lot of content at the initial launch.
"We had endless discussions on how to make the game more fun and entertaining to players," Min said. "Since this game is based on StoneAge's original PC game, we focused on the system and structure of the quests."
For those who hadn't heard, StoneAge has been around for a little while now, and they are excited to introduce the newest installment in the franchise, StoneAge World. Even saying that they were, "inspired by both the original PC game 'StoneAge' and its mobile game 'StoneAge Begins."
Both Min and Netmarble have such respect for this franchise and want to do just about everything they can to make sure the game is true to its core fanbase, as well as new and exciting for newcomers.
If you're wondering about the actual gameplay, it runs like your typical MMORPG. When playing this game, it felt like what I would imagine playing World Of Warcraft on your phone would feel like: really smooth and seamless. The combat system in the game was something I was really fond of, too. Having it as a tune based system, but also having it play out automatically so you didn't have to do much at times.
"We focused on providing game experiences of various types of combat, such as turn-based combat, automatic combat and manual combat. Since automatic combat selects enemies at random and battles using pre-selected skills, there is convenience in operation, but it is difficult to conduct strategic battle," Min said. "Manual combat is favorable for dealing with enemies that are much stronger than automatic combat because players can select targets and use skills as needed".
Min and the team at Netmarble have shown that they are very passionate about what they do. Even in the midst of COVID-19 they found a way to still be productive. And launch a successful mobile game, while maintaining deadlines. Min had this to say about working during the pandemic.
"During this period, no one expected this, and working from home can be a challenge because there are so many parts to game development," Min said. "Finding the cloud-based infrastructure and ways to adapt as a team is what we had to do. We tried very hard to keep up with the schedule and tried our best to show the final game to our players. As an industry, we are still growing and that is a testament to our perseverance. We have and will continue to overcome and look for new ways to innovate and grow together."
To reiterate what I said before it's very clear that they love what they do over at Netmarble. There hasn't been a game that they've made that I didn't like. They constantly raise the bar time and time again, and with StoneAge World it shows. It's a game that's easy to get lost in with all the things you can do, and it may shock you that it's something you can play for free on your phone.
csudhbulletin