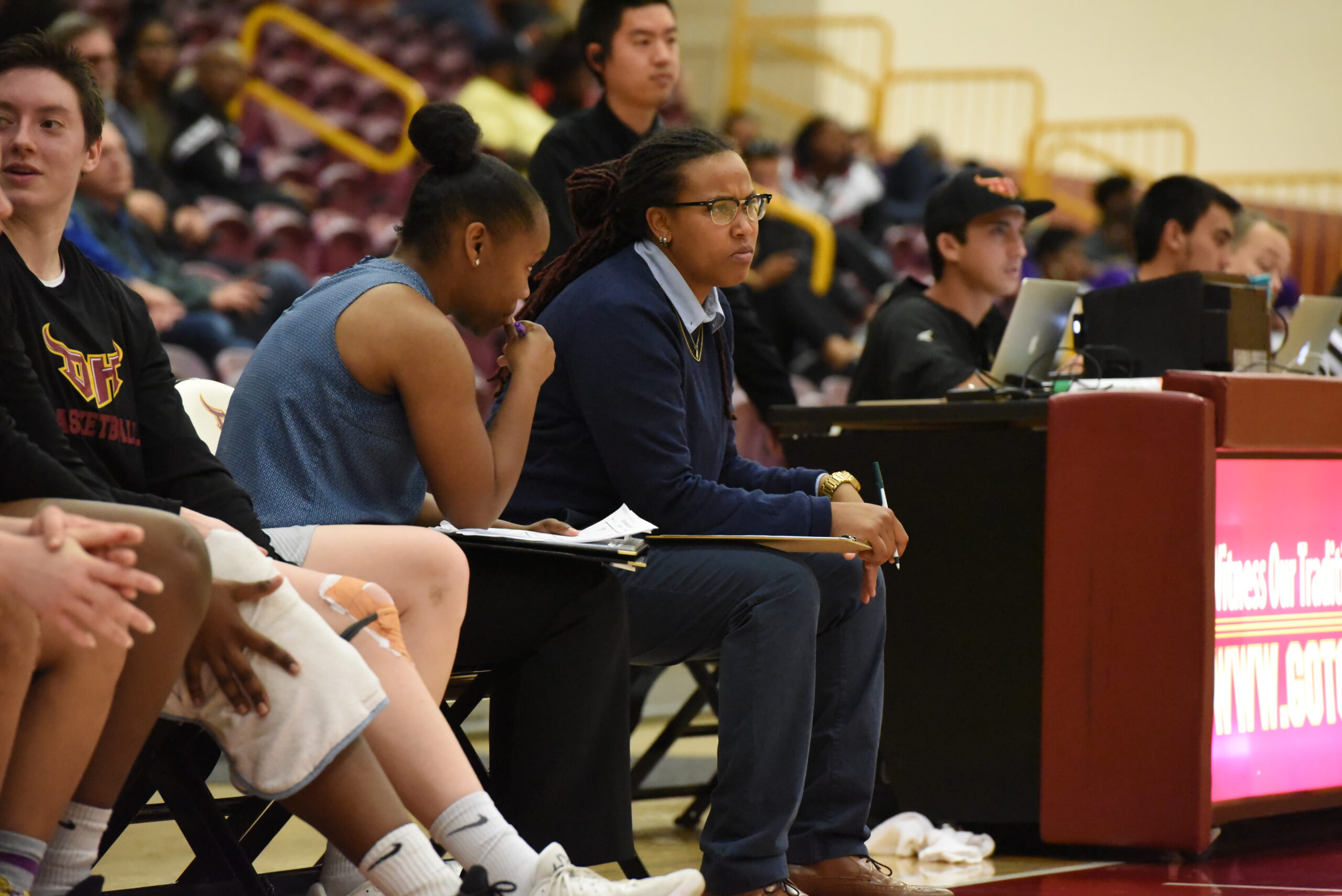 Toro women's basketball assistant coach heads the CSUDH Athletics Diversity and Inclusion Committee. Photo courtesy of Kaiber Takamiya, CSUDH Athletics.
---
By Taylor Ogata, Staff Reporter
Additional reporting by Daniel Tom (Staff Reporter)
In a time when divisiveness has come to a head, the California State University, Dominguez Hills Athletics Department is opting for togetherness. Last month, it announced the formation of a diversity and inclusion committee.
Led by women's basketball assistant coach Jaleesa Ross, the CSUDH Diversity and Inclusion Committee -plans to raise awareness of racial and gender inequality, inclusion and exclusion, and to foster more conversations about issues that are rarely talked about from an athletics perspective.
Unlike purely academic departments such as sociology or Africana studies that may confront issues such as social justice head on, these topics aren't spoken about in an athletic department setting. By forming this committee, this will invite student-athletes, coaches, and staff to join the conversation.
"Today it is hard to stand up for yourself and others," Ross said. "Given the fact people don't want to talk for so long, everyone has to do their part and bring people together."
According to the August press release announcing the conference-wide committee, it was a "response to nationwide movements to combat systemic racism [that will] examine ways that our conference can not only talk about the issues that cause division, but have a direct impact on the future of our institutions and our communities in direct and actionable ways."
The CSUDH committee's latest step in fostering dialogue within the athletic department was held Monday (Nov. 16) , when a panel discussion including CSUDH University Police Chief Carlos Velez and members of the LAPD talked about "building better relationships with law enforcement," according to an athletics department tweet.
College athletes at schools like CSUDH not only were forced to deal with difficult issues such as systemic racism, they had to do so without the escape of athletic competition.That exacted a toll on them that Ross said needs to be addressed.
"[Student] psychological services gave us some resources for how to," help athletes think of themselves as more than just students who play sports.
Ross said it is imperative that athletes are supported and given opportunities to express their thoughts and feelings in these times of uncertainty just as any other student.
"Athletics are diverse in nature," Ross said. "We are talking about diversity, equity and inclusion for everyone. It is huge for us to have this committee that can hear and relay the voices as well as help us continue to learn and grow as professionals.
The key Ross said, is keeping athletes connected at a time when there are no athletics.
"We really want to keep each other connected to everything, especially things that make us better," Ross said. "I want to bring a consistent voice to this program."
Editor's note: Daniel Tom is a student assistant with the Athletics Department.
csudhbulletin