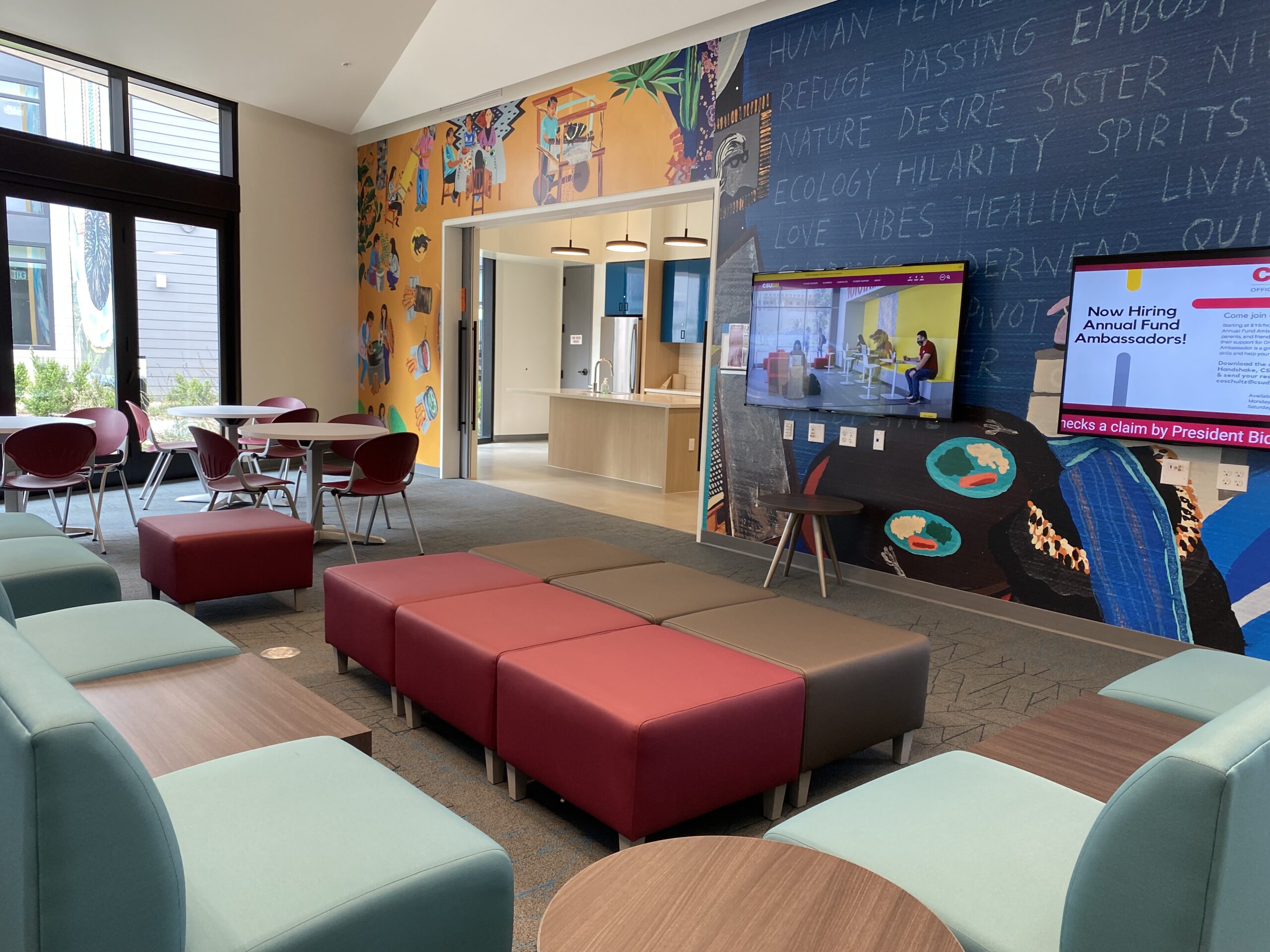 New dorms, also known as "The Tower," bring new and exciting living arrangements for some Toros. Photo by Melany Ruiz.
By Melany Ruiz, Feature and Lifestyle Editor
This fall semester, after a year and a half of construction and a worldwide pandemic, the campus welcomed in students to fill in the once-upon of time empty rooms of the new Residence Hall Building.  
The "Tower," as Associate Director of Residential Life, Lesley Stevenson calls it, holds 504-beds for triple and quadruple spaces, but has reduced its capacity to two students per room to maintain COVID safety measures. As of now 225 students, 11 of whom are resident advisors, occupy the building.
Each room's layout has a bed, desk, and closet space. Communal spaces, areas located on each floor of the building intended for students to engage include kitchens, pool tables, study and meditation rooms.
Stevenson stated that the layout style allows for students to interact rather than stay planted within their rooms.
"If you're in an apartment and you have everything that you need in there you become so comfortable," Stevenson said. "The only people you will more than likely interact with are the people in that apartment."
The communal spaces have allowed students from different backgrounds and majors to take the initiative to socialize with one another.
Tiffany Darces, a criminal justice major, is living out her missed freshman dorming experience as a sophomore. Originally from Santa Clarita, Darces was eager to make connections with people and the campus community.
"I wanted the college experience. I wanted to actually meet people, not go home after every class every day," Darces said.
Darces and her roommate, Escarlette Cardoso, were not only able to get closer with one another, but with other roommates. They were able to use their social media platforms to interact with people living in the building, some who were international students.
Through that experience they were able to learn from different students' cultures and backgrounds.
One of the struggles faced in traditional residential life, according to Darces, is getting used to the community restrooms and having to cook for yourself. Darces said that one of her newest challenges is not only learning to prepare her own meals also but buying the ingredients to be able to do so.
Plastered on "the tower" are eight 47-foot tall murals done by Iris Hu. Each mural depicts people of color working together throughout phases of life relevant to college students.
Hu's goal was for students to live out these murals as they form connections with each other while living inside the building she painted.
"[Dorming] is making the school your home," Darces said. "It's not a place you just visit, it becomes a community, like a neighborhood."
csudhbulletin