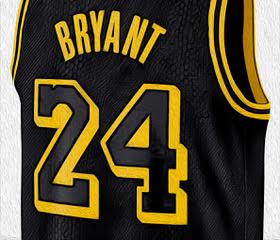 Kobe Bryant Special Edition 24 Oil Paint by Carina Noyola.
---
By Carina Noyola and Anthony Vasquez, Staff Reporters
Sneaker culture has become less about the freedom of expression and more about who can gain the most profit for resellers and fans are upset.
This topic of conversation made headlines as fans who grew up watching the late Kobe Bryant in his extensive basketball career grew tired of the advantage that resell culture has taken, following his unexpected passing.
Following the release of his special edition jersey, prices skyrocketed.
"Instead of it being 'exclusive,' they should have made it available for everyone that's an actual Kobe fan," said Eric Zamora, a CSUDH student.
The resell culture includes far more than sneakers. Popular items that are well known within the culture are jerseys, apparel, socks, toys, trinkets, and statues. As of lately, popular celebrity collaborations (such as rap singer Kanye West and Adidas) and one-of-a-kind brand collaborations have been the center of resell culture. Ultimately, the culture of reselling has grown to fit the platform that praises those who have the most profitable items.
Nike has been around since the mid-20th century – excelling in their respective field. This company along with other major sports apparel companies have shifted much of their companies' impact in the fashion industry over time. Today Nike's means of production, profit, and platforms have changed. They have fallen into the pattern of creating a scarce amount of units and selling them on third party exclusive apps, which prop up the demand for those items.
Nike released a special edition jersey on 8/24 in honor of Bryant, former Lakers player who, along with his daughter Gianna, died in a helicopter crash earlier this year. The two, along with 7 other family friends were killed in the accident.
---
---
The jersey was released by Nike on the popular Snkrs App, an app typically used to sell sneakers, at what seemed to be a scarce amount of units – the item sold out in minutes. The jersey with an all black snakeskin backsplash that seemed to be a nod at his nickname "the Black Mamba" with the Lakers traditional gold and purple details highlighted Kobe's rookie number, 8 on the front and the number he wore to the end of his career, 24 on the back – both of which were retired from the Lakers before his passing.
A piece that was expected to be released in large quantities, was to many fans' surprise, released solely on the Snkrs app for a one time release. Thus, showing Nikes' enabling environment within resell culture.
Twitter instantly became a frenzy of disappointment when consumers realized that the jersey hiked up in price for resale value minutes after its initial release. The jersey originally went for a price of  $120 and was sold the same day at a whopping $707 on the popular resell website, StockX. 
---
---
"Nike doesn't give an equal opportunity for everyone to get the jersey and I'm sure that the majority of people that got the jersey are going to resell it for profit." Zamora said.
Many fans showed their frustration with Nike's decision to release the jerseys on their Snkrs App. By using the Snkrs app, many buyers were able to bypass the system by using what are called "bots" which allow consumers to purchase large quantities of units at once while simultaneously leaving out fans who followed every moment of Bryant's 20-year long career.
It leaves room for speculation, why did Nike choose not to release the jersey on their official website? Or even in Nike retail stores?
Anthony Pur, a student at California State University, Fullerton and reseller, had this to say about the situation.
"Sneaker culture as of late is built on hype which then benefits the company," Pur said. "People can get mad at resellers but honestly, the only way to stop them is to stop paying resale. It all comes back to supply and demand. As long as there's a demand, people will continue to go to extreme lengths to purchase as many items as they can."
Consumers want items that are rare to find, which causes companies like Nike to choose wisely on what items they release in surplus amounts. Somehow Nike is able to release hundreds of everyday jerseys that are available year round, yet, a jersey that was in high demand was only released once – it becomes a system that is self enabling.
csudhbulletin