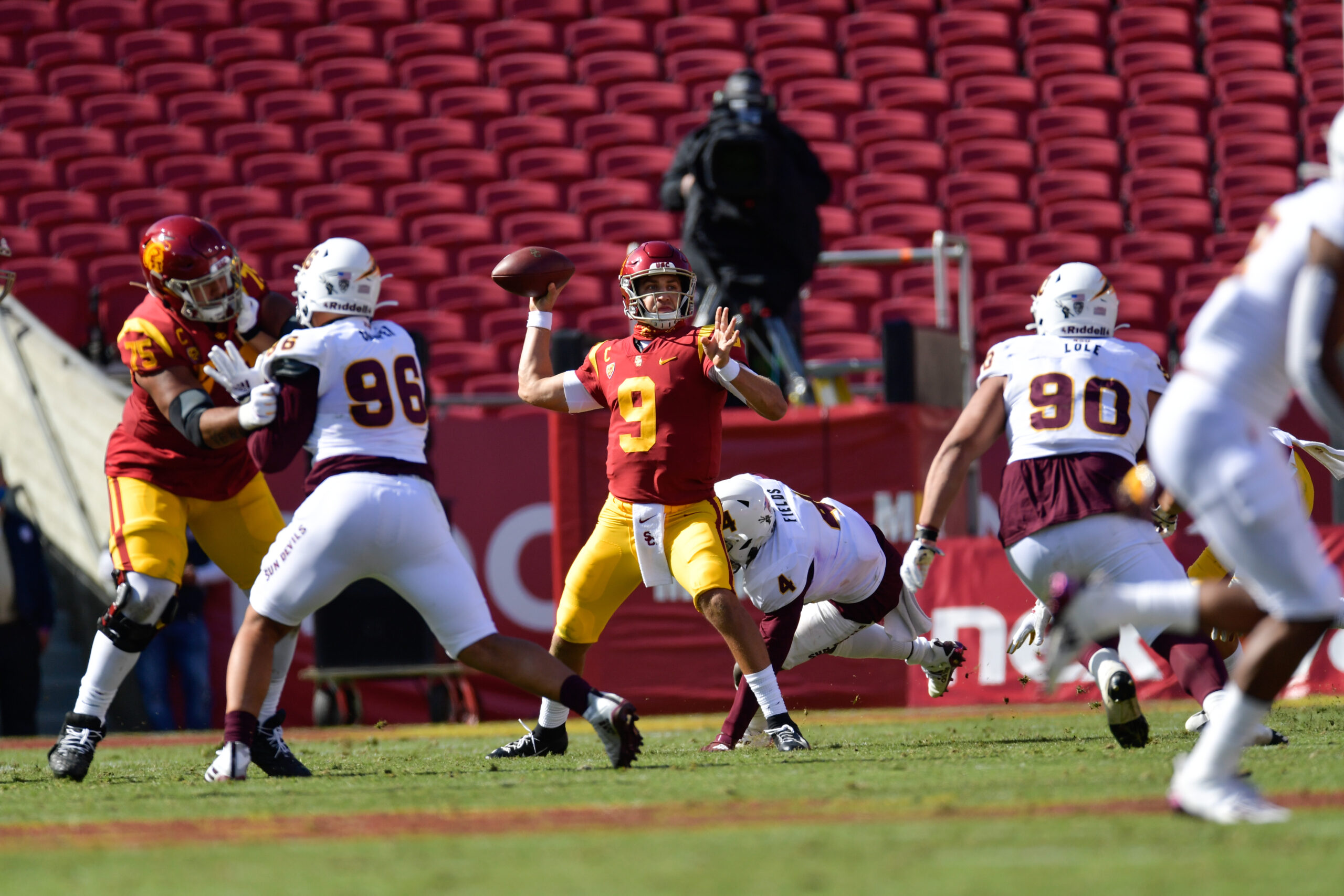 USC QB Kedon Slovis threw two TDs in the final three minutes to complete an unlikely comeback over ASU inside an empty Los Angeles Memorial Coliseum. Photo by USC Athletics.
---
By Jeremy Gonzalez, Sports Editor
The morning was eerily quiet at Exposition Park. The notorious heavy traffic that has become part of daily life in the heart of Los Angeles was absent for Saturday's game as there were no long lines of cars waiting to get into the various parking lots.
The sidewalks that usually bustled with Trojans fans walking to the entrance gates were empty. No tailgate barbecues and festivities were held outside the Coliseum ahead of the game.
There was no band to play pep songs during the game or perform a halftime show. There were no cheerleaders to pump up the crowd and celebrate a big play.
And most notably, there were no fans in attendance to pump energy into the team itself, taking away the true home field advantage that the Trojans have when the team plays in the Coliseum.
In any normal home opener for the USC Trojans, the Los Angeles Memorial Coliseum would host a near sell-out crowd of 75,000-plus spectators that would make life very difficult for any incoming opponent. But the Trojans' matchup on Nov. 7 against the Arizona State Sun Devils in Los Angeles was no ordinary home opener, as the stadium was empty due to the LA County guidelines that prevent large gatherings of people at sporting events.
"I don't think any of us have ever played in an empty stadium at any point of our lives," junior wide receiver Amon-Ra St. Brown said ahead of the game. "Even in pop warner, you had your parents there and you had people watching you. Playing in an empty stadium is going to be different."
Some schools in other Power 5 conferences have allowed a limited number of fans inside the stadiums for the college football games. The number of spectators allowed inside varies with each state and city as they all have their own health and safety guidelines, but the Los Angeles area will not allow fans at outdoor events during this Pac-12 season, meaning the Trojans home games against Arizona State, Colorado and Washington State will not have fans.
"It's really about just playing together, doing it for your brothers and doing it for one another," Pola-Mao said. "The people on the sideline have to bring more juice and even when we're on the field, we have to bring more juice. It's going to be tough without the crowd behind us but we can create that same energy within ourselves."
Pola-Mao and the Trojans defense brought all the energy they could congregate when they faced dual-threat quarterback Jayden Daniels and the Sun Devils as Fox's early morning primetime matchup, recovering three fumbles and sacking Daniels once on the day. The Trojans completed an improbable 4th quarter comeback over the Sun Devils, defeating them 28-27.
"Jayden is a great player," Pola-Mao said. "We definitely struggled getting started here in this game. I think we need to get started a little bit faster. But he's just a great player and I think we stepped up to the challenge."
Freshman wide receiver Bru McCoy, who made a crucial deflected touchdown catch on fourth down and recovered the onside kick on the following play, talked about the emotional experience of coming from behind to win in an empty stadium.
"I think not having fans played a huge factor," McCoy said. "We had to lean on each other. You could feel the energy pick up as people realized we weren't out of the game and could still put something together if we wanted to. For the chips to fall the way they did and for the number of turnovers we had, and still managing to win, it says a lot about the character of this team and how we're going to continue moving forward."
csudhbulletin