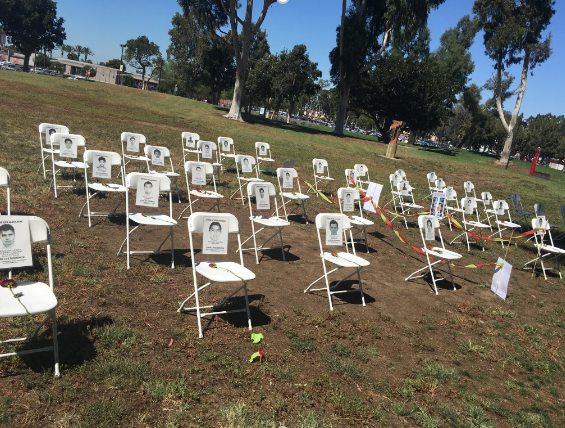 By Erik Flores
Staff Writer
Sept. 26 marked the two year anniversary since the Iguala mass kidnapping of 43  students from Ayotzinapa's Rural Teachers College in Guerrero, Mexico.
     Organización Latina Estudiantil commemorated the tragedy at the Sculpture Garden with a display of 43 chairs adorned with pictures of the missing students and a  rose.
     The club also had a banner that read "No Quiero Ser #44" which translates to, "I don't want to be #44."
     The Ayotzinapa kidnapping is still controversial because the students were never found and there is evidence that the Mexican government was behind the abduction.
     "OLE wants to raise awareness of state-sponsored terrorism by commemorating the 43 Ayotzinapa students," said Jose Padilla, co-president of OLE.
     This is a reality that many students in Mexico as well as other countries continue to face.
     "OLE is trying to create awareness of this event because not a lot of people know about it," said Isaias Zagal, co-president of OLE. "We relate to this because we are students and they were students too. If we were in a different country then we would be in the same boat".
     Viviana Rayo, co-secretary of OLE expressed her views on the importance of OLE continuing to be involved with social awareness.
     "I think it's important that we have kept the Ayotzinapa event going every year," said Rayo, "it keeps bringing social awareness to the 43 students who are still missing as well as other social movements around the world, such as Black Lives Matter".
     Rayo said that OLE is not only about representing Latin American culture at CSUDH, but also bringing social awareness to issues that may affect students on campus.
     The memorial allowed CSUDH students to get a better understanding of the incident and get to know who the missing students were.
     This event highlighted how privileged American students are to be able to live in a country where their freedom of speech is protected.
     Along with the display memorializing the Iguala mass kidnapping, the organizers also paid homage to the Black Lives Matter movement, calling for action to prevent similar events in the future.
csudhbulletin