Owning the stage: Student- directors finding their authentic voice in "Reader's Theater"
csudhbulletin
September 30, 2021
0 COMMENTS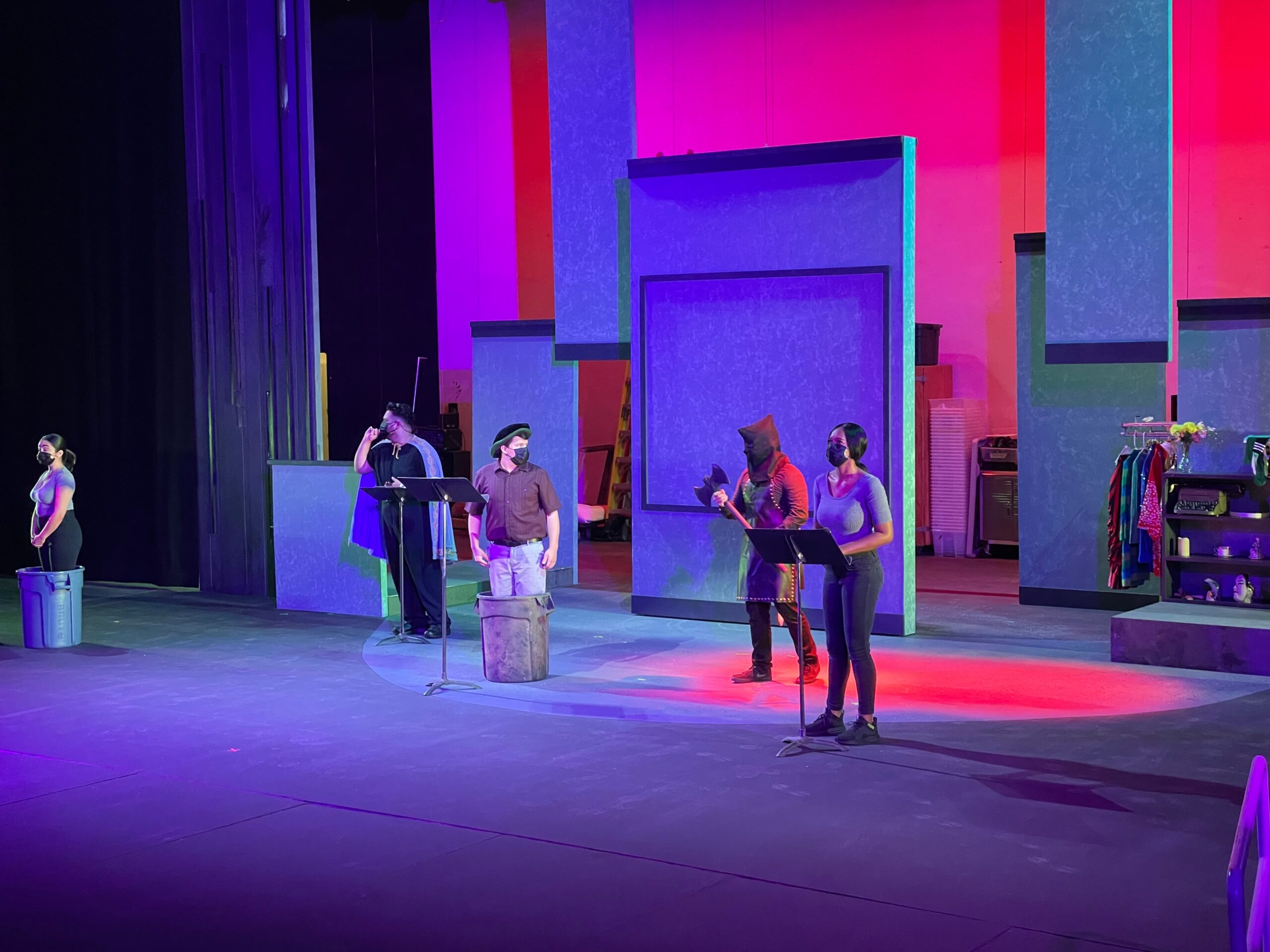 Readers Theater is a student-directed project featuring adult themes and language. Opening night is Sept. 28.
By Lloyd Bravo, Staff Writer
"Reader's Theater" is the department of theater and dance's latest production held at the University Theater at CSUDH. The theatrical show will feature the visions of student directors, Mathew Lopez and Kirsty Lynn,  who will helm one-act plays written by comedic playwright Christopher Durang.  Durang is best known for his Tony Award-winning play "Vanya and Sonia and Masha and Spike," which won 'Best Play' in 2013. 
Although the event is entitled "Reader's Theater," the title is more of a notion than an actual name on the marquee. The ideal style for this particular live showcase is based on the essential elements of theater as student actors will have to rely mainly on their performances to heavily convey the messages of each play.
Brian Stevens is one of two theater arts professors at CSUDH, who will be assisting the student directors during their project and is enthralled with the limiting aspect of the unique staged format.
"'Reader's Theater is a raw and very pure theatrical experience which takes away all the extras from [ a standard staged production] including sets, costumes, and music," Stevens said. 
 However, due to safety concerns, the University Theater will only be opened to a live audience at 50% of its 444 seat capacity. This has enabled the use of cameras to film the performance to be live-streamed during each production.
Three cameras are placed at the back of the theater with each pointing to the stage from the right, left, and center. The center camera is the "hard" cam or stationary camera that sits in its fixed position. The left and right cameras will be utilized by student camera operators who take instructions from the directors before the opening on what to shoot and how to frame.
"Camera use is another tool to articulate a moment on stage," Stevens said. The involvement of camera operators has been an additional learning experience for the new student directors, and one that has been appreciated by their mentors. 
Theater Arts professor Stefani Baez, the second supervising professor, has been assisting during the student-run production process and has been delighted to see the progress of her student directors. 
"Sitting back and watching our student directors take ownership of the stage blocking, lighting and the entire production has been a magical experience," Baez said.
The evening will contain three plays, "The Actor's Nightmare," "From Whom the Bell Tolls," and "Business Lunch at the Russian Tea Room," will be featured during each performance.
Student Matt Lopes is a Theater Arts major who will be making his directorial debut with, "From Whom the Bell Tolls," a satirical adaptation of Tennessee Williams,' "The Glass Menagerie."
An aspiring actor, Lopez wanted to take the opportunity to focus his talents on a new venture that would help him understand each aspect of theater and become a more well-rounded thespian.
"This is a stripped-down version of theater, but with a full-fledged stage which is more than a typical [representation] of this type of show," Lopez said. Still, Lopez emphasizes the importance of his actors. "Our performers have to be a little more [captivating] than in a normal performance."
Audience members who are unfamiliar with the original Williams play can still find enjoyment in the unhinged comedy as it is not a necessary requirement to enjoy the play. "I want people to come [to the play] and have a good time," Lopez said. "I hope we can offer a little escape for a couple of hours."
Professor Stevens believes this theatrical experience is an exercise in genuine artistic expression. "It provides a creative space for our student directors to find their authentic voice and hopefully make bold decisions when it comes to directing," said Stevens.  "I am eager to see the finished results." 
The student-run production of "Reader's Theater" will be held at the University Theater at 7:00 p.m. from Sept. 29 – Oct. 2. In-person and virtual tickets will be on sale online for $15 each. 
csudhbulletin