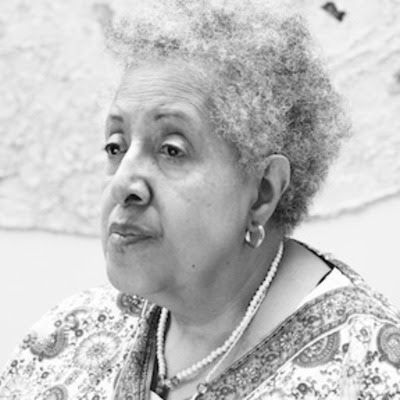 Howardena Pindell, an inspirational artist whose legacy shall stand the test of time. Photo Courtesy ConSortiUm.
By Desiree Lee, Staff Reporter
In a joint effort to continue giving local artists an outlet to display their work during the pandemic, the universities showcased the life and work(s) of Howardena Pindell with fellow artist Valerie Cassel Oliver as moderator.
At the event, Oliver gave the audience a brief walkthrough of Pindell's life. Pindell was born in 1943, while America was on the brink of war with Germany, and prior to the civil rights movement of the late 50s. Though growing up in tumultuous times, she was able to attend and graduate from Yale University with an MFA in painting specializing in minimalism and abstract art. After graduation, she found work at the Museum of Modern Art in New York. Pindell worked her way up starting as an exhibition assistant, then to assistant curator for the department of national and international traveling exhibitions. Pindell eventually became an associate curator in the Department of Prints and Illustrated Books.
In 1979, Pindell taught at the State University of New York, where she is currently a professor. Pindell's exhibits include Spelman College in 1971, Atlanta, and A.I.R. Gallery 1983, New York just to name a few.
As a woman of color with such esteemed art credentials to her name, Oliver couldn't help but ask what the audience was thinking; "What was the crystalline moment [Pindell] had decided to become an artist?" According to Pindell's recollection, it was the encouragement of her third grade teacher and her parents that introduced her to artists of different genders and ethnicities.
But the largest source of Pindell's artistry comes from growing up in America during the 1950s. She was driven to share her visionary talents with the art world, after having experienced discrimination, within her poorly integrated art schools where she was often the only non-white person in the class. Instead of succumbing to the racial upheaval, she had the drive to push forward.
"There were a lot of roadblocks, but occasionally there was a good person who would be a healing influence," Pindell said. "I ran into many objections including from students' wealthy parents who offered the school money if they would get rid of me."
These days Pindell has been working on a special project that she calls "the yin and yang of art" to help the patrons reflect and think critically about social issues from memories of her childhood. "It is a combination of many threads in my work," Pindell said.
Pindell went on to explain an instant where she was at a friend's house and on the table was a Life magazine cover that bore the image of a man being lynched. That image would be forever burned into her mind with the smell of meat that was cooking in the kitchen. It repulsed her, and in this particular exhibit, a piece called "The Shack" is a recreation of that memory.
The Platform event also ended with a powerful reflection on how Pindell's artworks as a Black woman of color. She has helped shaped the racial conversation by telling stories of lynchings, slavery trade routes, Black Lives Matter, and all the injustices big and small inflicted upon human beings. Pindell however, does balance out the trauma with a celebration of Black life and other less triggering images so that the audience viewing her pieces can have time to reflect so it doesn't incapacitate the ability of critical thinking.
Pindell ends the event with a pensive thought about how times have changed for African American representation and appreciation, but there's still more work to be done.
csudhbulletin