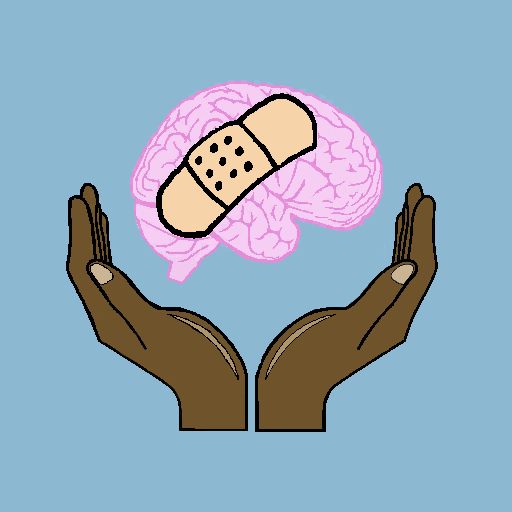 The pandemic and on-going racial injustice have highlighted the need for POC students to receive mental health services specific to the struggles they are facing. Art by Andrea Espinoza.
By Andrea Espinoza, Staff Reporter
2020 was a difficult year that brought on a series of traumatic events that have weighed heavily on the Black community and other underrepresented people of color (POC). Adults in the Black community are 20% more likely to experience serious mental health problems, such as major depressive disorder and anxiety disorder. After the video footage of George Floyd's death at the hands of the police was released, depression and anxiety spiked up to 41%.
After the onset of the COVID-19 pandemic, the Black community was significantly affected with higher infection and morbidity rates. According to the Centers for Disease Control and Prevention (CDC), 34% of people who died from COVID-19 were among non-Hispanic Black people.
Dr. Mekeisha S. Buffaloe, a psychological counselor at California State University, Dominguez Hills in the Student Psychological Services, knows all too well the challenges Black students faced during the pandemic. With her clinical areas of interest and specialty including emotionally disturbed youth and adolescents, underrepresented populations and POC, Dr. Buffaloe used her expertise to counsel students during this difficult time. 
---
"In the very beginning of COVID, many students, especially within the Black community, were very apprehensive about how it was going to affect their academics," Buffaloe said. "Fast forward over the course of the pandemic, many students have lost loved ones or family members to COVID and not having that community support can often cause these students to suffer in silence."
Katrina Felipe, a senior at CSUDH majoring in kinesiology and captain of the dance team, recalls her journey as she navigated the COVID-19 pandemic.
"Right when COVID hit, I was fine. I was like, 'cool, we're home. Let's get motivated.' I was taking a summer course, I felt I was mentally ok," Felipe said. "I didn't want to let COVID get me down, but right now I'm kind of just over it. So, it's declined a bit and now I'm trying to get back on my feet and get myself back on track."
The Black Lives Matter (BLM) movement and acts of violence by police against Black people added another layer of distress to the community. The uprising of the BLM movement that gripped the nation this past summer gained momentum following the senseless acts of violence and killing of Black people. This not only affected the day-to-day lives of Black students, but it also affected their mental health.
Dr. Michael Laurent, the department chair for the Marital and Family Therapy Program at CSUDH is a licensed psychologist and marital family therapist, has been running a Black men's support group via Zoom and is open to students and non-students. This is a space where Black males can discuss their feelings and Dr. Laurent can ensure that members can get the assistance they need mentally.
"There is a police phobia in our culture where you have groups of people fearing the police, they never saw the police as to protect and serve," Laurent said. "We have to re-educate young Black males so that they know how to keep themselves safe and so that we can try to prevent another incident from occurring."
Dr. Laurent said these events have had a toll on Black students psychologically. While some students may be able to cope with their fears and feelings, others have a hard time dealing with frustration and displaced anger. Dr. Laurent offers tools that young Black males can use when they are experiencing anxiety and nervousness, or when they feel targeted.
Black students are currently living in a very different reality and are also trying to carry on a sense of "normalcy" in these unusual times. Advocating for these students and empathizing with them can even help POC students become allies to each other, creating a support system necessary to overcome mental health struggles in these uncertain times.
CSUDH offers resources such as Student Psychological Services that are available at no cost to any currently enrolled student. Here are some other resources here and here that can be used for those who have faced barriers when it comes to the health care system. Remember that prioritizing mental health is not a sign of weakness but a feat of strength.
csudhbulletin