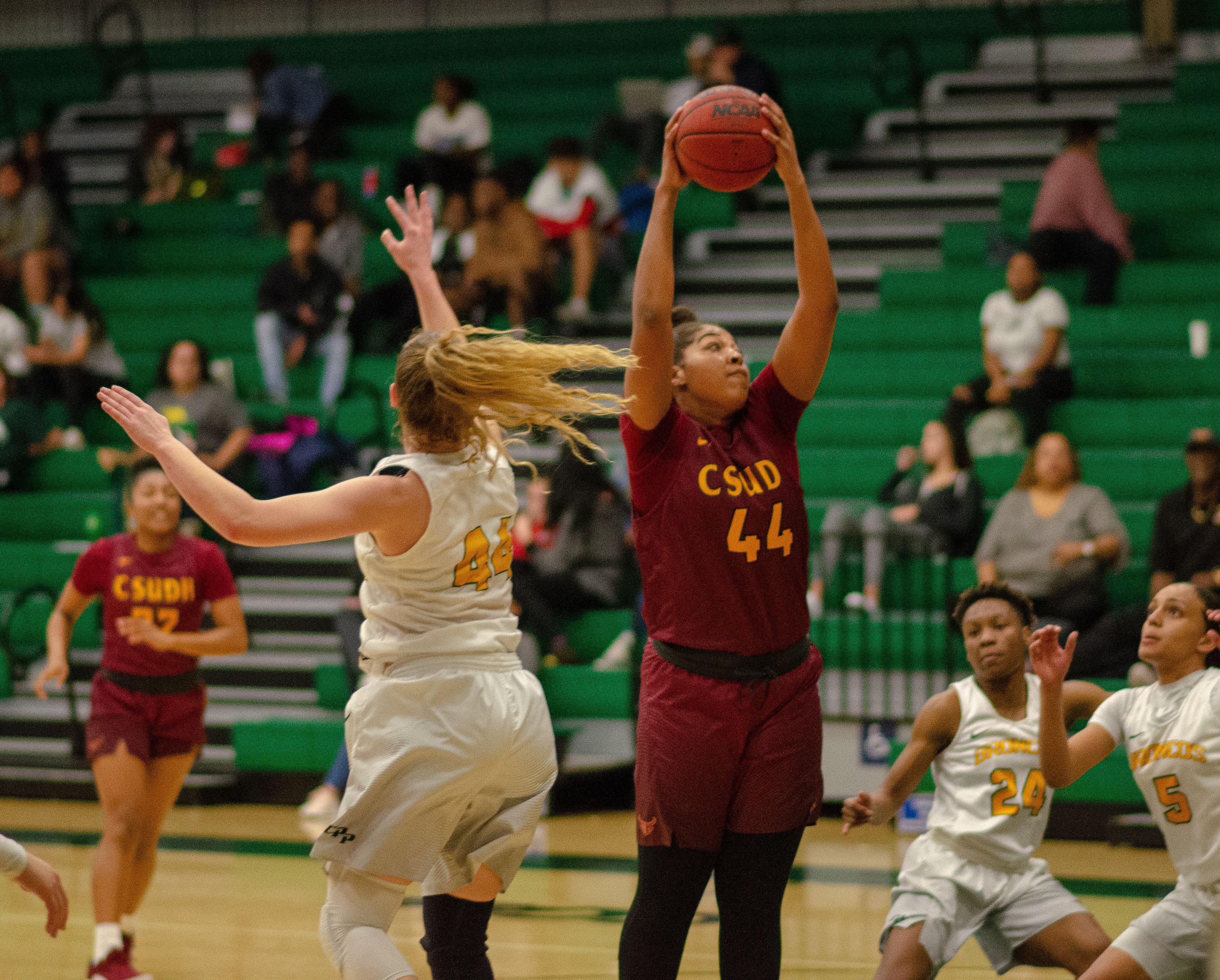 By Salvador Perez 
Staff Writer
As the Toro women's basketball team fought the last game to secure a playoff spot, Zhane Carter proved indispensable. Against Chico State, Feb. 23, her 3-pointer wit 51 seconds remaining forced overtime, and an eventual Toro win. And her 19 points last Saturday in a must-win game led the team into the playoffs.'
And while it's natural to assume that rebounding is all about height and physical strength, the reality is good rebounders come in all shapes and sizes. Players can make up what they lack in stature by knowing that a critical component of rebounding is positioning and timing. Instead of waiting for a player to take a shot, you need to already be getting into position before they even take it. That increases your chances of grabbing an errant shot, giving your team extra opportunities to score, and limiting your opponents' opportunities.
CSUDH women's basketball team has a perfect example of how important a good rebounder can be: junior center Ahlisha Henderson. She is the main reason why the team ranks first in rebounds in the California Collegiate Athletic Association, averaging 49.2 a game, six boards ahead of the nearest rival. And while her per-game average of 9.6 rebounds ranks seventh in the conference, the 6-foot-1-inch Henderson has turned it on when it counted.
In the past four games, with the Toros battling for a playoff spot (which they gained by winning their final regular season game Saturday) Henderson has averaged 16 boards a game, including a school-record 23 against Chico State in a Feb. 23 overtime thriller that the Toros won. 
Henderson isn't the only Toro hitting the boards. Dijour Ledbetter, Paradise Hanchett and Destinee Williams are all averaging at least 5.5 a game."I think a good rebounder understands timing and position, but I think overall it's just effort," said women's head coach John Bonner. "Especially at this level, I think if you really want to go get it you just have to put your mind to it and make that happen. I think we're good at rebounding the ball when we're intentional about it."
But making Henderson's numbers even more impressive is that she has grabbed 100 offensive rebounds, to her 161 defensive rebounds. Those 100 offensive boards are the most in the conference. Even at the professional level, players routinely haul in far more defensive rebounds than offensive rebounds, and Toro head coach John Bonner attributes Henderson's skill not to size or strength, but a "mindset."
"She has it in her mind that she's going to go rebound," he said. I don't think she's doing anything special…It's a a mindset. I think at this level a lot of people watch the shot go up, I think it's just effort for you to go in and crash to go get it. But I don't think it's necessarily more difficult. I think we practice it enough that if you put it in your mind to go get the rebound it's going to happen."
Henderson credits some of her rebounding prowess to not thinking about individual totals but thinking about what the team needs.
"I [don't think about going] to get the rebounds, I [think] about what the team [needs] in order for us to get the win, said Henderson.
Henderson also scores points, her 11.9 points per game trailing only Nautica Morrow's 13.6. But she says rebounding is just as satisfying as scoring.
"It feels even more satisfying because sometimes I can't control the ball going in the basket, but a rebound is just working hard and being aggressive," said Henderson. "I feel like every opponent I face I want to dominate the boards."
She also believes that her rebounding increases the confidence of her teammates.
"Rebounding only adds to what I do offensively because I know my teammates, I encourage them to be very aggressive because they know I'm going to get the boards," said Henderson. "Either they're scoring or missing their shot but I'm going to get the rebound so it's a win-win for both sides."

csudhbulletin