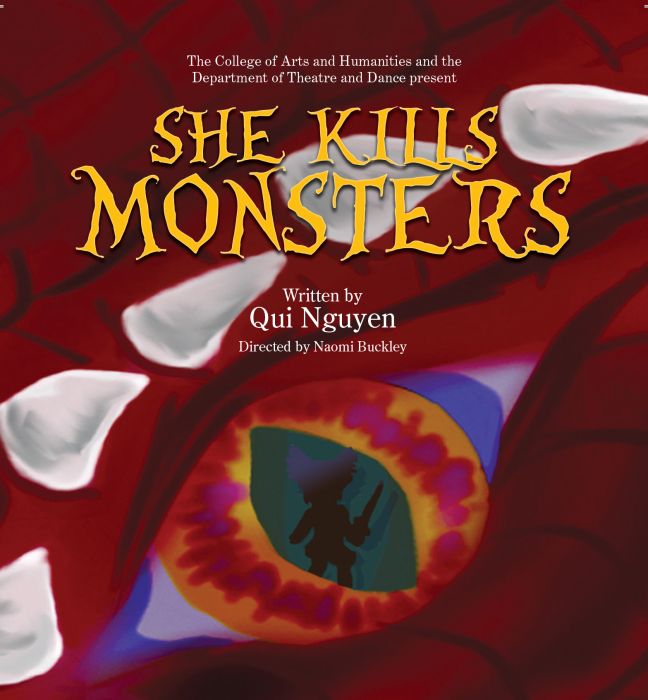 By De'Janae Johnson
Staff Writer
As someone who is not a fan of role-playing games like Dungeons and Dragons, I must say I was impressed with "She Kills Monsters," written by Vietnamese-American playwright Qui Nguyen.
This comedic play produced at Cal State Dominguez Hills took the audience through the world of fantasy role-playing games. It tells the story of Agnes Evans, played by CSUDH theater student Vanessa Williams, who left her childhood home in Ohio after the death of her teenage sister, Tilly, played by CSUDH alumna Amber Brice.
Agnes finds Tilly's Dungeons and Dragons notebook, which takes her through the action packed adventure into Tilly's imaginary world. Tilly's notebook takes Agnes on a journey through her life. Tilly inserted her friends as actual characters in her game.
While playing the game, Tilly reveals that she was a self-professed closeted lesbian who had a dorky side.
Through Agnes's journey into her sister's world, she finds herself being closer to her sister than she was before Tilly's passing.
This play was jammed packed with '90s pop culture, nasty ogres, lethal fairies and dance battles. I took my best friend with me, who like myself and the guy sitting next to me, could not stop laughing.
The theater students and alumni brought this play to life.
"She Kills Monsters" brought out the inner geek and warrior in me, I didn't know existed.
csudhbulletin