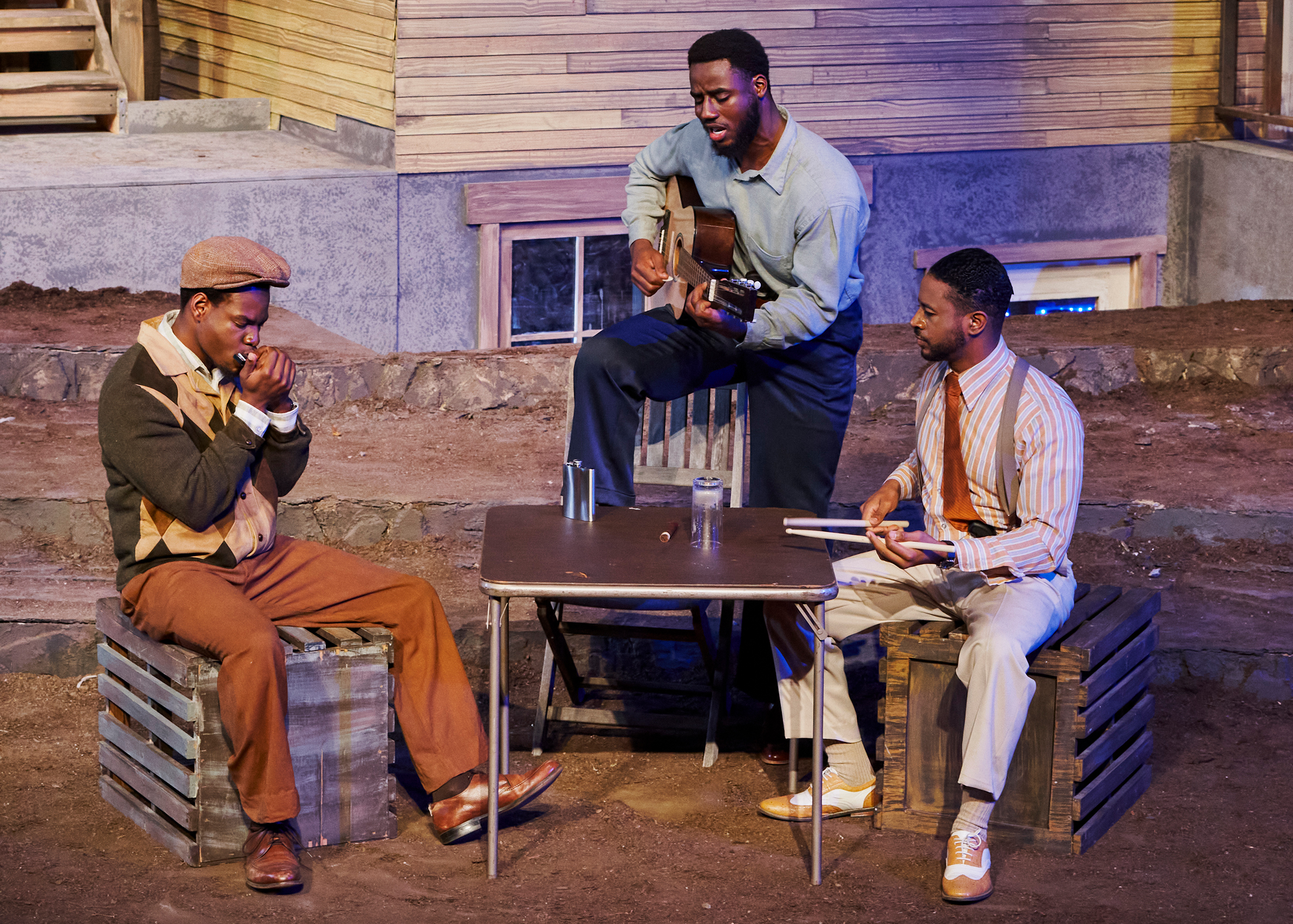 Photo courtesy of Nate Lubben
By: Sarai Henriquez, Culture Assistant
While the name August Wilson might not be a common one in many households, those with an appreciation for American theater certainly know it. But regardless of your familiarity with this two-time Pulitzer-Prize winning playwright, those who made the wise decision to check out the CSUDH Theater Department's e current production of his play "Seven Guitars," which closed last weekend, certainly walked away with a deeper appreciation of Wilson.

And thanks to an emotionally heavy and captivating production directed by Jozben Barrett, they may also have been reflecting on the bitter reality that although this play is set in 1948, many of the issues affecting the Black characters it is about are as pressing today as then; and that the human desire to strive to improve our lives is one that is inspired, and threatened, by the constant cycle of hope and despair.

Fame, love, betrayal, and cigarettes are all addressed in Wilson's play, which is an emotional rollercoaster, one in which you may find yourself eagerly rooting for a character who may not deserve a second chance. Though morally and thematically complicated, the setting is rather simple: the backyard of a house in Pittsburgh in 1948 (the play is one of the 10 that comprise Wilson's Pittsburgh Cycle, a 10-play cycle that documented the African American experience of the 20th Century, with each play set in a different decade.)

The play begins in that backyard serving as the site for the funeral of Floyd "Schoolboy" Barton, who has just died shortly after his release from prison and finding that he has become an overnight sensation with a recording of a song he finished before his jail time. Through flashbacks, we learn that he's returned to Pittsburgh trying to convince his old love, Vera Dotson, to come to Chicago to enjoy what he feels will be his newly arrived stardom.
However, via those flashbacks, we find that Floyd has made a lot of mistakes, and while he is determined to right all those wrongs, he has a huge task to prove to his friends and community that he has truly changed.

Caleb Thermidor dives deeply into the mind and soul of the smooth-talking, ladies man, Floyd "Schoolboy" Barton. Once Thermidor sets foot on stage he is the embodiment of a person who will not let go of his dreams despite what that may cost. This is Thermidor's first production at CSUDH, and you'll catch yourself saying "Chicago" leaving the show.

Playing Floyd's love interest is guest actress Jordan Hyman as Vera Dotson. She brought the house down. All the girls who have ever been burned by a man will understand her story and how she won't let this man sweet-talk her before jumping into anything with him.

Her whole performance gave me goosebumps and made me want to yell "Girl… you don't need this boy!" Hyman was phenomenal.
Also making their CSUDH debut were Blessing Oluwole as Floyd's harmonica player Canewell and drummer Red Carter played by Tevin Jackson. Both actors captured their joy of playing with Floyd but also their reluctance at going to Chicago with him to record another song, where white producers steal money from the hits they earn.  

CSUDH senior Nisey Turner played Louise who is the landlady who shares a common backyard with Vera. She is surprised and dumbfounded when her niece Ruby, played by freshman Irene Jones, comes into the picture and brings along her own problems.

Rounding out the cast was Phil Bray who plays the ominous, Bible-infused yet likable Hedley,  who has turned his back on the white world that he loathes. 

Director Barrett powerfully brough the words and mind of Wilson to life in this production; his voice remains clear 25 years after "Seven Guitars" was produced, and 10 years after his death. That is a testament to both the power of those words and the strengths of this production.  

csudhbulletin