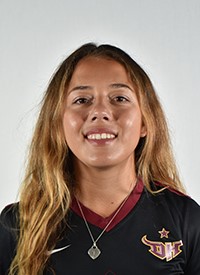 By Victor Munoz
Sports Editor

Sports is so often about numbers: wins, losses, home runs, field goal percentage, goals scored, and on and on. But at Monday's CSUDH student-athlete banquet, held at Dignity Health Sports Park, it was clear that while performance in the athletic arena is important, performance outside of it is equally so.
That's why the most prestigious award of the evening, the Presidential Award, was handed to Theresa Butcher, of the women's soccer team. Butcher's numbers didn't leap off the stat sheet: she took only six shots all season, four of them on goal, and contributed one assist. But she did log 1,393 minutes, sixth on the team, and started 14 of 17 games.
But the Presidential Award is given to the athlete that most embodies the three-pronged nature of CSUDH athletics—commitment to the team, excellence in the classroom, and contributions to the community and the university. In that, Butcher was an absolute all-star, as she maintained a sterling grade-point average while majoring in psychology and minoring in women's studies. Just as important, in terms of the award, is that since her sophomore year, Butcher has been heavily involved in the school other than athletics and academics, such as being the first Toro student-athlete to sit on the board of Associated Students Inc., serving as an officer on the student-athlete advisory committee, and being a member of both Phi Kappa Phi National Honors Society and the PSI CHI International Honors Society in Psychology.
The Mike Sharp Most Inspirational Award, given to the student-athlete who most
motivates their teammates, was awarded to senior volleyball player Esther Duru, who dealt with hardships during her time at the university but never used those as an excuse to let up on the court, as she finished second on the team in kills and blocks, and had the highest attack percentage.
The Jennifer Winkelspecht Award, given to a student-athlete who demonstrates great personal character, was awarded to Ariana Longmore.
The Dr. Hal Charnofsky Awards honors athletes who excelled at both athletics and in the classroom. Butcher received one, while senior golfer William Yang won the other. The California Collegiate Athletics Association's version of the award was given to senior basketball player David Howard, who led the team in rebounding (13th best in conference) and averaged 10.2 points per game, second on the team and senior softball player Jade Loe.
Longmore volunteered at homeless shelters and beach clean-ups and also worked extensively in campus-related activities.
That's not to imply that those athletes who compiled remarkable statistics weren't ignored. Women's basketball senior Nautica Morrow repeated as Toro athlete of the year joing track and field star Chanel Parker and men's soccer player Tony Alfaro.
And newcomer Pierson Loska, who led the NCAA West Region in home runs and RBI's for most of the season was awarded the Male Athlete of the year.
Both Morrow and Loska also set program records this season, Morrow with 10 steals in a game, and Loska setting the record for most RBI's in a game, with nine. Additionally, senior softballer Jazmin Guzman set program records for highest single-season batting average (.419) and on-base percentage.
csudhbulletin