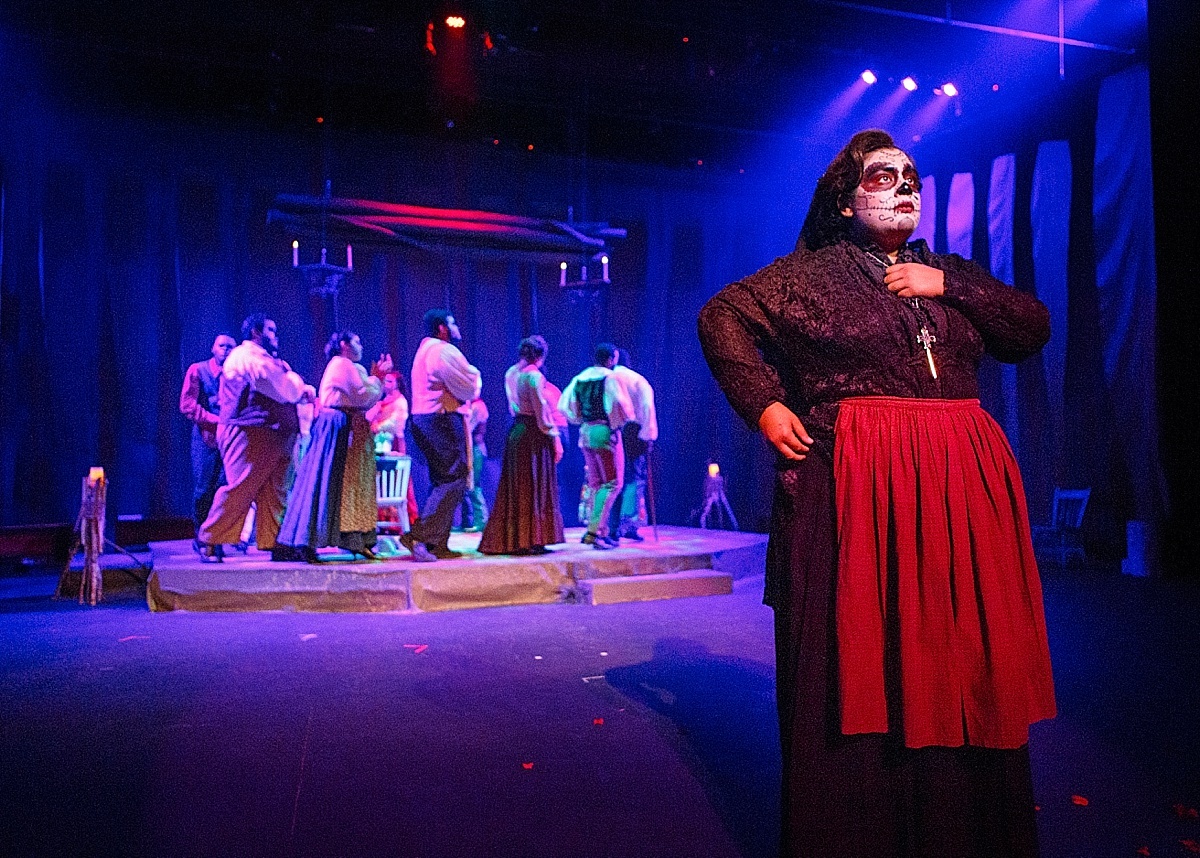 A scene from last semester's production of Spanish playwright, Federico Garcia Lorca's play, "Blood Wedding." Photo courtesy of the Theater Department.
By Jesse Garcia
Staff Writer
The CSUDH Theater department follows up last semester's acclaimed production of Federico Garcia Lorca's play "Blood Wedding" with a semester filled with offerings that, let's just say, aren't exactly your usual Sunday talk. Get ready for hysteria, vibrators, bisexual identities and the ever-changing world of dance that will be explored in the thought-provoking presentations on tap for this semester.
Here we go.
First up is Cheryl West's "Before It Hits Home,": an account of what it is like to live on the down low. This heavy-scenario play directed by Donis Leonard explores the effects of AIDS and being a black bisexual jazz musician in the early '90s.
Playwright West, a former social worker and Chicago native, won the Helen Hayes Award for Best New Play with this 1990 work, examines the impact AIDS has on love and family. The New York Times review of that show stated it "is not a play about victimization…it is instead an authentic, at times almost hysterical wake-up call to the black community, sounded from within."
West's authentic style has earned here a National Endowment for the Arts Award and "Before It Hits Home" has been optioned by Spike Lee, who has asked West to adapt it into a screenplay.
"Before it Hits Home" plays in the Edison Studio Theater from Feb. 23-March 11.
Next up is "In The Next Room (or The Vibrator Play)" by Sara Ruhl, one of America's most produced female playwrights of the last 10 years. Get ready to dive into the history of the toy we know as the vibrator and its prescribed use of treating women diagnosed with hysteria in the 19th century.
This fictional take on historical events is directed by Shonni Holmes and explores the frustrated wives and the under performing husbands, who are more at fault in the bedroom. Don't expect Ruhl to shy away from raunchy intimacy and the power of uncomfortable laughter. The play made it's Broadway debut in fall 2009 and was a finalist nominee for a Pulitzer Prize and Tony Award. Ruhl's playwright career has been translated in over 12 languages. "In the Next Room" plays from April 6-15 in the University Theater.
Ending the semester's theater and dance spring schedule is the spring dance concert Revolution, directed by Doris Ressl Acosta. This graduating seniors' capstone dance concert will feature new contributions to the changing world of dance and redefine the spectrum of creativity by exploring new influences that will shape the dance of tomorrow. The Spring Dance Concert will run from May 4-6 in the University Theater.
csudhbulletin