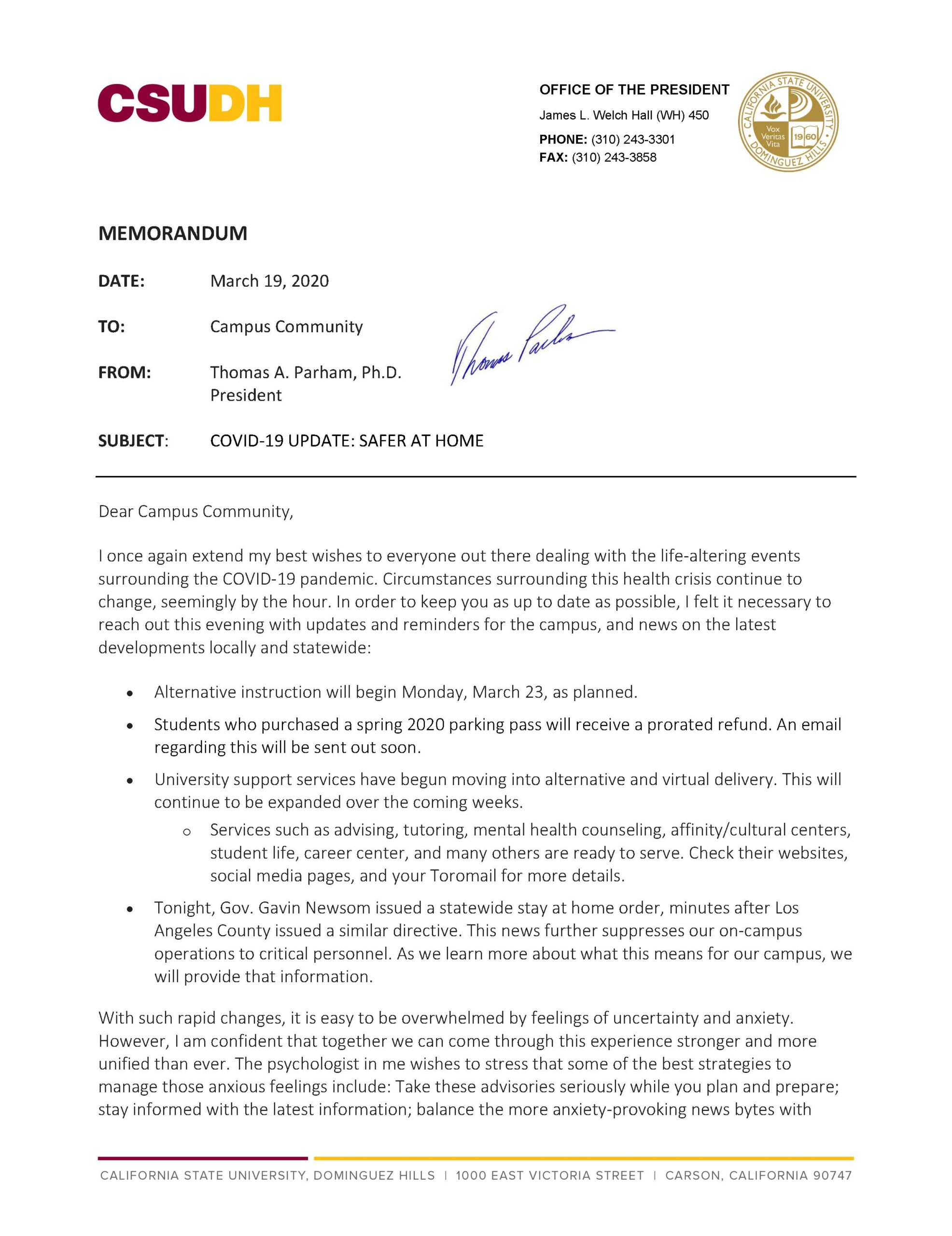 CSUDH President Thomas A. Parham's announcement update last night was definitely presidential, since it was an update on the impact COVID-19 is having on the campus. The big news, other than reminding us that alternative instruction will begin Monday as planned, was that students who bought a 2019-20 parking pass can expect an email soon explaining how they will receive a prorated refund.
There were other important details in the update, which is posted below. But halfway through, the perspective shifted from Parham the President to Parham, the psychologist.
It's easy to forget sometimes that the people who run our classrooms, the faculty, and those that run our university, administrators, used to be people like us. That is: students.
As was Parham, who received his bachelor's in social ecology m from UC Irvine and his master's and a doctorate in counseling psychology. Licensed to practice psychology in the state of California, the briefest glance at his bio on the school's website shows impressive credentials to say the least.
It was that background, informed surely by his years as a college administrator and now president, that prompted this portion of his announcement, which seemed to speak less to students as students, worried about the advent of online teaching beginning Monday, and students as people, concerned about what the hell is going on this world right now.
"With such rapid changes, it is easy to be overwhelmed by feelings of uncertainty and anxiety. However, I am confident that together we can come through this experience stronger and more unified than ever. The psychologist in me wishes to stress that some of the best strategies to manage those anxious feelings include: Take these advisories seriously while you plan and prepare; stay informed with the latest information; balance the more anxiety-provoking news bytes with those that frame more positive stories of preparation and recovery".
He also said that services for students, including mental health counseling, affinity and cultural centers, student life, advising and many others are moving into"alternative and virtual delivery" and will be expanded in the coming weeks.
csudhbulletin