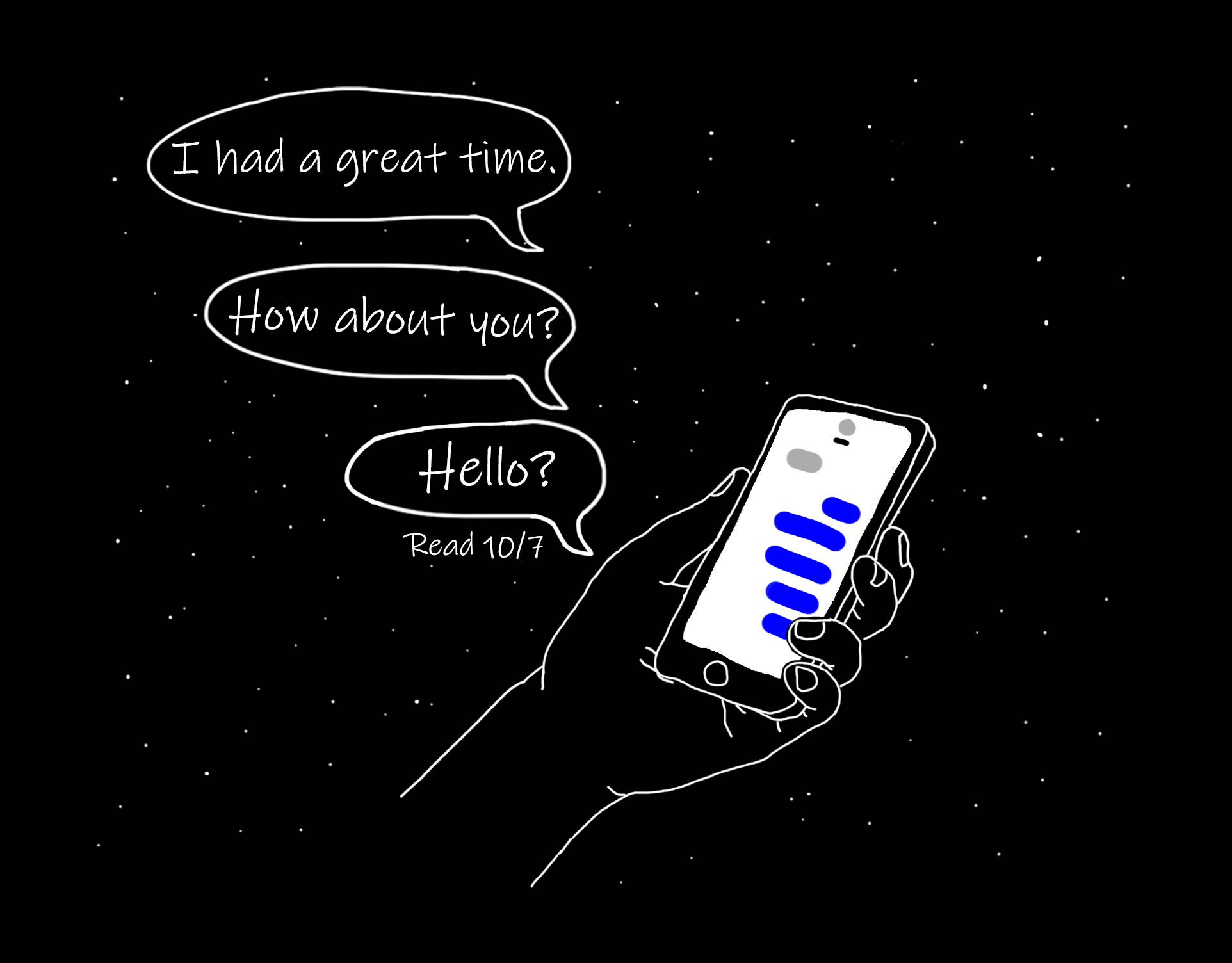 By Destiny Torres, Staff Writer
With the spooky season in full swing, what better way to ring in the holiday than with haunting dating stories? Nothing can make a person shudder with fear like the mention of ghosting–not the supernatural kind, but the all-to-real kind.

There are several ways to break-up with someone. Whether it's in-person, via text, or even through email, none of those ways make quite as much of an impact on a person as simply disappearing off the face of the earth.

This particular break-up method is called ghosting. Ghosting is what happens when a friend or romantic partner ceases all forms of communication. It's a trend that has embedded itself in dating culture with the rise of technology. One moment you're talking about going out and the next they are nowhere to be found neither in real-life or the internet.

In a study conducted by Plenty of Fish (PlentyofFish.com), an online dating site, out of about 800 million single people between the ages of 18 and 33-years-old, 80 percent said they have been ghosted.

A child development major, Amanda Dimson recalled a time when she got ghosted by a coworker.

The flirty exchange started by swapping Snapchat usernames. For a while, they talked before hanging out in-person outside of work. Although all seemed to be going smoothly, Dimson found herself to be a victim of one of the most dreadful dating trends present today. Dimson was ghosted.

Back at work, Dimson and her co-worker continue to work side-by-side and pretending that the brief connection never happened.

"I feel like it's a new thing because people are afraid of commitment," Dimson said.
On the opposite end, psychology major Anthony Chavez has been the ghost in someone's life. After losing interest, Chavez cut off communication with the person and stopped replying to their messages. He said he felt a pang of slight guilt, but thought the truth would hurt their feelings more.

"I didn't know how to tell them I didn't want to talk to them anymore, so I just stopped," Chavez said.

CSUDH psychology professor Larry Rosen said that online dating has dramatically changed the structure of relationships today. Rosen has studied the effects of online dating, specifically the different perceptions of online and traditional daters.

Rosen said it is easier for people to open-up behind the safety of a screen resulting in faster connections. That anonymity can also have the opposite effect, however, by making it easier for either party to disconnect.

When it comes to traditional online dating sites, you were able to disappear with ease. Today, however, everyone is connected on so many different apps and social media sites that ghosting is no longer a simple task.

"Ghosting has become more complex because people are connected on so many modalities," Rosen said.

If you or a loved one has ever been ghosted, Rosen said the last thing you should do is blame yourself. He said the hurt a person who has been ghosted feels usually stems from the needs they project on the other person. People assume what they want their online partner to be like in the real world, leading to hurt later on.

The lack of an explanation for someone's sudden disappearance creates a void that can be filled with self-blame, insecurities, and questions that are left unanswered. Modern dating is as complicated and scary as ever, and the rise in internet dating makes it more unnerving.

csudhbulletin