The Instruction and Innovation Building to Officially Open Until October
csudhbulletin
September 22, 2021
0 COMMENTS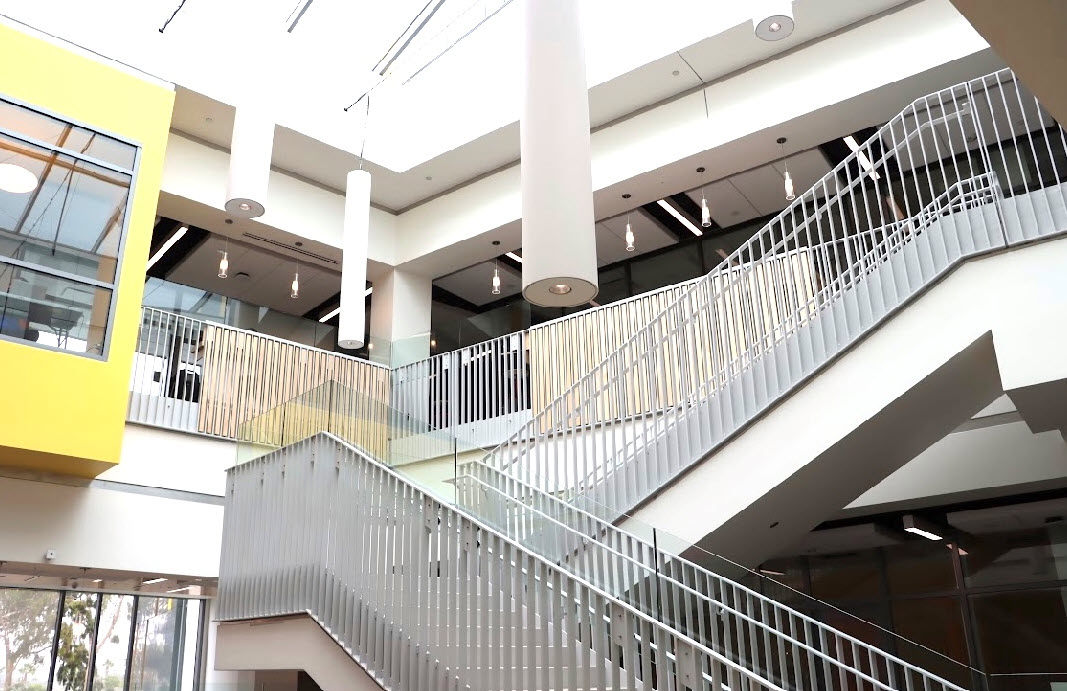 250-seat lecture hall. Photo by Catalina Garcia.
By Richard Ricardo Jr., Staff Writer
The long awaited Instructions and Innovation Building at California State University, Dominguez Hills, may finally be opening up its doors for students, staff, and faculty this October. The building which was first anticipated to open at the beginning of the fall semester may take a few more weeks. This facility will be home to the College of Business Administration and Public Policy (CBAPP), but it will be available to all students at CSUDH to utilize for multiple purposes.
"Due to the COVID-19 the audio, visual, and processing components that allow the digitally advanced structure to operate efficiently are on backorder due to the global demand," explained Roshni Thomas, Director of facilities, planning, design, and construction at CSUDH who is leading this project. CSUDH anticipates the classrooms to open for in-person instruction in the Spring of 2022. Currently, the doors are unofficially open, but people can still walk around the facility, but as of Oct. 15, the building can be used for independent studying and the collaboration rooms will be available for groups to work in.
The building is located right in front of Victoria Street, east of the main campus and across from Welch Hall, and it will include a 250-seat lecture auditorium. The first 150 seats are unique and designed to allow every two rows to be on the same level, permitting students to move their desks within their row to collaborate with their peers.
Students will be able to reserve private rooms to study, meeting areas with projector screens and whiteboards to help with the visualization of their work. A banquet hall is also part of this new construction. This hall's purpose is to hold meetings and conferences and it has a commercial kitchen attached for catering during events. A location inside the facility is projected to be a coffee shop. "Starbucks expressed interest, if that deal does not go through, a coffee shop of some type will go in there," Thomas said.
The structure will offer features that differentiate this building from the others on campus. According to Thomas, the building will be equipped with an atrium area throughout the hallways that have laptop seating for students to work and stud, in addition to the art 3D centers, which will allow students and staff to make presentations and even bring in outside companies to pitch projects or ideas for possible jobs or even proposals for the campus.
Angie Torres, a communications major, said she is ecstatic about this new building and although she is not a business administration major, she looks forward to using the amenities it will soon offer. "I am excited that CSUDH is growing and using innovative ideas for the campus to make it more user-friendly when it comes to studying and working on assignments," she said.
The grand opening of the building will take place from 2 p.m. to 7 p.m. on Oct. 15 and will include tours of the building, speaker program & ribbon cutting, followed by a reception. Students, faculty, and staff can register here.
csudhbulletin