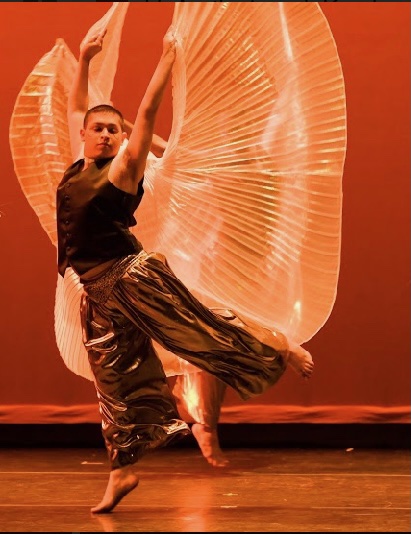 Nickolas Castillo has learned to express his character through dance and theatre. Photo courtesy of Nick Castillo.
By Gabriela Medina, Staff Reporter
Nick Castillo knew he wanted to be involved in telling stories. It's why he began his college career at El Camino College as a theater major. It didn't matter whether he was acting on stage, or working behind the scenes to help the director achieve their creative vision;l as long as he was helping bring a story to life, he was satisfied.
But it wasn't until he transferred to CSUDH and his interest in dance re-ignited did Castillo get the opportunity to tell the story he most wanted to tell–one in which the story was communicated with no words.
It was his contribution to the CSUDH Dance Department's recent concert, "Untamed Visions." As one of the student senior choreographers, Castillo wanted to create a dance piece that both celebrated his being of Latinx descent, and challenged the stereotypes that are often mentioned within the community to show the inclusivity of other cultures.
His piece was titled "We are LatinX." The term LatinX highlights the movement to get rid of masculinity in the Spanish language, making it gender-neutral and showing Latin inclusivity.
"What inspired my entire piece was not only to show the different Latin styles but to present the uniqueness in the Latin community," Castillo said. Here in America, most people would identify a person with a brown background and automatically assume that they are Mexican which is not always the case. The biggest part of my piece was to break the stereotypes that we're not all Mexican. When it came to the dance styles, I wanted to break those stereotypes too."
His Mexican background inspired Castillo's dance piece, but that background was also an obstacle in his interest in dancing. Although he started formally training in Ballet Folklorico when he was 10, his parents didn't share his enthusiasm.
---
"My parents fell into that stigma of men dancing; that dancing was something meant to be for women," Castillo said. "I found out that at my local park [that] a Folklorico group was formed. My parents noticed that the men had mariachi suits on and that there were certain aspects of it that looked very masculine, so they allowed me to join," Castillo said.
Towards the end of high school, he began looking at what he wanted to do with his life while having the intention of working in the performing arts world. At the start of his college career, he was a theatre major at El Camino College. In his last year there, he decided to transfer to CSUDH, and began becoming more familiar with other styles of Latin dancing, which prompted him to add dance as a double major.
This time, his parents had fewer objections.
"When I started to learn the more feminine stuff, I could tell they were starting to have that 'okay you can relax' mentality. I feel like that's also why I started ballet, modern, jazz, and the other styles so late in my dance career," Castillo said. "I was an adult who was able to make my own decisions and in order to get a dance degree, I needed to take those classes and that's when I felt they became more okay with it. Originally, it was because of those masculine movements in Folklorico that made them more accepting of it in a way."
When he started dancing in college, he got to really express himself. Dancing and being a stage manager taught Castillo that he enjoys being a person of authority, which reminded him that he always wanted to be a leader since it also ties in to being a choreographer. He also realized that he was able to get in touch with his sexuality a bit more.
"I got to express myself a little more and show myself, and I really liked that," he said. Dance was my version of therapy and so was theatre. Being a double major in both has really helped feed my creative outlet because I was never the smartest in school. When I got the opportunity to dance or do technical theatre which is like work backstage. "I felt that this is where I was supposed to be. I felt like myself the most. Where I felt most accepted because I knew I was creative and I was happy about that."
csudhbulletin