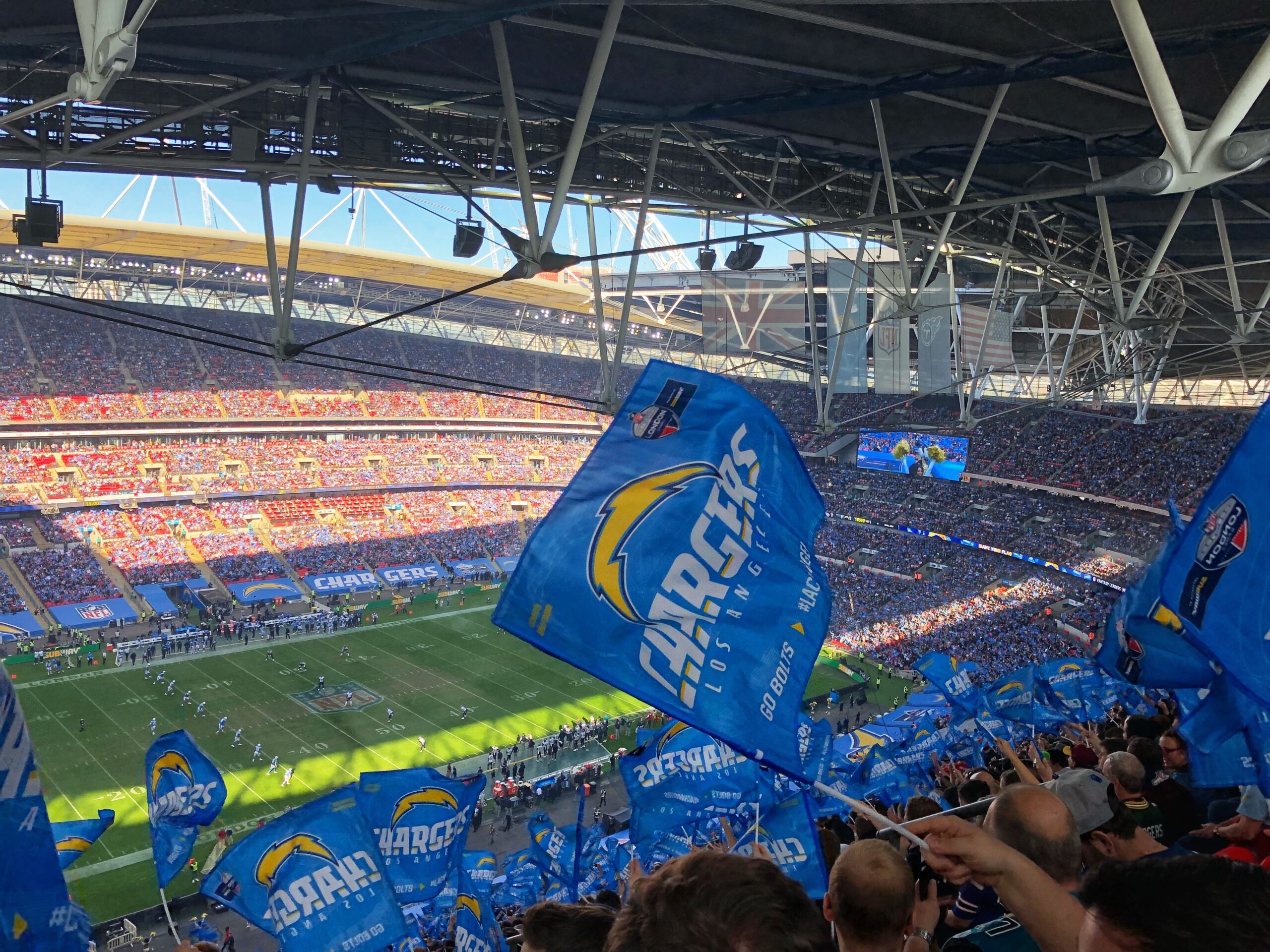 Chargers fans like these are not allowed to tailgate or attend any live football games at SoFi stadium until further notice. Carolina Panthers vs Los Angeles Chargers. 1:05 p.m. SoFi Stadium, Inglewood, Calif. CBS. Photo by Anders Krøgh Jørgensen on Unsplash
---
By Jeremy Gonzalez, Sports Editor
Los Angeles Chargers vs. Tampa Bay Buccaneers. 10:00 a.m.
Raymond James Stadium, Tampa, Fla. CBS.
Chargers record: 1-2, 3rd AFC West. Los Angeles has suffered back to back losses at home. Their most recent loss came last week at the hands of the Carolina Panthers in a 21-16 defeat despite the Panthers playing without star running back Christian McCaffrey.
Buccaneers record: 2-1, 1st NFC South. Tampa Bay won their first road game of the season 28-10 last week against a banged-up Denver Broncos team that played without starting quarterback Drew Lock (shoulder).
The Los Angeles Chargers and the Tampa Bay Buccaneers are currently on opposite sides of the road.
The Bolts won their season opener against the Cincinnati Bengals but dropped their last two games while the Bucs lost their home opener against the New Orleans Saints but are riding a two-game winning streak headed into Sunday's game.
In this Week 4 matchup, an unusual quarterback duel will be taking place when the Chargers take the field against the Buccaneers.
Bolts quarterback Tyrod Taylor has been officially ruled out for a third straight week, which means rookie Justin Herbert will be under center once again. His opponent this time: six-time Super Bowl champion Tom Brady.
The matchup between Herbert, 22, and Brady, 43, marks the first time since 1950 that there is a 20-plus year age gap between opposing starting quarterbacks.
The young gun against the old-timer. The unproven rookie against the accomplished veteran. A David vs. Goliath type battle will be taking place in Tampa. Here's a breakdown of the two quarterbacks and other things to watch out for ahead of the Week 4 matchup between Tampa Bay and Los Angeles:
IN THE POCKET
Herbert, the sixth overall pick in April's draft, will look to become the first rookie quarterback to throw for 300 yards or more in each of his first three starts. He's completed 69.5% of his passes and thrown for two touchdowns, but he's been intercepted twice and is responsible for three of the Chargers' four turnovers this season.
In last week's loss to the Panthers, he lost a fumble and threw an interception, both of which resulted in points for Carolina. Tampa Bay knows it will be facing a rookie quarterback and will bring pressure from all sides to try and cause Herbert to make a mistake.
Meanwhile, on the other sideline, Brady is playing his first season in a uniform that is not a New England Patriots jersey. Moving to the Bucs this past offseason meant Brady had to learn a new playbook, learn to work with Tampa Bay's head coach Bruce Arians and build new chemistry with their dynamic receiving corps.
In last week's dominant win over the Broncos, Brady threw for 297 yards with three touchdowns and no interceptions. He finally got tight end Rob Gronkowski involved in the passing game, completing six of his seven targets to his former New England security blanket.
Brady still managed to spread the ball around, connecting with eight different receivers and throwing touchdowns to the dynamic receiving duo of Mike Evans (2) and Chris Godwin (1).
Brady is 17-2 in the regular season during his career and has a 12-game winning streak against rookie quarterbacks selected in the first round. The last rookie to best Brady was Mark Sanchez of the Jets back in 2009.
OFFENSIVE WOES CONTINUE
Chargers starting right tackle Bryan Bulaga (back) and right guard Trai Turner (groin) will miss the Week 4 bout against the Buccaneers. Los Angeles head coach Anthony Lynn will be shuffling his offensive line (again) as he prepares to face one of the league's more aggressive defenses.
Both were major acquisitions during the offseason. Turner came in a trade with Carolina while Bulaga was signed after 11 years with Green Bay.
The status of the right side of the line adds more woes to what has already been a trying season for the Chargers. The team had already lost starting center Mike Pouncey for the year due to a hip injury.
Despite not having the same offensive line in consecutive games, Los Angeles has rated well. They've only allowed six sacks through the first three weeks of the season, but Herbert and Taylor have faced consistent pressure in the pocket. The team ranks sixth in the league in rushing yards and eighth in passing yards per game, but are ranked 16th in run blocking and 25th in pass protection, according to ESPN's line blocking metrics.
The Bolts will also be without speedy wide receiver Mike Williams for Sunday's game as he is dealing with a hamstring injury.
LACK OF TURNOVERS ON DEFENSE
The Chargers are marching into Sunday's game without a takeaway in the last two games and only had two in September. Since the start of last season, Los Angeles has generated a league-low 16 turnovers and last season's total of 14 was a franchise low.
Defensive coordinator Gus Bradley has attempted to maintain an aggressive playing style that is excelling in every area except generating turnovers. The Chargers are fourth in points allowed (19.0), tied for fifth in pressures (11.7 per game) and eighth in yards allowed (337 per game).
Takeaways have been one of the biggest indicators of a team's record. Of the nine teams that have forced two or fewer turnovers through Week 3, three are winless and only two have a winning record.
Los Angeles has a chance to change that narrative and cause turnovers this week as they will face a Tampa Bay offense that has turned the ball over five times this season, including three interceptions by Brady.
The Bolts defense will not be at full strength as defensive end Melvin Ingram, defensive tackle Justin Jones and cornerback Chris Harris Jr. are out indefinitely Defensive end Joey Bosa is active and will play Sunday despite being banged up with injuries to his ankle and triceps.
Vegas Line
Opening: TB. -8.0. 44.5 total.
Saturday night: TB. -7.0. 43.0 total.
Lightning Rod pick: This will be a long afternoon for Bolts fans. Herbert will become the first rookie to pass for 300 or more yards in his first three starts, but will get intercepted twice by the aggressive Bucs defense. Meanwhile the Chargers will continue to struggle generating turnovers of their own as Brady moves the ball up and down the field with ease like he has for the last two decades. Brady passes for 350 yards and three touchdowns with no picks throughout the afternoon.
Tampa Bay 34, Los Angeles 17.
csudhbulletin